Review of Condor Airlines Airbus A330neo Business Class from San Francisco to Frankfurt
Condor Airlines launched the newest addition to their fleet of planes in Spring 2023, the Airbus A330neo. The inaugural flights of the new aircraft had recently premiered at various US Hubs nationwide. Flights on the new fleet began in May with nonstop daily service from multiple destinations such as JFK, Los Angeles, Seattle, and San Francisco on select days.
This past spring, I had a river cruise planned along the Rhine and Moselle with Scenic Cruises and needed to get a flight booked to Frankfurt to join a group for a mid-May excursion. During my flight search, I discovered Condor Airlines had a nonstop flight from SFO (San Francisco) into Frankfurt. How perfect; there was a nonstop on the day I needed to travel, and I would receive Alaska qualifying miles as Condor Airlines partners with Alaska Airlines. And as an added bonus, you get double miles that go towards your elite status on Alaska if you fly business class with Condor!
My only slight hesitation was knowing that Condor has been regarded in the past as Germany's budget, no-frills airline, and reviews were less than favorable. My flight was originally booked in Premium Economy on Condor; however, I had the opportunity to upgrade to their new business class with lie-flat seats. (Though my upgrade to Business was complimentary, all opinions and descriptions of my experience on Condor are entirely my own.)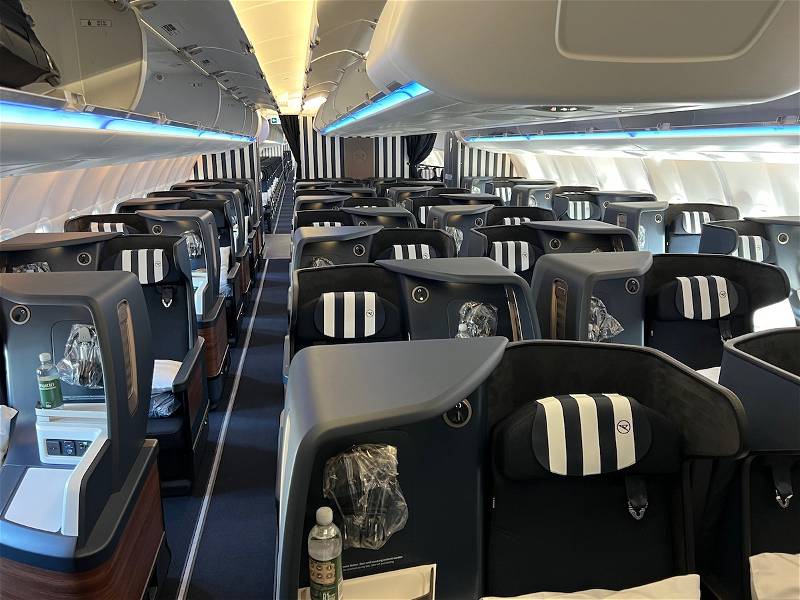 Condor Airlines, this value-focused carrier, has long been known as the airline of choice by German travelers offering flying to various hubs around Europe, making travel to the surrounding countries more accessible and more affordable. Their presence in the US has also increased with various new gateways in North America offering nonstop or connecting service into Frankfurt as well as connecting service to more than 100 destinations throughout Europe.
The North American gateways include New York (JFK); Los Angeles (LAX); Seattle (SEA); Toronto (YYZ); Las Vegas (LAS); Vancouver (YVR); Anchorage (ANC); Phoenix (PHX); Portland Oregon (PDX); Baltimore-Washington (BWI); Halifax (YHZ); Boston (BOS); Minneapolis (MSP); Edmonton/Jasper (YEG); Whitehorse (YXY); and Fairbanks (FAI).
About the Condor A330neo
By 2024, Condor will have an all A330neo long haul fleet serving all of the gateways across North America with three classes of service Economy (216 seats), Premium Economy (64 Seats), and Business (26 Seats & 4 Prime Seats). The A330neo is a new version of the popular A330 widebody.
Each of the new planes is adorned with Condor's signature striped logo, which you will see everywhere, from their new aircraft to the check-in desks, in-flight accessories, their social media site, and more. There are five color options: Blue Stripes represent the sea; yellow stripes recall sunshine; red represents "Passion"; green represents "island," and the beige-gold stripe reminds travelers of a sandy beach. Most of their 50 aircraft fleet will be striped by 2024, inspired by "parasols, bath towels, and beach chairs."
Arriving at San Francisco Airport and Check-In
On the day of my flight to Frankfurt on May 1, the new A330neo had only been flying a few flights nonstop out of SFO, and they had not yet had their inaugural launch event at San Francisco International, which was scheduled a week later. I realized I was amongst the first travelers to experience this new nonstop route to Frankfurt in their new striped fleet. What a treat!
I arrived at the airport around 4 pm, which was more than the 3-hour arrival window to check in and get settled before departure comfortably. Upon reaching the check-in lines, as I was early, Condor agents were not there yet to check us in at the various desks organized by class of service. I was the first in line at the Business Class check-in; however, there was already quite a long queue for the Economy check-in.
After about 30 minutes, the Condor Crew began to arrive to prep for check-in, and by the time they opened check-in, all of the lines waiting to check in had filled up. A full flight, I presumed. Check-in was quick and painless; I just needed to ensure that my Alaska Frequent Flier number and my TSA pre had both been added. I was advised when checking in that their partnership with the Virgin Atlantic Lounge was no longer valid, and they now had an alliance with China Airlines Lounge.
Upon arriving at the China Air Lounge, I found it small, crowded, and noisy. There were only a few available places to sit in the upper-class lounge, and to my disappointment, their food and beverage options were limited.
On my way to the Condor gate, I spotted a familiar site Gott's Cafe (an extension of the renowned Gott's food empire from Napa), to celebrate the start of my adventure with a glass of bubbles.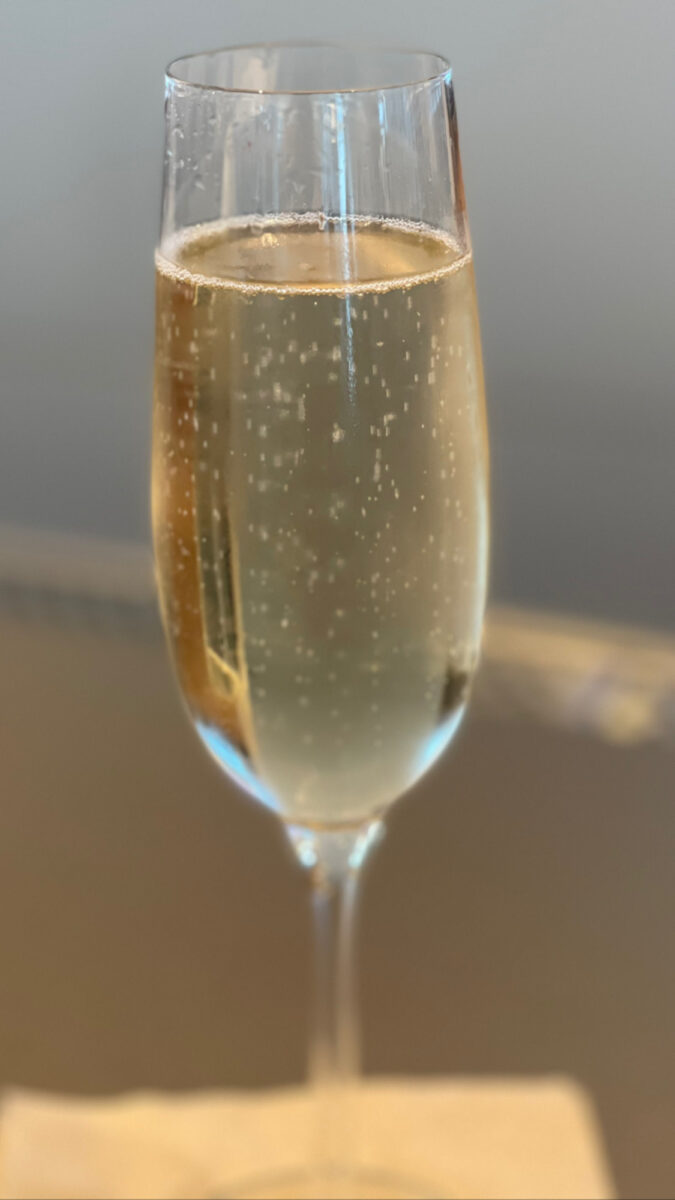 My first glimpse of our green-striped candy-cane aircraft was visible as soon as I arrived at the departure gate. There, parked outside the window, was the gleaming A330neo striped beauty preparing for its pending departure. I arrived at the gate in perfect time to board for a 7:45 pm departure and found my scheduled departure time had been delayed for some reason, not unusual for any airline these days. When we finally boarded and departed, it was an hour late, which was not at all an inconvenience.
The Condor Crew was friendly and welcoming as I headed to my seat 2A by the left-side window, one of 4 Prime Seats available on the A330neo that presents more comfort, extras, and space. This seat in Business has a slightly larger seat and wider footwell; it also has an opposite smaller seat that your traveling mate can sit in to visit during the flight. I was traveling alone on the flight to Frankfurt, so I didn't have a guest visitor on this flight.
However, on my return flight home, I had the opportunity to check out the guest seat in row 2A, where my husband was seated, and had the chance to visit him several times during the flight. With the prime seats, you will find a larger 24-inch 4k monitor to view inflight entertainment, a sweet and savory snack basket, a pair of slippers, cozy pajamas with the signature "Condor stripes," and free Internet.
To my delight, I was offered a glass of champagne before take-off while the rest of the plane was being boarded. Finally, wheels up, and we were off towards Frankfurt, set to arrive the next day at 4:20 pm Frankfurt time, at 11 Hours 35 minutes flying time.
CONDOR's Prime Seats
All passengers received blankets and pillows at their seats; I also had an amenity kit which included socks, eye mask, toothbrush and paste, moisturizer, lip balm, hand cream, and face moisturizer. In the kits was a card presenting the airline's commitment to sustainability. Also, at my seat console was a bottle of water and headphones for inflight entertainment.
As it was nearing 9 o'clock in the evening, the crew immediately began prepping for the dinner service. We were handed a stylish program that included menus in German and English of the food options to be served after take-off and before landing. Also included are their wine and spirits menu and other libations. I found the wine menu somewhat limited, though I was able to find a few good selections to choose from.

The Inflight Dinner Menu for Monday, May 1
STARTER
Millefeuille of tomato mozzarella, bresaola, balsamico
Marinated tuna, yellow beetroot, tarragon dressing
Bell Pepper Dip
Mixed greens, tomato, and Balsamic dressing
MAIN COURSE
Veal cheeks, green asparagus, broccoli, polenta
or
Shrimp scampi, broccoli, saffron rice, tomato bell pepper jus
or
Italian Ravioli stuffed with mascarpone and artichoke, mushroom sauce, baby spinach, roasted tomato, and parmesan cheese
CHEESE
Havarti with dill, cheddar, and goat cheese
FROM THE BREAD BASKET
DESSERT
CHOICE OF WINES
Champagne – Jacquart Mosaique Brut AOC
White Wine
Weingut Motzenbacker – Riesling 2022 – Germany
Kaiken Estate – Chardonnay 2021 – Argentina
Red Wine
Umberto Cesari Wine Estate – MOMA Sangiovese 2017 – Italy
Monte Da Ravasqueira Wine Estate – Cuvee 2017 – Portugal
I selected the Italian Ravioli as my main course for dinner. Before the appetizers arrived, we were given a refreshing hot towel. After a small bowl of mixed nuts and an aperitif, they began with the appetizer service, which I found quite tasty, with an impressively large selection of various yummy starters on the tray.
I paired the appetizers with a glass of Kaiken Estate Chardonnay which I found very refreshing. It was nice to read the descriptions of the various wines offered in Condor's menu program. With the Ravioli, I selected the Sangiovese to accompany my pasta. I also wanted to sample the Cuvee from Portugal, which was also an excellent selection.
I found the Ravioli quite delicious, though not a late-night eater; I sampled small bites from each of the dishes presented, as the portions I found were pretty generous. The business-class food service was impressive, and the crew was very attentive. The dessert lemon tartlet was tangy and flavorful and an excellent finish to the meal.
Inflight Entertainment
WIFI: Even though I was offered a voucher for inflight messaging, once I finished dinner, it was much too late even to consider messaging anyone, including my husband, who I was sure was fast asleep by now. Internet if you need it, is pricey on the plane, and there were four options to choose from Fly Connect Chat FREE for 10 minutes of text messaging; Chat Unlimited for 7 Euros (and who would actually be chatting for 11 hours overnight); Basic 2 hours, which included text messaging, email, Internet and social media for 12 Euros; and the premium which offered 4 hours for 20 Euros.
Movies and More: The choices for in-flight entertainment were extensive, with many new release movies, classic movies, TV shows, Documentaries, and more offered. There is also a comprehensive flight tracker to see where you are in your journey. After dinner service, it was after 11 pm, and I was getting sleepy, but with that large 24-inch 4k screen staring me in the face, I had to try a movie. I watched "The Bucket List" with Jack Nicholson and Morgan Freeman because I love movies about travel experiences.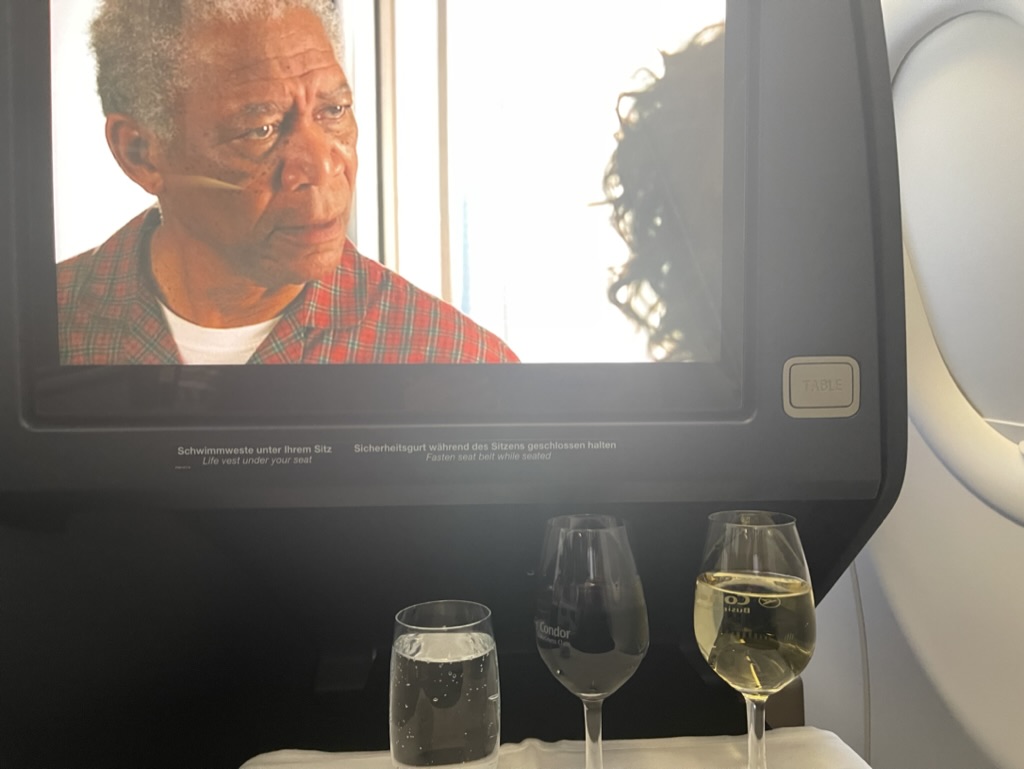 Sleep Time
Once the movie finished, it was well past 1 am, and it was time to jump into my stripe-accented pajamas, striped socks and flatten my seat out. The seat was somewhat stiff for sleeping and a bit lumpy in the creased folds where the seat goes up and down. Getting comfortable with only one pillow and one thin comforter was challenging, yet I was thrilled to have a lie-flat sleeping space. One of the flight attendants kindly offered me an additional pillow and additional comforter that I used as a mattress topper, making it much more comfy. I had a lovely, quiet sleep.
More good news! The crew told us that in the very near future, Business Class passengers would have luxurious 7-layer mattress toppers to aid in a better night's rest sleeping above the clouds on these long-haul flights across the pond.
Good Morning Germany
After about five and a half hours of a somewhat restful sleep, the crew began to rustle the passengers as we were about 2 hours out from touching down at Frankfurt Airport. Feeling initially slightly on the groggy side, I strolled a few feet up the aisle to the nearby lavatory with my appointed amenity kit.
It was so pleasant to refresh in the oversized bathroom and feel good about starting my day in Germany. It was 2:30 pm Frankfurt time (5:30 am in San Francisco). We had discovered the pilots made up a lot of time, and we would arrive in Frankfurt at around 4:30 pm Frankfurt time, close to the originally scheduled arrival time.
It was just 2 hours before landing, and was time for the Breakfast service. It was confusing because of the 9-hour time difference; was it actually lunchtime or breakfast time?
Breakfast Before Landing
First things first – a cup of coffee was a must to start. However, I was disappointed that the coffee was only lukewarm but welcoming. By the time breakfast was served, it was still only about 6 am San Francisco time, and eating that early in what was supposed to be morning was a bit of a test for me. However, the presentation of the breakfast looked sumptuous.
Here is what was on the menu:
Fresh fruits
Italian Salami, cream cheese, cheddar
Bread, roll, Croissant
Butter, jam, honey, Nutella
Freshly squeezed orange juice
Coffee, tea
The Omelette was a good-sized serving, and along with the fresh fruits and salami/cheese side dish, the breakfast serving also proved quite generous. The warm croissant seemed freshly baked and melted in my mouth, and the fresh orange juice was a real wake-up treat.
Landing was coming soon! Time to gather my belongings, bring my chair to an upright position, peer out the window at the beautiful landscape approaching Frankfurt, and arrive somewhat rested for my journey to Mainz, where I would meet Scenic Cruises for the river cruise the next day.
Arriving at Frankfurt Airport
We deplaned shortly after we arrived at the gate in Frankfurt. However, we were not given much instruction on where to go to immigration once in the terminal. Frankfurt is one of the largest airports in the world and is somewhat confusing to navigate. The signage was a bit unclear as to where to go. I just kept following the others from my flight and the signs that headed the passengers toward baggage claim, as there were no signs that I found that pointed us to immigration.
Luckily, after about a 15-minute walk, I finally stumbled upon immigration and passport control with some of the most extended lines I had ever seen. People were stretched all the way down one of the side gateways. I feared that, OMG, this would take forever.
Happily, after about 20 minutes, I was through the line with my passport stamped and headed to the baggage claim area, where I immediately found my bag, grabbed it, and headed to the curb. There wasn't much waiting there either; I swiftly boarded a Mercedes cab for my hour ride into Mainz. I arrived at the hotel by 6:30 pm, met up with some of the group, and joined them for a refreshing German lager beer. Welcome to Germany!

MY RECAP ON MY CONDOR EXPERIENCE – San Francisco to Frankfurt
Flying Condor's Airbus A330neo in their newly appointed business class was a refreshingly wonderful travel experience. In fact, from start to finish, from booking to arriving at my destination in Frankfurt, I did not run into any unexpected travel glitches. I would say the airline is totally reinventing itself.
Even with the short delayed departure, which is common these days, and the crowded China Air upper-class lounge in San Francisco (Oh, by the way, in Frankfurt, Condor has an alliance with Lufthansa for their lounge, which was a wonderful experience before my return flight home to SFO) In all, Condor Airlines totally had it dialed in, particularly with this Nonstop route and recently launched aircraft being so new.
The plane's interior was nicely appointed, and the crew could not have been more accommodating. The business-class cabin was gorgeous, with each spacious seat feeling like it had its own private enclave.
I look forward to experiencing the new mattress topper by Lück on my next flight with Condor. Having that added layer of comfort on the lie-flat seats in Business will be a game changer for getting an even better rest on long-haul flights.
Condor flights offer a great deal of value and give other airlines flying nonstop from the States to Europe a run for their money. You can't beat their price point and particularly when booking business class, where you can sometimes find a one-way for as low as just slightly over $1,000.
The answer is YES; I will definitely fly Condor Airlines again! Congratulations on the significant expansion of the North American gateways! This opens up so many new air travel options to Europe!
FROM CONDOR AIRLINES – About Condor
As Germany's most popular leisure airline, Condor has been taking its guests to the world's most beautiful holiday destinations for more than 65 years. Every year, more than nine million guests fly with Condor from the nine largest airports in Germany, from Zurich in Switzerland and Vienna in Austria to around 90 destinations in Europe, Africa, and North America. Condor operates a fleet of over 50 aircraft maintained by the company's own maintenance operation, Condor Technik GmbH, according to the highest safety standards at the Frankfurt and Dusseldorf locations. In spring 2022, Germany's most popular vacation carrier unveiled its new brand identity: Condor is vacation, and vacation is stripes. Inspired by parasols, bath towels, and beach chairs, Condor now wears stripes in five colors. This clearly shows the development from a vacation airline to a unique and unmistakable vacation brand. The new design was unveiled with the first A330neo, which will take off for Condor in fall 2022. As the German launch customer, Condor will then be flying 18 A330neo long-haul aircraft. Thanks to state-of-the-art technology and maximum efficiency, the Airbus A330neo consumes just 0.55 gallons of fuel per passenger per 160 miles – well below the industry average. Moreover, Condor will receive 41 brand-new short- and medium-haul aircraft of the A32Xneo family from 2024 and will therefore enable a more responsible way of traveling in the future.