Your Host Francesca Montillo takes you on a Delicious Adventure to Dreamy Italian Destinations with Lazy Italian Culinary Adventures
You are a big fan of "Under the Tuscan Sun" and have watched it at least two dozen times. You have drooled over the food and every time you watch it you confess that you will be planning a trip there soon, fulfilling your lifelong dream of venturing off on a culinary tour through Tuscany. But wait, that movie came out 15 years ago, and you still have not gone. The wait is over, look no further, your wish is granted.
Everything you have been looking for is right here, and you don't have to do a thing except contact Francesca's Lazy Italian Culinary Adventures and everything you have dreamed about for the last 15 years is right here. She has beautifully customized a variety of tours throughout the year to a variety of stunning Italian Destinations. This year she has 3 different itineraries all ready for you to book to Tuscany, Puglia or Sicily with a small adventurous group, all anxious just like you to venture off to the rolling vineyards of Italy's stunning countryside.
Or if those dates or destinations don't fit your schedule, she also has "Italy by Design" where she customizes your own personalized adventure. If you are not into "group travel, they offer full service and customized vacation planning, leave the time to research to the experts to customize a trip created especially for you with all of the bells and whistles. Your vacation to Italy can be accompanied by a local driver/guide on your tour around the region or follow your customized tour and venture off on your own. As they say at the Lazy Italian tours, "This is your week, after all, not ours!"
Here are the highlights of the Tuscany tour which is May 1st to May 8th.
• Four Star accommodations in a centrally located hotel
• Two Private Culinary Classes with Meals Following
• Welcome Dinner
• Private English-Speaking City Tour Led by a Licensed Guide
• Private Wine Tastings and a day trip to Chianti with Lunch at the Winery and Plenty of Wine
• Private Culinary City Tour Visiting World Famous Shops
• Private Day Trip to Pisa and Lucca
• Private Day Trip to Sienna
• Visit Mercato Centrale
• Farewell Dinner
• Leisure time on Your Own
Overview
The week in Tuscany kicks off with check-in at our four-star accommodations. Centrally located, Hotel Orto de Medici will be our home for the week, so unpack and make yourself at home. Perhaps visit their famous gardens and take in some of the Tuscan air. During the week, we will experience the scenic views of Tuscany and sample wines in the wine regions of Chianti with a memorable lunch on the winery. The week will also take us to the world-famous cities of Pisa, Lucca, and Siena for what are sure to be plenty of photo opportunities. We will also take part in two private cooking lessons and pick up a few culinary tips from our native Tuscan instructors. Our walking city tour in Florence will allow us to get to know our host city while our culinary walking tour will give us the opportunity to sample some of Tuscany's most traditional products.
What will our Experience be like during the week and where will we go?
Arrival & Welcome Dinner
Arrive and settle in your four-star accommodations in the early afternoon. Our home for the week will be the highly regarded Hotel Orto de Medici. Unpack and make yourself at home knowing you will not need to repack until your departure. Enjoy the nearby sights of our home for the week, stretch your legs in the nearby shops or grab your first gelato.
In the evening, we will meet for our first group activity. We will enjoy a welcome dinner with our fellow travelers and get our first taste of the regional cuisine and wine that we will be enjoying throughout the week.
Day 2 – Private Cooking Class & Walking Tour
After breakfast at the hotel, we will head towards San Lorenzo Market where our cooking experience begins. Under the guidance of our chef instructor, we will select fresh and healthy ingredients needed for our cooking lesson. Following the market visit in the morning, we will proceed to the school where we will learn how to prepare typical Italian Tuscan dishes. Grab an apron and be prepared to cook up a delicious Tuscan lunch to be enjoyed by all in the group.
In the afternoon, we will walk off our lunch calories with a private city tour from our English speaking, certified city guide. Walk the streets of the Medici, Donatello, and Dante as well as the lesser known side streets of the city. We will visit major churches, such as the Santa Maria Novella and if the lines permit, enter the Duomo, among other high-profile attractions.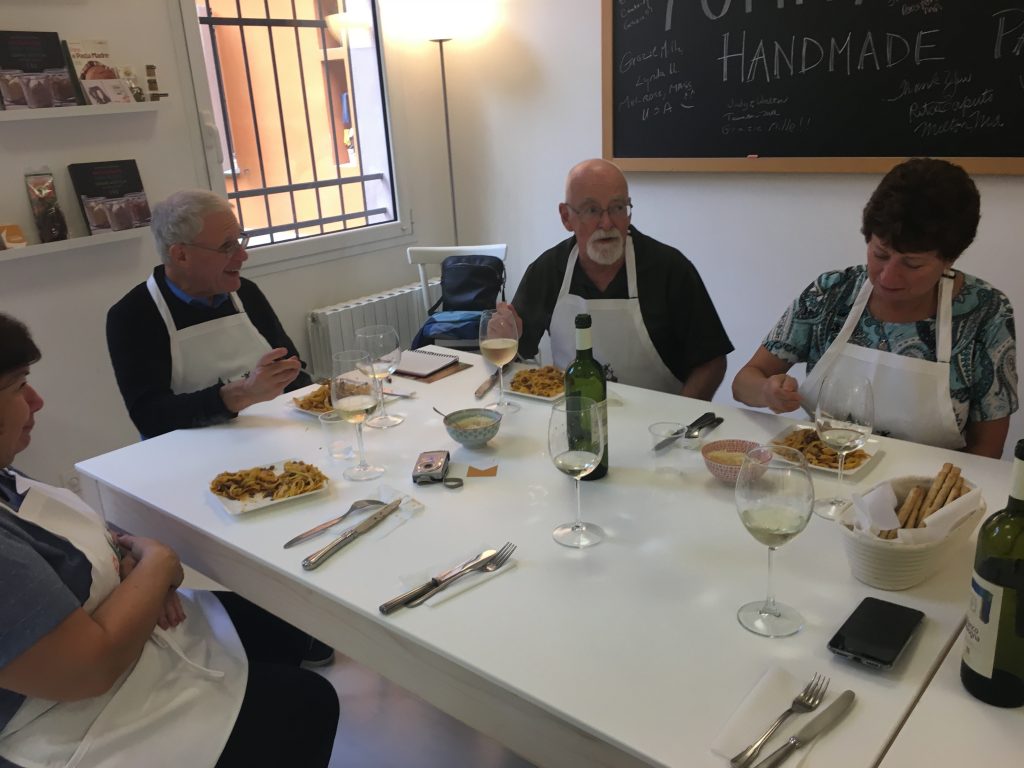 Spend the evening on your own at your leisure. Walk about the city, grab a gelato and people-watch the way locals do.
Day 3 – Day Trip to Chianti
After breakfast at the hotel, our private driver will pick us up, and we will make our way to Chianti where we will visit two highly praised wineries. We will visit the Southern part of Tuscany, undoubtedly the most beautiful countryside the region has to offer. Discover the wines of the area and learn the aging process. Enjoy the landscape, olive groves and of course, the many vineyards.
Lunch may include typical items such as antipasti Toscani, Ribollita, pasta with meat or mushroom sauce or lasagna.
Evening on your own to spend at your leisure.
Day 4 – Walking Foodie Tour & Cooking Lesson
Enjoy breakfast at the hotel, but be sure to leave room for our many tastings from our culinary walking tour. We will enjoy local specialties at family-owned shops and savor Florence's "street food" of cured meats, cheeses, olive oil, baked goods, custom made breads, chocolates, and artisan gelato.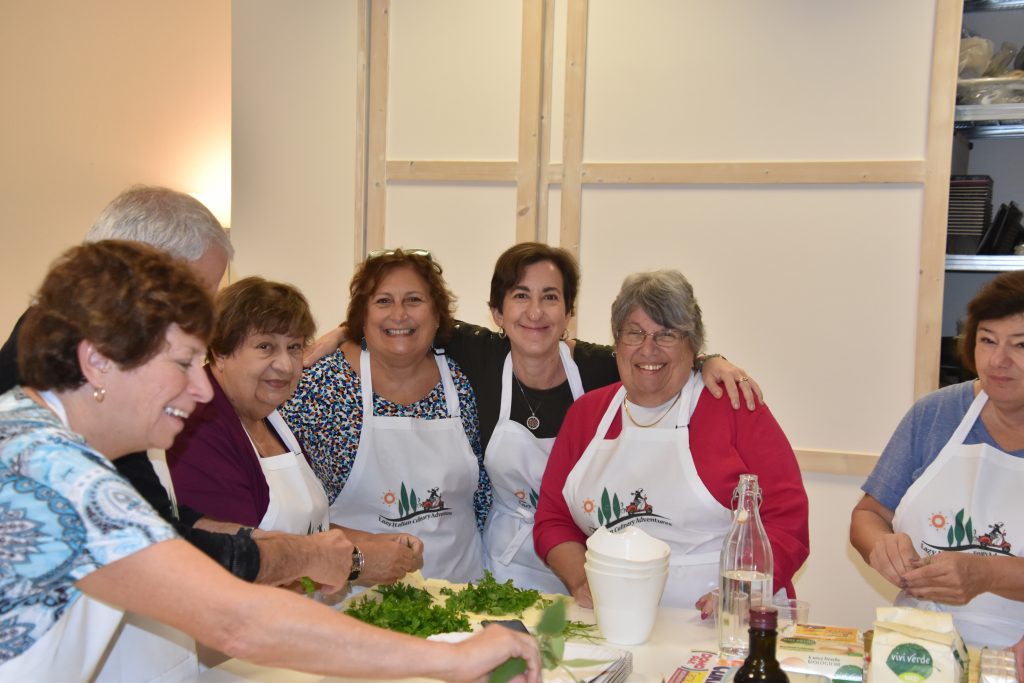 Enjoy some time on your own in the afternoon, but don't indulge, we're in for a treat this evening!
In the evening, we will head back to our culinary studio for our second private dinner cooking lesson. Be prepared to work for your multi-course dinner tonight as we prepare antipasti, a first and second course and of course, dinner would not be incomplete without dessert. A truly memorable dining experience is expected tonight!
Day 5 – Day Trip to Lucca & Pisa
Enjoy breakfast at the hotel before heading west of Tuscany today on our day trip to Lucca and Pisa. Lucca is a most beloved city in Tuscany and all of Italy, and we will have time to walk the streets filled with shops, cafes and old-school buildings. Known as the city of 100 churches, Lucca is filled with historical architecture, and a can't miss city while in this region. Lunch will be in a trattoria in Lucca.
Get your camera ready for what will be a memorable afternoon. After lunch, we make our way to the world-famous city of Pisa and the famous Miracle Square. Admire the Leaning Tower, Baptistery and Cathedral. Pick up a few gifts to take back, snap lots of pictures and take it all in.
We will return to Florence around 5:00PM, and you can enjoy the evening on your own.
Day 6 – Day Trip to Siena
Today we head to another major attraction and perhaps Italy's loveliest city, Siena! Located on top of three hills, Siena can easily be called Italy's ultimate hill town. Today, we will visit the Siena Cathedral, probably the most precious of Tuscan churches, the Campo Square, famous for the Palio, the annual historic horse-race, the Town Hall, Palazzo Salimbeni and San Domenico Church. Pedestrian friendly, as only residents and cabbies are permitted, Siena is sure to leave an impression. We can walk about the narrow streets, enjoy the adorned balconies and relax with a gelato along the way.
Day 7 – Farwell Dinner
Our time in Tuscany is sadly winding down. Today you can enjoy the day on your own to walk about the city with freedom. Visit a museum we didn't get a chance to see, we highly recommend the Uffizi Gallery, return to a place where we've been that left an impression, pick up a few foodie gifts for your friends or simply enjoy Italy's "Il Dolce Far Niente" – literally, the sweetness of doing nothing!!
A farewell dinner is planned for our last evening in Florence. Enjoy a delicious meal with wine, exchange stories, and e-mail addresses with your traveling companions and toast to our wonderful week.
Where Will You be Staying
Our home for the week will be the top rated and highly praised Hotel Orto de Medici. Located on Via San Gallo, one of the oldest streets in Florence, we will be in the city center, within a few minutes walking distance to the city's main attractions, yet in a quiet location. Our rooms are ample in size by Italian standards at almost 200 square feet. Before we head out for the day, fuel up at their exquisite breakfast. Need something from the mini bar? No worries, we will cover it for you. Looking for some relaxing time after our excursions and day trips? Sit in their historic garden and be inspired. After all, it is in this exact location that Lorenzo De Medici met the young Michelangelo.
Some of the amenities of Orto de Medici include a large selection of breakfast options, Wi-Fi throughout, a historic terrace for relaxing, a bar to enjoy a spritz, 24hr reception, and the ideal location! Staying in this hotel is a vacation in itself.
Your Host – Francesca Montillo
Your Host and Experienced Guide for the Week is Italian Cookbook Author of The 5-Ingredient Italian Cookbook: 101 Regional Classics Made Simple, native Italian, and culinary instructor, Francesca Montillo. She will amaze you as she guides you through Italy's most beloved region. She is fluent in Italian, well-traveled and passionate about showing her guests around her native land.
What Francesca says about her tours and your experience:
The tours are culinary and wine in theme. When I started my business, I wanted it to focus on what I know best about Italy, which is its food. My dad was a greengrocer while I was growing up in Italy, so I grew up in a foodie family. My mom always prepared delicious meals, and I believe they left an impression on me, hence my wanting to start this business.
When I travel with a group to Italy, I want them to feel like they are coming to my home, because, in a way, they are. I like to 'show-off' Italy in the best way that I can. It means the world to me when my clients have a wonderful time. Many have said that my trips are "once in lifetime experiences" (I certainly hope not!) and that traveling with me is not like traveling with a tour leader, but a friend. These are the best compliments I can receive.
As a native, I think travelers are reassured that I can properly lead the way, there's a certain level of added trust in going outside the country with a native. I am fluent in Italian, but that's not so impressive, really, but I understand the culture, the people and their mentality. I work with collaborators all over Italy and only work with natives that I have fully vetted, and whenever possible, have met in person.
On the tours, we do a mix of activities, namely, we take cooking classes with the locals, we visit honey and cheese farms, we have lunch on wineries, we visit producers of Parmigiano, balsamic vinegar, or prosciutto. We go to olive oil mills, make fresh pasta and always do a walking foodie tour, stopping at all the local shops to try some local off our calories, for sure.
What former guests are saying about their experiences Francesca's tours! 
I have just returned from a week-long cooking trip to Italy coordinated by Francesca Montillo. Francesca was responsible for our itinerary, transportation, visits to wineries, restaurants, and our accommodations, as well as providing the ingredients and tools for our cooking classes. All went smoothly and was worry free. She arranged for special requests from members of the group, such as no dairy, gluten-free, or vegetarian at the restaurants we visited with along and within the cooking classes themselves. Not only were our arrangements flawless, thanks to Francesca, but she is also very knowledgeable about Italy, Italian food and wine and is quite a good cook in her own right. She also speaks Italian fluently. She is pleasant and was always cheery, even early in the morning. I highly recommend Francesca if you want a wonderful experience of Italy's food and wine. Jennifer Fisk
I met Francesca a few years ago and knew that when the time came to go to Italy, she would be our best contact. Being a native Italian, I trusted her to build a custom itinerary to Sardinia last year. She planned a wonderful week for myself and my husband. No stone left unturned on our trip from transportation, to beach excursions, to cooking classes and all arrangements were handled perfectly. We will be contacting her again in a few years. Melinda & John Williams.
What a wonderful trip! Everything so well planned for us and everything went off beautifully. Great congenial group and hoping to keep in touch with everyone. Thanks for all you did in the planning that went off without a hitch. There has not been a day that I haven't thought about our wonderful trip. Thank you again for all you did. Rita Caputo, Emilia Romangna 2018
EXCLUSIONS
• Airfare / Flights
• Hotel incidentals such as phone calls, room service (minibar will be included!)
• Meals and wine not stated above
• Airport / Train transfers on first and last day of the tour
• Travel Insurance: Travel insurance is HIGHLY recommended in order to protect your investment.
• Hotel City Tax of 4.50 Euros per person / per night, to be paid directly to the hotel by the guest
Link to purchase Francesca's cookbook on Amazon: http://bit.ly/5IngredientItalianCookbook
Link to our hotel in Tuscany for our May tour. This is one of the top hotels in Florence: https://www.ortodeimedici.it/it
Contact Lazy Italian Culinary Adventures at:
[email protected]
Check out more details on their website at:
https://www.thelazyitalian.com.
Check out their facebook page too! https://www.facebook.com/lazyitalian/