Fairbanks, Alaska – Winter Wonderland and Alaska's Aurora Borealis
Visiting Fairbanks in the wintertime offers an abundance of outdoor adventures, indoor explorations, and, of course, the magnificent Aurora Borealis viewings. I want to share my experiences and some of my favorite selections of activities while visiting the wintertime wonderland of Fairbanks, Alaska.
Winter tourism has been discovered in Fairbanks, and they are finding that the visitor population has increased significantly, with almost as many winter visitors as summertime.  You will find guests flocking to this part of Alaska in Fairbanks from all over the world seeking an actual Alaskan winter experience.
The anticipation and excitement of finally traveling to my 50th state, Alaska, was exhilarating! I have always wanted to travel there and am not sure why I hadn't yet. Alaska had been on my must-visit list for years. We plan to take our Airstream camping there during the summer and spend some time exploring Denali Park. That journey is still to come.
I had never really considered visiting Alaska in the wintertime, and when the opportunity to have a winter adventure in Fairbanks opened up without hesitation, I jumped on it. What a great decision that was. My euphoria of arriving at Fairbanks airport with the list of activities to unfold before me just had my adrenaline going. Get ready, my 5-day Alaskan adventure was about to begin.
Fairbanks is the second largest city in Alaska and can be traced to the founding of the trading post built by E.T. Barnette on the south bank of the Chena River in 1901. Though there had been human residents occupying the area since the last ice age, it was not until the start of the 20th century that a permanent settlement was established.
I arrived at Pikes Waterfront Lodge in the early afternoon in late February after traveling from San Francisco to Fairbanks via Seattle. Visiting Fairbanks later in the winter season, such as in February, offers more hours of daylight and more time to experience winter activities. Arriving at the Lodge, which is just a mile from the Fairbanks Airport, presented us with a delightful casual Alaskan hotel along the frozen banks of the Chena River. The Lodge is located just next door to the famous Pikes Landing Restaurant.
We were greeted with a warm welcome by owner Jay Ramras who toured us around the property and shared with us the hotel's history and the surrounding area of Pikes Landing along the Chena River. Scattered along the Lodge's welcoming fireplace entry walls, we found many photos of the world-famous Iditarod race. This iconic Iditarod weeklong race has passed through this area of the frozen Chena River on many occasions. This renowned Trail Sled Dog Race is celebrating its 50th year. My stay at Pikes Waterfront Lodge would also be our home base for the next five days of our Alaska Winter Adventures.
Pike's Waterfront Lodge offers comfortable rooms, many with scenic views, a steam room, a riverside deck, a restaurant, a comfortable lounge, and wireless Internet in the public areas and most sleeping rooms. They also offer Aveda aromatherapy room amenities.
About the Lodge:
Pike's Landing is in a historic spot on the Chena River in Fairbanks. It is named for Lloyd Pike, who homesteaded the area under the U.S. Homestead Act shortly after World War II. At this time, it was miles and miles outside of Fairbanks. Mr. Pike later sold part of his homestead to assist in constructing and creating the Fairbanks International airport. Mr. Pike built Pike's Landing in 1959 when Alaska obtained statehood.
The floodwaters of 1967 washed the restaurant down the Chena River. In 1969 Lloyd Pike rebuilt the log structure you see today. In 1979 he sold the restaurant to Don Pruhs, who operated it during the colorful pipeline days. The story goes that Don Pruhs paid the mortgage with the jukebox and put his kids through college on the pool table money.
Guy and Lillian Kasnick purchased Pike's Landing in 1985. They created the fine dining room and added the 400-seat outdoor patio and atrium, open from spring until the moose-hunting season. The current and fourth owner, Jay Ramras, bought the property in 1999 and opened Pike's Waterfront Lodge a year later with 180 rooms, adding the 28 cabins, mini miniature golf course, bocce ball courts, greenhouse, maintenance facility, and paved walkway between Pike's Landing and Pike's Waterfront Lodge in the following years. https://pikeslodge.com/
We were off to overnight and dine in the Black Rapids Lodge's cozy, inviting great room by the roaring fireplace in the center of the Lodge. The next day we were to be off to snowshoe 2.5 miles to the hidden ice cave and glacier. Our drive took about four hours through Delta Junction on Alaska Highway 2 along the 134-mile drive north, with several sightseeing and photo ops along the way. Such a rugged untouched part of the world so far removed from the mayhem and the hustle and bustle of the big cities stateside.
Along our road trip to the Lodge, we made a lunch stop at Big Delta Brewing in Delta Junction, Alaska, where they are known for their innovative pizzas and craft beers directly from Big Delta's on-premise brewery. Such a great variety to choose from, and their custom brews were a highlight. Delicious!
Black Rapids Lodge (An All Season Alaskan Lodge) – My accommodation for the evening was Room 2 on the main floor! Such a lovely room adjacent to the main salon area with French doors overlooking the sprawling snow-covered valley. The Lodge is located 130 scenic miles from Fairbanks. We had six of us loaded into an Excursion to travel to this historic Lodge, and along the way, we passed many scenic points, glaciers, mountains, wildlife, and more. This historic Lodge offers travelers everything they would hope to experience on their Wintertime Alaska journey in Alaska's wild. It was rustic luxury in Alaska's relatively untouched wilderness.
Dinner at the Lodge – After our delicious Alaskan gourmet dinner, we were entertained by the owner, Annie Hopper, about the history of the Lodge and this remote and virgin region of Alaska.
Caster Glacier Ice Cave is a highlight of this excursion north to the Lodge was to be a 2.6-mile trek on snow shoes to this magnificent wonder of beauty. Sadly due to inclement blowing snow and weather, it was determined the walk to the cave was not safe for a snowshoe expedition through the deep powder, crossing the invisible snow-blanketed paths. But definitely, something to put on your winter or summer Fairbanks visit to-do list. Disappointed we missed the journey to the Glacier Ice Cave but best to err on the side of caution and safety.
It was time for an early visit with Santa and to let him know what I wanted for Christmas this year. I think he delivered! Along our daytime explorations, we found ourselves at the Santa Claus House in North Pole Alaska, where "Santa's Workshop" and a massive storefront offered a vast selection of holiday adornments. I had to definitely shop a bit and have Santa send a few cards to the family from the North Pole! When at the North Pole, shop Santa shop! https://www.santaclaushouse.com/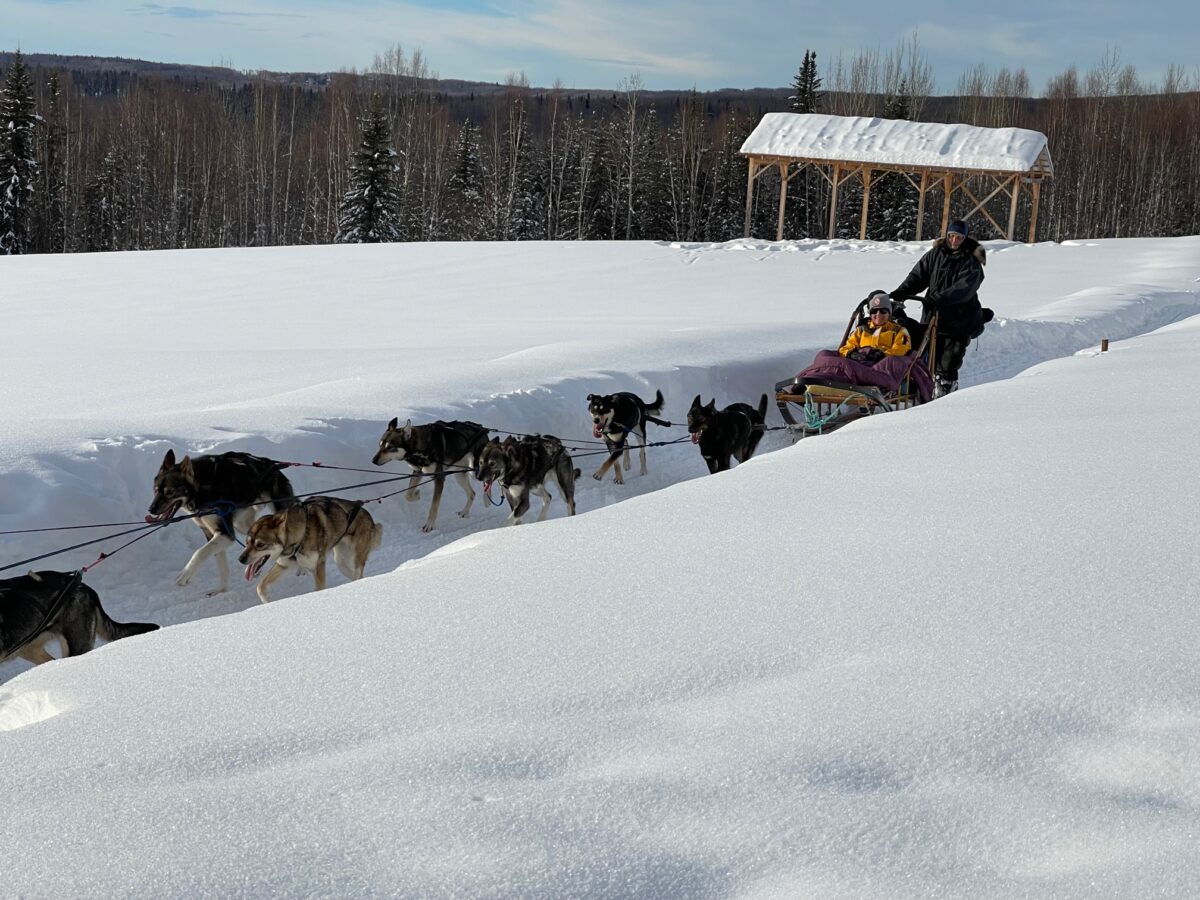 (Alaska's state sport) – We were off with two people to a sled, plus the musher guide from Paws for Adventure. We bundled up with cozy warm blankets for a 40-minute jaunt through trees and over snowy pastures. These 4-legged athletes took us on a swift cruisy ride on this brilliant blue bell day as we were splashed with sprinkles of snow glitter. Every turn presented us with the awestruck backdrop of the Alaska Range's majestic views. We had a few short stops so the dogs could take a quick breather and the passengers could grab a few photo opportunities.
There are a variety of Dog Mushing operations and itineraries. You can check them out here:
https://www.explorefairbanks.com/things-to-do/activities-attractions-and-tours/dog-mushing/
Our evening at Aurora Pointe – The Big Reveal! We were all anxious to catch a glimpse of the magnificent Northern Lights – Aurora Borealis, particularly for this Florida gal who had never been close to any of this winter majesty of the skies. I missed out on the first two nights of Aurora viewing as they were late-night excursions. I was determined not to miss it this time. You never know when the skies will open up and mother nature will present its unexpected light shows, just be ready, and you will see them. Get ready to be hypnotized and in glare at the evening skies in total awe.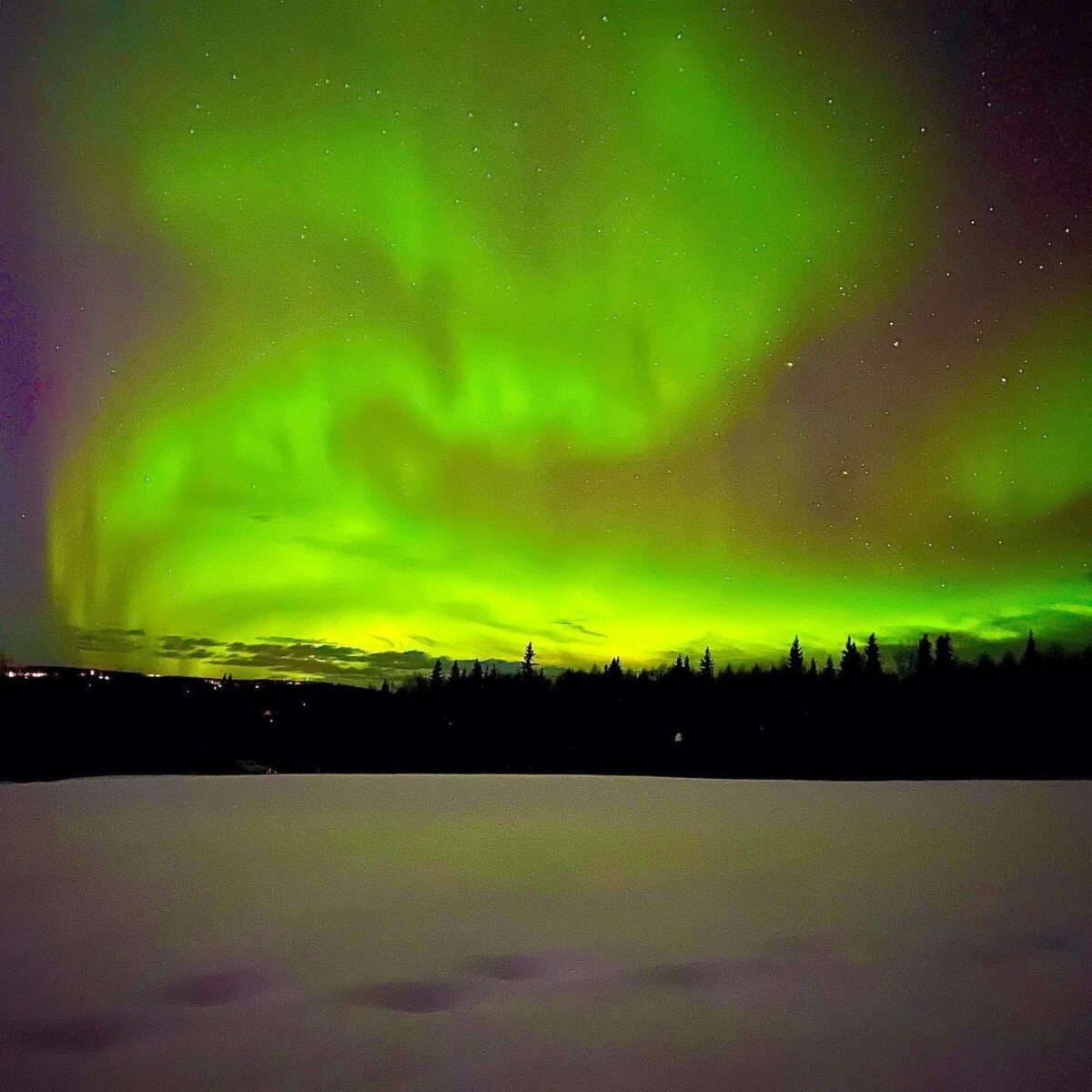 To my surprise and excitement, it was on my last evening, and shortly after our delicious dinner at Aurora Pointe, we were told to rush outside; it was around 10:30 pm, a bit earlier than they usually show up. I was beyond absolutely thrilled; it was everything I could have imagined and everything I had anticipated. The Northern Lights were beginning to dance through the skies waving neon illuminations that presented a fascinating sight to behold. My dream of experiencing the Aurora Borealis had come to life, and I was given the gift of experiencing this miraculous phenomenon. Definitely one of my winter journeys in Alaska highlights in Fairbanks.
Aurora Viewing Season is from August 21st to April 21st – Aurora viewing is a must when visiting this region, and there are many locations and many operations that offer Aurora viewing excursions.
You can visit Explore Fairbanks for more details.
Museum Day
Indoor activities before Exploring the Elements of the Winter Ice Fest
This natural history museum is adjacent to the University of Alaska. We explored Alaska Native Cultures, natural wonders, wildlife, Arctic dinosaurs, and 2,000 years of Alaskan art. We used our mobile phone's GPS to navigate from stop to stop from the UAMN Mobile app, along with the knowledgeable guides who curated our afternoon tour.
This Ice Sculpture contest is the largest of its kind in the world, with more than 100 gifted sculptors from 30 countries who compete in this magnificent display. It was good that we were all dressed warmly, as it was quite cold that evening where these extraordinary pieces of art were displayed. Well worth the freeze factor, though.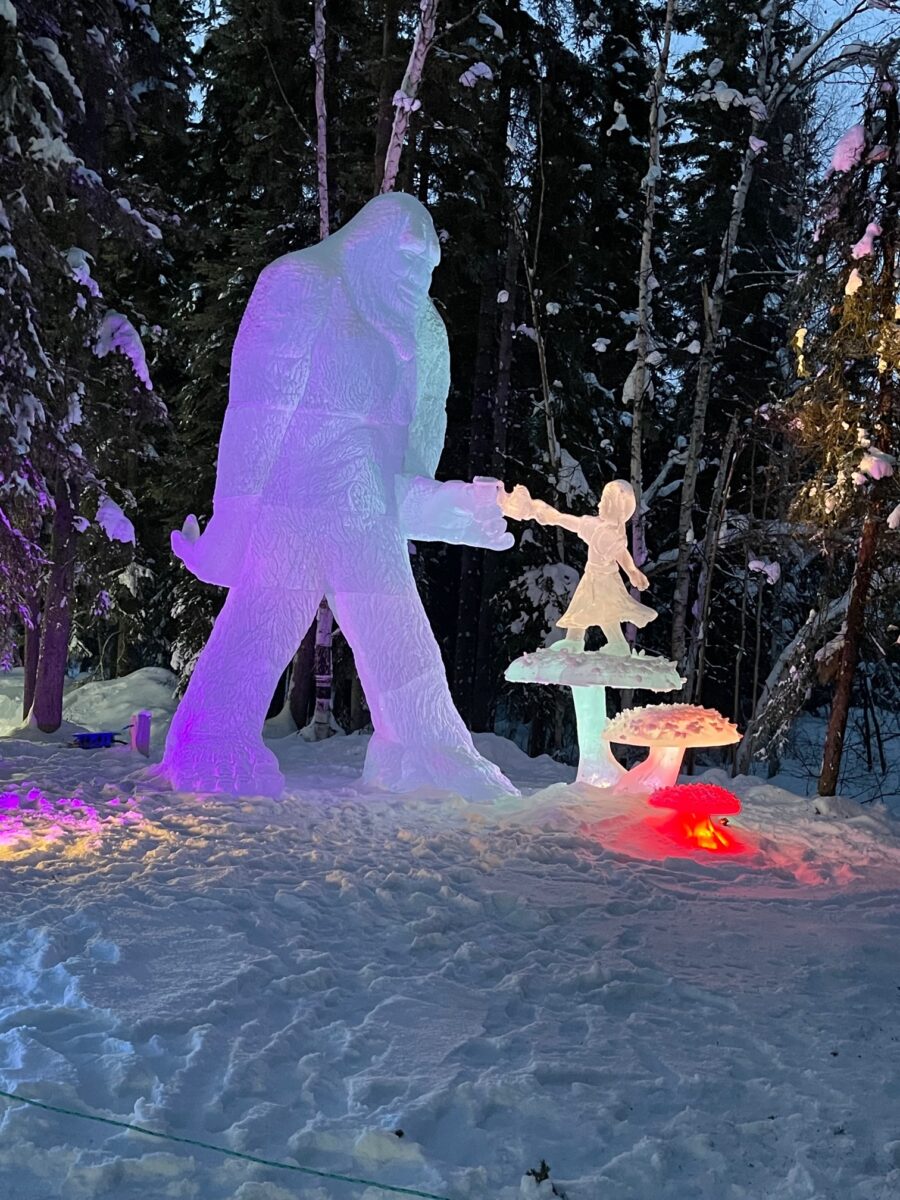 The backdrop of the colorful display of lights shining through these ice crystal creations presented a sensational sight to behold. What a talented array of ice artists! It just amazed me the details they were able to carve out of ice as they endured the frigid outdoor temps for hours and hours to deliver these frozen crystal masterpieces.
The Fountainhead Antique Auto Museum is one of the top tourist attractions in Fairbanks. We stepped into a fascinating time in history with this extensive collection of vintage autos and exquisite clothing designs of eras gone past. It was like stepping into a Gatsby movie! This unassuming warehouse building indeed mesmerized me when I walked through its doors to find a vast collection of world-class vintage automobiles and stunning period fashions. There is so much history to immerse in that even the four hours we were there for our lovely dinner proved not enough time to take in everything this spectacular museum has to offer, from Victorian times to the Art Deco era. The fashion creations were absolutely exquisite, but I couldn't imagine fitting into them as the women these fashions were designed for absolutely had the tiniest waists I have ever seen!
This year-round resort offers many different activities for both winter and summer fun. The signature attraction to this off-the-beaten-path destination is, of course, the mineral Chena Hot Springs themselves. These healing waters can be experienced in the pool house or the outdoor natural adult Rock Lake. The temperatures can vary depending on where in the large man-made mineral lake you are standing. The pool can get quite toasty, though to our delight, we discovered the warm waters of Chena Hot Springs are quite inviting and soothing even in the frigid temperatures of the outside winter air. Chena's history dates back to the early 1900s. https://chenahotsprings.com/
Prior to this large group of ours plunging into the inviting, warm waters, we toured the Aurora Ice Museum at Chena Hot Springs, where we slurped on Appletinis in ice goblets. This ice bar is adorned with many more stunning ice sculptures and ice Candelabras. The Aurora Ice Museum is open all year long and provides a cool escape on hot Summer days!
Activities offered at Chena Hot Springs Resort – Aurora Ice Museum; Chena Kennel Tour; Dog Sled Tour; Snow Mobile Tour; Aurora Viewing Tour; Ice Fishing; Sunset Tour; Hot Springs; Massage Therapy; Dining and Lounge.
Getting There: The Chena Hot Springs Resort is a scenic 60-mile drive from Fairbanks. The resort is located at milepost 56.5 at the end of Chena Hot Springs Road. It is open year-round. You can also book a shuttle on their website. https://chenahotsprings.com/chena-shuttle/
Other Wintertime Activities to Explore Next Time I Visit Fairbanks!
a 12-hour train journey through the Park on the Denali Star While the Aurora Winter Train travels the same stretch of tracks as the summer Denali Star Train, the views are strikingly distinct; the vibrant colors of Alaska's summer landscape give way to the quiet serenity of pristine snow.  Passengers may enjoy the winter wonderland of Alaska's backcountry from the comfort of a warm railcar, complete with comfortable seats, large picture windows, and onboard dining. On a clear day, a spectacular view of Denali rises into view above the Susitna River. And anywhere along the tracks, a watchful eye may be rewarded with seeing a moose in the wild. Winter Train Travel Information  
Guided Walking Tours through the Boreal forest with their Reindeer Friends. It has been named one of the top things to do when visiting Alaska. https://runningreindeer.com/
A few select members of our group flew on a small plane North into the Arctic Circle in search of the perfect sighting of the Aurora. Coldfoot Camp is Located near the famously beautiful Gates of the Arctic National Park and Arctic National Wildlife Refuge, Coldfoot Camp provides easy access for adventure and play in the surrounding Brooks Range wilderness.
Coldfoot's prime location at Mile 175 on the Dalton Highway serves as a natural base for summer flightseeing, hiking, rafting, fishing, and exploring. In the colder months, there's world-class aurora viewing, dog mushing adventures, and a chance to take a scenic backcountry snowshoe tour with a local guide. https://www.coldfootcamp.com/