Navigating the Scenic Opal – A Seven-Day Journey along the Rhine and Moselle Rivers
This past year, Scenic Opal launched a new River Cruise itinerary with the Charming Castles and Vineyards of the Rhine and Moselle from Germany to Switzerland.
Embarking on this 7-day river cruise with Scenic Opal along the picturesque Rhine and Moselle Rivers is a voyage into a world of natural beauty, cultural heritage, gastronomic delights, and unparalleled onboard experiences. We set sail on March 3rd, 2023, from the enchanting city of Mainz, Germany. This voyage takes you on a captivating exploration of the heart of Europe, concluding in the charming Swiss town of Basel. Join me as I recount the fascinating experiences, culinary wonders, regional wines, and memorable excursions that were waiting for me as I began this remarkable river cruise with Scenic.
Flying over to Frankfurt from San Francisco, I had the opportunity to experience Condor Airlines' new fleet of planes that they recently introduced, the Airbus A330neo. As this direct route was only weeks old at the time of booking, my timing worked out perfectly to grab this flight for my itinerary to head into Mainz, Germany, just outside of Frankfurt, and join the Scenic Opal River Cruise.
It was so wonderful to discover a direct non-stop flight into Frankfurt rather than to have to change planes to get there as I was expecting. As an added bonus, I was able to get upgraded to Condor's new business-class cabin, which is absolutely gorgeous and top-notch appointed. Instead of arriving totally jet-lagged, I was pleasantly rested to start my sojourn the next day along the Rhine and Moselle Rivers.
Day 1 – Mainz, Germany
The river cruise adventure began in Mainz, a city known for its rich history and vibrant culture. I was immediately awed by the elegant ambiance as I boarded the luxurious Scenic Opal docked in Mainz. The warm hospitality of the ship's crew immediately made everyone joining the cruise feel at home. All onboard cabins offer stunning river views, ensuring the guests won't miss a moment of the breathtaking scenery along the way, whether in their cabin, up on deck, or gazing out the large picture windows surrounding the lounge area.
The Ships Cuisine: Our first dinner on board presented the guests with a variety of international fare. We savored dishes like Marinated Herring, Forest Mushroom Tart, Pork Filet wrapped in Bacon and Prunes, and Sesame Crusted Haddock Fish, all expertly prepared by the ship's chefs. The dishes were paired with a selection of Austrian Wines. (More about the foods and wines served on the Scenic Opal presented at the end of the feature.)
After dinner, we had the daily evening "Port Talk" with our charismatic Cruise Director, Alex, who did a slide show and presentation about our port and excursions the next day, which he does every evening. Also, we were entertained with background music with Aida, the assistant cruise director.
Day 2: Koblenz – The Confluence of Rivers
Our first stop was Koblenz, where the Rhine and Moselle Rivers meet. Here, we explored the charming old town where you can take a cable car ride up to the imposing Ehrenbreitstein Fortress for panoramic views of the confluence.
Koblenz is a UNESCO-listed city situated at the corner of the village where the Rhine and Moselle rivers meet and is rich in history, dating back over 2000 years.
The options for the day's tours were A Walking Tour of Koblenz, A Bike Tour of Koblenz, and the Burg Eltz Castle. All of these activities took place in the morning. Just after a delightful onboard lunch, we boarded the ship again and departed for the next port of Bernkastel – Kues.
The Regional Wines: Koblenz is the gateway to the renowned German wine regions of the Rhine and Moselle. The area is known to be celebrated for its exceptional Riesling wines. There, you can enjoy tastings of crisp and aromatic Rieslings from local vineyards, gaining an appreciation for the terroir that makes these wines world-famous.
Day 3: Bernkastel-Kues – A Fairy Tale Town with Castles with Panoramic Views of the Charming Town Below
On our fourth day, we explored Bernkastel-Kues, a charming town that epitomizes the Moselle Valley's wine culture. Walking through its cobblestone streets, we visit the iconic Spitzhäuschen (Pointed House) and savor more of the region's exquisite wines. This town was my absolute favorite as it just takes you back in time on a fairy tale journey.
After a local wine tasting of signature Rieslings, we decided to take a walk/hike to the top of the town, where perched majestically was the impressive castle that overlooks this magical little village.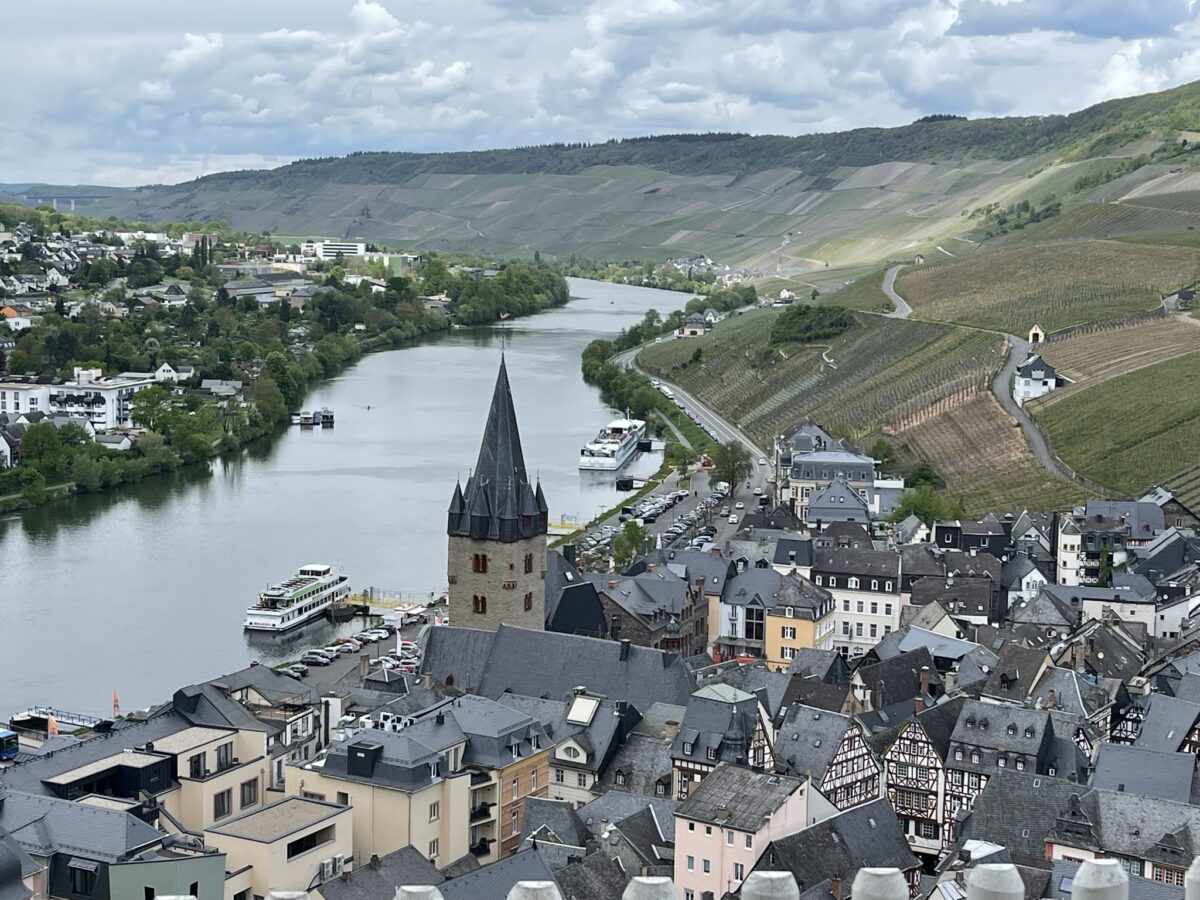 Also, to our delight, we discovered that it was the season for the famous White Asparagus in Germany – Weiber Spargal. We stopped for a beer in the courtyard of Bernkastel and found they were serving Spargal and Schnitzel along with homemade hollandaise sauce. What a delicious treat and a perfect reward after a long walk.
That evening, we were treated to a beautiful musical event – Scenic Enrich: Choir and Trio Concert at the Church of our Lady in Trier.
Regional Wines from the area: Bernkastel-Kues is renowned for its exceptional Moselle Rieslings. The town's cellars are filled with the fruity and elegant wines that thrive in the region's microclimate. You can enjoy tastings in a selection of historic wine cellars, where the winemaking traditions date back centuries.
Other Regional Cuisine in Bernkastel-Kues offers the opportunity to indulge in local dishes such as Hähnchenkeulen (chicken drumsticks) and Riesling soup, highlighting the region's flavors. The town's celebrated Rieslings complement these delightful meals.
Day 4: Cochem – A Medieval Gem and Moselle Rieslings
Cochem's fairytale-like Reichsburg Castle dominated the skyline as we arrived at the dock. Our guided tour of the castle was followed by a wine tasting at a local winery, where we discovered the unique charms of Moselle Rieslings, perfectly paired with local cheeses. This city is rich in history, and the views up the Moselle River from the top of the castle are mesmerizing. I felt like Rapunzel in a tower overlooking her kingdom.
Regional Vineyards: The Moselle Valley is a paradise for wine enthusiasts. You can visit family-run wineries where you will learn about the steep slopes and slate soils that contribute to the region's distinctive Riesling wines. The vineyards cling to the hillsides, creating a mesmerizing landscape that adds to the allure of the wine-tasting experience.
The Ship's guests had the option to do a guided tour of the Reishsburg Castle or a Bike Tour of the Cochem area. We also had the opportunity to tour this historic storybook town on our own, where we did some regional wine tasting at a local wine house and had a bite to eat at one of the bustling riverside cafes. Again, we had the opportunity to indulge in the seasonal tastes of Spargel – the white asparagus delight. What a delicious treat. I just couldn't get enough of that!
After lunch, we set sail again along the beautiful Moselle, heading back towards Koblenz. It was the day of King Charles' Coronation, so many of us sat in the panoramic lounge area to watch the royal festivities. The Brits on board came appropriately donned in their celebratory attire fit for a king to relish in this historical event.
That evening, we were serenaded by the beauty and versatility of the Violin with Vlad. What an impressive performance, and when he did his rendition of Led Zeppelin Kashmir, I was hypnotized by the brilliance and talent of this violin virtuoso. Having this kind of unique entertainment on board after our dinners every evening is a special treat.
Day 5 – Rüdesheim am Rhein– A small picturesque place along the Rhine
This enchanting riverside village is surrounded by lush green vineyards scattered with colorful historic buildings down timeless, narrow, cobblestoned streets. It was a perfect place to take a guided hike around Rüdeshem along the breathtaking river views. This town is renowned for its unique German coffee drink known as Rüdesheimr Kaffee, where you will find this potent warm coffee concoction in just about every café you come across. Of course, we had to try it. It is the region's Irish coffee-style libation and every bit as good.
There were quite a few options to explore that day: Siegfried's Mechanical  Music Cabinet, a self-guided cable car ride, or the Active Hike through the Vineyards up to the Niederwald Memorial. It was a bit more challenging than anticipated, with a steep elevation climb of almost 1500 feet to the top. But happily made it to the top to take in the breathtaking scenery.
After our exhilarating hike, upon reaching the summit, we were rewarded with an ice-cold regional beer in the pub at the mountain's crest, which offered sweeping views of the river valley below. Heading back down to the village below, we were delighted with a lovely tram ride down to the base, viewing the Scenic Opal docked glistening in its glory in the distance.
Day 6: Docking at Rastatt and then off to Strasbourg, France – A Blend of Cultures
Crossing into France, we arrived in Strasbourg by bus, where French and German cultures harmoniously coexist. Visitors can also take a canal cruise that reveals the city's stunning architecture, including the enchanting Petite France district.
Passengers on the Scenic Opal were offered various excursions to explore the adjacent areas once at port: Baden Baden, including the Roman Baths; Touring Strasbourg; The Technical Museum in Speyer or the Schloss Favorite. Having never been to Strasbourg, I chose to venture over to France. We did a walking tour of this historical French town and took the opportunity to indulge in some of the local cuisine, French pastries, and regional beers.
Regional Wines: In Strasbourg, you are introduced to the Alsatian wine culture. The region is celebrated for its aromatic white wines, including Gewürztraminer, Riesling, and Pinot Gris. You can enjoy wine tastings at local wineries and gain an appreciation for the diversity of flavors that define Alsatian wines.
Regional Cuisine In Strasbourg: Dining in the area you will discover a taste of France, featuring dishes like Coq au Riesling (chicken in Riesling wine sauce), choucroute garnie (sauerkraut with sausages and meats), and tarte flambée (thin-crust pizza). The region's exquisite wines usually complement these Alsatian delights.
That evening was the gala dinner, where everyone spruced up in their evening's finest and celebrated the week's fantastic journeys within the surrounding river regions of the Rhine and Moselle. We also had the opportunity to applaud and celebrate the hard work, commitment, and diligence of the versatile and talented ship's crew! Bravo! What an impeccable and impressive team!
Day 7 Breisach – Journey to Colmar in France
Our last day was upon us as we journeyed through the rippled waters of the Rhine into Colmar, our last port, to explore the cobblestone streets lined with colorful cottages right out of a J.R.R. Tolkien book. After breakfast on board, Alex, our favorite cruise director, did an informative presentation on Canals, River Locks, and everything you wanted to ever know about river cruising.  It was great to have these detailed explanations and slideshows to understand the dynamics of the river locks we had experienced along the way. During our seven days and nights, we floated the rivers' through ups and downs inside many locks during the week-long luxury river cruise on our floating home along the heart of the Rhine and Moselle Rivers.
After lunch on board and the presentation, we divided up to explore our last excursions offered by Scenic Opal. There were four incredible day destinations: Guided Tour of Colmar, Guided Tour of Freiburg, Chateau de Haut Koenigsbourg, or a winery visit at Kaiserstuhl. After much deliberation, it was a coin toss as they all sounded impressive. We ultimately did the Winery Visit, which was a great option, and we had the chance to buy some of the wines they showcased, and we tasted during our tour.
That evening, we had our last dinner in the Crystal Dining Room, then off for our Farewell Port Talk by Alex explained our varying departures and times to our new destinations that awaited us.
Day 8: Basel, Switzerland – Journey's End
Our final stop was Basel, Switzerland, where we bid Auf Wiedersehen (goodbye) to the Scenic Opal and its dedicated crew. Basel's art and culture scene provides a perfect ending to our journey. With fond farewells to many of our newfound friends, we were off to the Train Station in Basel to embark on our next adventure.
Regional Wines: Basel is the gateway to the Swiss wine country. Here, you will have the opportunity to sample Swiss wines, which include Pinot Noir, Chasselas, and Müller-Thurgau. These wines beautifully complement the Swiss cuisine we savor in Basel's charming restaurants.
Regional Cuisine: Lunch in Basel showcases Swiss gastronomy, featuring fondue, raclette, and rösti, the country's iconic dishes. Swiss chocolate and local cheeses were the perfect way to conclude our culinary adventure.
Onboard Experience
Throughout each day on the cruise, Scenic Opal's team pampers their guests with exceptional onboard experiences. From the spacious and elegantly appointed cabins to the top-notch amenities, including a wellness area, a small swimming pool, an expansive viewing deck on top, and nightly entertainment, the ship provides the perfect blend of relaxation and adventure.
Dining Experiences
Dining on board is a culinary journey in itself. The ship's chefs expertly craft regional and international dishes, ensuring each meal is a delight for the senses. From themed dinners highlighting local cuisine to fine dining experiences in the ship's restaurant, every meal is an opportunity to savor the flavors of the regions we visit.
There are a variety of dining options offered on board the Scenic Opal:
The Crystal Dining Room is the expansive main restaurant serving breakfast, lunch, and dinner.
Portobellos on the main level of the ship offer a lighter fare for breakfast, lunch, and late evening small bites. It also hosts specialty dinners where approximately 32 guests will dine once during their cruise. These special dinners offer a 5-course specialty menu in an exclusive and intimate setting where they will serve regional specialties and local wines paired with the dishes. Our experience at Portobellos offered us Italian Cuisine paired with regional Italian wines.
Table La Rive
An extraordinary evening with exquisite dining and fine wines set in an intimate setting in a private area of the Crystal Dining Room. This memorable dining experience is for ten guests on select evenings for those staying in the Royal, Junior Suites, and Diamond Deck cabins. They are presented with a sumptuous six-course degustation menu with sommelier-paired wines, all showcased by the ship's executive chef.
Here is a sampling of the culinary creations we were presented with for our special dinner at Table La Rive!
LES MISES EN BOUCHE

Trio tapenade – mini rolls
Sancerre Les Barones Blanc, Henry Bourgeois, Sancerre

HORS D'OEUVRE FROID

Tuna tataki / graved lax /black olive – bread soil/wasabi foam/cream cheese sphere
Grüner Veltliner Federspiel, Dömaine Wachau, Wachau Valley

POTAGE

Spring herb velouté / poached quail egg / crisp crouton
Riesling Kabinett, Buschofstuhl Kloster, Mosel

SORBET
PLAT PRINCIPAL

Slow-cooked beef tenderloin/port wine gravy/carrot mash vegetables
Monte Santoccio, Amarone della Valpolicella Classico, Italy

DESSERT

Lime mousse/sponge/berries
Cazes Muscat, Maison Cazes de Rivesaltes, Sauternes

PRALINES & PETIT FOURS
In-room dining is also available, served by your own personal butler at any time of the day.
Summary
My 7-day cruise along the Rhine and Moselle Rivers aboard the Scenic Opal proved to be an immersive journey of sensory, cultural, and visual experiences that left me with an abundance of captivating memories. From the cultural gems of Rüdesheim and Koblenz to the fairytale charm of Bernkastel and the blend of French and German influences in Strasbourg, every moment was a treasure to remember. The culinary journey on board was equally rewarding, with various presentations of regional delicacies and world-class wines that enhanced the voyage. I can't wait to join Scenic Cruises again for yet another adventure and explore new destinations.
For further information about this itinerary – https://www.scenicusa.com/tours/charming-castles–vineyards-of-the-rhine–moselle/14564
You can also find out more about their River Cruise destinations, various ships, and itineraries.
https://www.scenicusa.com/river-cruises
Though I was hosted on this River Cruise with Scenic, all of the details about my experiences with the Scenic Opal – Charming Castles and Vineyards of the Rhine and Moselle are completely my own.