What to cook today when you have a lot of time on your hands like right now! And you are homebound for a while longer. Let's get cooking!
What to cook today while at home during  "Shelter-in-Place"
The pantry is stocked, the refrigerator and freezer are full, and the wine cooler and wine cellar have plenty of wine. This is all good but what to do with it all? Now that we are currently all staying at home nesting, we are finding that we can't watch food movies all of the time because it is making us really hungry or binge-watch our favorite shows all of the time because my eyeballs are going to fall out from staring at the TV too much, what else do you do? It's time to dig into that pantry and fridge, look for new and innovative recipes, or your old favorites, and start cooking…
Last week, we started on our mission trying new recipes almost every day. Since all of my favorite hardcover cookbooks are in a box somewhere and when was the last time I actually used a hardcover cookbook, I relied on Mr. Google and my daily incoming recipe emails to get me inspired.
A sincere thank you to all of the workers at the grocery stores around the US and the World. You are all our heroes!
First and foremost, I must thank our daughter, Lauren, who works at Trader Joes for bringing home our almost daily food requests from the store. And, especially I would like to sincerely thank all of the grocery workers around the US and the world for hanging in there for everyone, working long hours and keeping the food supplies available and shelves stocked, during our Shelter-at-Home lockdowns. You are all heroes and so gratefully appreciated!
Many of these recipes you will recognize as they are known to most all of us, however, I have taken a few slight diversions on the recipes in order to use what ingredients and supplies that are available to us.
Tortellini and Spinach Soup
(Inspired by a recipe I found on TasteofHome)
Since we were supposed to be in Sicily the day I made it, an Italian dish was a must! Along with a lovely bottle of Chianti from our travels to Tuscany a few years back.
Ingredients
Olive Oil – 1 tablespoon
Minced Garlic Cloves – 2-4 cloves
1 Can diced tomatoes, undrained
1 box of vegetable broth (32 oz) or 3 cans 14.5 oz.
2 teaspoons Italian seasoning
Fresh basil or if you don't have it dried will do
1 16 oz. bag of dry cheese tortellini from Trader Joes or 1-2 packages of refrigerated tortellini (we only had the dry tortellini, which worked great by the way)
1 Bag Frozen Spinach (which is what we had in the freezer) or 4 cups for fresh baby spinach
Shredded or ground Parmesan cheese
Salt and Pepper to taste
Cheese rind – Small one if you have it
Directions
In a large saucepan, heat oil over medium heat, add garlic and stir for a minute or so. Add the broth and Italian seasonings; bring to a boil and add the dry tortellini, cook for about 12 minutes or so until al dente. Then add in the diced tomatoes and simmer for another 10 minutes. Add your bag of frozen spinach. I like to add in one of my leftover parmesan cheese rinds directly into the soup. It gives it a richer flavor. Salt and pepper to taste. When serving, sprinkle with parmesan cheese. Served with your favorite garlic bread and of course a glass of wine or two.
Total time – 30 minutes – Makes 6-8 hearty servings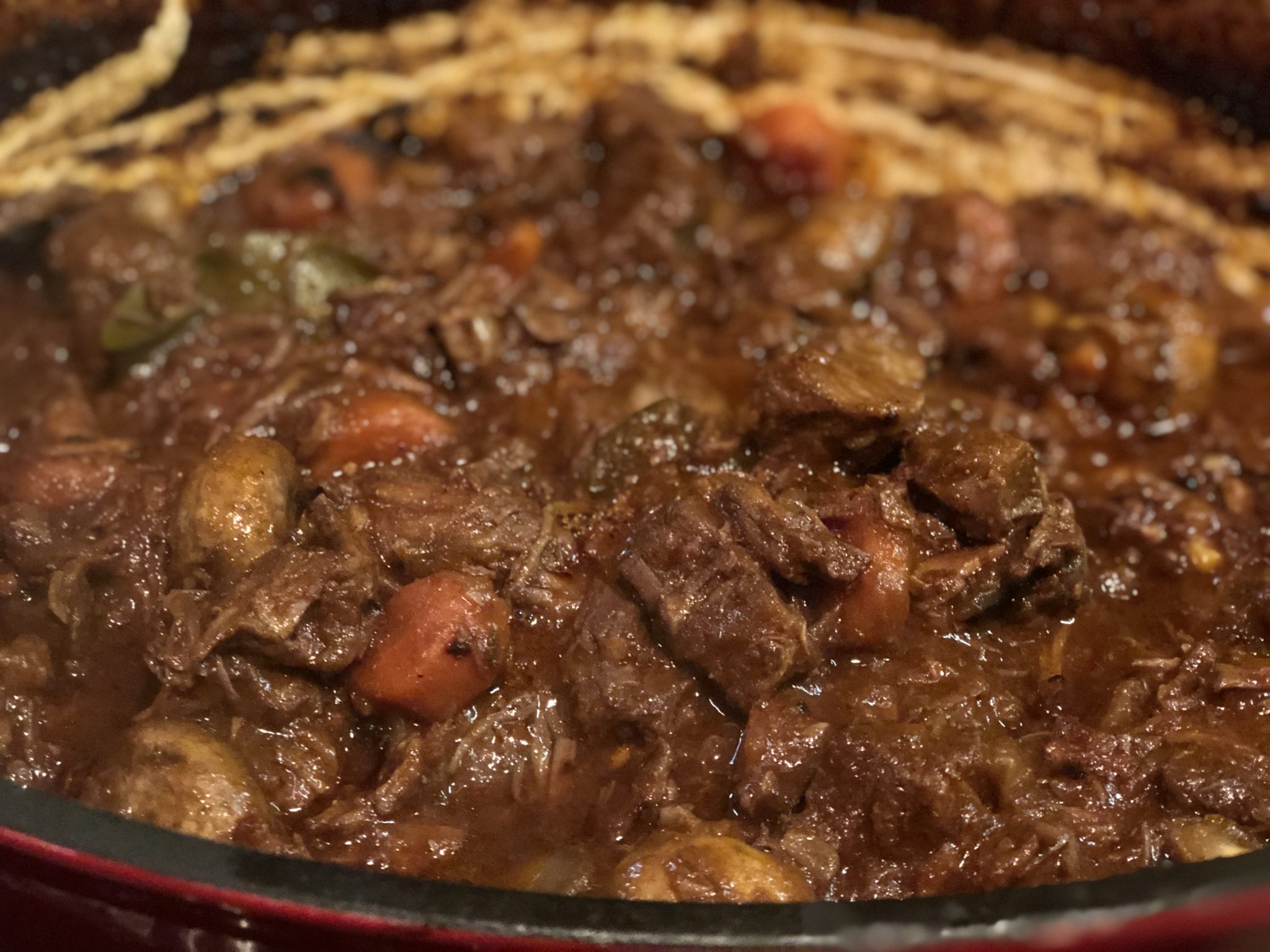 After watching the movie again last week – Julie and Julia – New Yorker Julie Powell (Amy Adams) embarks on a daring project: she vows to prepare all 524 recipes in Julia Childs' landmark cookbook, "Mastering the Art of French Cooking." Intertwined with Julie's story is the true tale of how Julia Child (Meryl Streep) herself conquered French cuisine with passion, fearlessness, and plenty of butter.
Well if that wasn't enough to make us hungry, after watching the movie, I was inspired to cook one of the more famous recipes from Julia Child's renowned cookbook, Mastering the Art of French Cooking, originally published in 1961 – Boeuf Bourguignon!
Servings: Serves 6
Ingredients Kitchen Supplies:
6 ounces bacon
1 Tbsp. olive oil or cooking oil
3 pounds lean stewing beef cut into 2-inch cubes
1 sliced carrot
1 sliced onion
1 tsp. salt
1/4 tsp. pepper
2 Tbsp. flour
3 cups full-bodied, young red wine, such as a Chianti
2 to 3 cups brown beef stock or canned beef bouillon
1 Tbsp. tomato paste
2 cloves mashed garlic
1/2 tsp. thyme
Crumbled bay leaf
Blanched bacon rind
18 to 24 small white onions, brown-braised in stock
1-pound quartered fresh mushrooms sautéed in butter
Parsley sprigs
Directions
Remove rind from bacon, and cut bacon into lardons (sticks, 1/4-inch-thick and 1 1/2 inches long). Simmer rind and bacon for 10 minutes in 1 1/2 quarts of water. Drain and dry.
Preheat oven to 450 degrees.
Sauté the bacon in the oil over moderate heat for 2 to 3 minutes to brown lightly. Remove to a side dish with a slotted spoon. Set casserole aside. Reheat until fat is almost smoking before you sauté the beef.
Dry the stewing beef in paper towels; it will not brown if it is damp. Sauté it, a few pieces at a time, in the hot oil and bacon fat until nicely browned on all sides. Add it to the bacon.
In the same fat, brown the sliced vegetables. Pour out the sautéing fat.
Return the beef and bacon to the casserole and toss with the salt and pepper. Then sprinkle on the flour and toss again to coat the beef lightly with the flour. Set casserole uncovered in the middle position of the preheated oven for 4 minutes. Toss the meat and return to the oven for 4 minutes more. (This browns the flour and covers the meat with a light crust.) Remove casserole and turn the oven down to 325 degrees.
Stir in the wine, and enough stock or bouillon so that the meat is barely covered. Add the tomato paste, garlic, herbs, and bacon rind. Bring to simmer on top of the stove. Then cover the casserole and set in the lower third of the preheated oven. Regulate heat so liquid simmers very slowly for 2 1/2 to 3 hours. The meat is done when a fork pierces it easily.
While the beef is cooking, prepare the onions and mushrooms. Set them aside until needed.
When the meat has begun to tender, pour the contents of the casserole into a sieve set over a saucepan. Wash out the casserole and return the beef and bacon to it. Distribute the cooked onions and mushrooms over the meat.
Skim fat off the sauce. Simmer sauce for a minute or two, skimming off additional fat as it rises. You should have about 2 1/2 cups of sauce thick enough to coat a spoon lightly. If too thin, boil it down rapidly. If too thick, mix in a few tablespoons of stock or canned bouillon. Taste carefully for seasoning. Pour the sauce over the meat and vegetables. The recipe may be completed in advance to this point.
For immediate serving: Cover the casserole and simmer for 2 to 3 minutes, basting the meat and vegetables with the sauce several times. Serve in its casserole or arrange the stew on a platter surrounded with potatoes, noodles, or rice, and decorated with parsley.
For later serving: When it is cold, cover and refrigerate. About 15 to 20 minutes before serving, bring to the simmer, cover, and simmer very slowly for 10 minutes, occasionally basting the meat and vegetables with the sauce.
Copyright © 1961, 1983, 2001 by Alfred A. Knopf. Reprinted by arrangement with the Knopf Doubleday Publishing Group, a division of Random House, Inc.
Things that I did a little differently – I used a classic Red oval 8-quart Dutch Oven but a 6-quart round one will do like the Le Creuset or any enameled cast iron Dutch Oven. I used 3 medium-sized carrots instead of just one. I only used 12 small onions, and I should have used 18-24 per Julia's recipe. For the mushrooms, they were small brown Cremini mushrooms, so I kept them whole. One small can of tomato paste instead of 1 Tablespoon. Four cloves of fresh garlic instead of two. As I could not find regular flour in the stores, I used Almond flour which worked just fine.
Two whole bay leaves instead of crumbled bay leaves. I also should have waited to add the small onions into the casserole when I added the mushrooms near the very end. For the wine, instead of a Chianti, I used a bold 2015 Cabernet from our vineyard in Napa – Tadpole Vineyards. I probably should have cooked this dish a bit less than I did as I was going off of a similar recipe that had a longer cook time. I should have listened to Julia!
I served it over a lovely heaping scoop of mashed Yukon Gold potatoes with plenty of butter of course. Even with my few diversions in the recipe, the flavors delivered perfectly. The enticing aromas just permeated through the house all afternoon. This is such inviting comfort food.
Mexican Style Meatloaf and Tortilla Soup
It's ironic how every single time I watch one of my food movies in my collection on iTunes, I always have to make a dish that complements the foodie movie. Here are a few that tickled my taste buds.
Mexican Style Meatloaf
(Inspired by a recipe from allrecipes.com and my husband's famous meatloaf) – The suggested ingredients are from or kitchen and pantry!
Ingredients:
16 oz. package of grass-fed or organic ground beef
16 oz. fresh ground pork
16 oz. ground lamb
-or you can just use all ground beef or any combination of the above that you like. We like the flavors of using all three, however, when we can get lamb we do 32 oz of ground beef and 16 oz of ground pork.
1 cup of crushed tortilla chips
¾ cups of shredded pepper jack cheese
1 medium-sized onion
Mexican seasonings – here is what we like to use we adlib and make our flavor profile. Make your own combination to taste. You should have at least a tablespoon full when combined:
2 Eggs beaten
½ cup of milk
Salt and Pepper
Minced Garlic – about 1 tablespoon
Cilantro
Your favorite taco sauce
Fresh salsa and/or Pico de Gallo, sliced jalapeños
Directions
Preheat oven to 350 degrees (175 degrees C)
Combine all of the ground meats together, tortilla chips, pepper jack cheese, chopped onion, minced garlic
In a bowl, whisk eggs, milk and a ¼ cup of your taco sauce together. Once mixed add it to your meat mixture until it is fully integrated.
Press the mixture into a 9×5 loaf pan and then top with more of your tomato-based taco sauce
Bake in the preheated oven until cooked through 45 minutes to an hour or when your meat thermometer reads from the center 115F degrees.
Let it sit for 10 minutes then sprinkle with chopped Cilantro and serve along with your favorite condiments, such as Pico de Gallo, fresh salsa or as my husband likes it with plenty of habanero sauce and sliced Jalapenos.
Tortilla Soup
Again, I was inspired by a movie I watched this week which is one of my absolute favorite foodie movies – Tortilla Soup – Though there is a lovely storyline – one of my favorite aspects about the movie is when Martin cooks during the movie scenes, particularly for their traditional Sunday dinners!
The movie Tortilla Soup – "Three grown sisters, Maribel (Tamara Mello), Leticia (Elizabeth Peña) and Carmen (Jacqueline Obradors) try to cope and live with their father Martin (Héctor Elizondo); a veteran chef who is slowly losing his sense of taste. Martin has one simple rule: be at home for Sunday dinner and attendance is both mandatory and non-negotiable. A rift in the family develops when the sisters develop relationships and an obnoxious woman (Raquel Welch) sets her sights on Martin's affections."
I have made tortilla soup so many times and each time it is a bit different depending on the mood and inspiration at that moment. Here is one of my favorite recipes in which was influenced by a recipe I found on the site – "A Spicy Perspective"
Ingredients
Olive oil for sautéing the vegies
Medium Chopped Onion
Chopped Celery
Cilantro
Minced Garlic – 1-2 cloves
Chicken Broth – I use Organic
Diced Tomatoes
Chicken Breasts
Ground Cumin
Chili Powder
Cayenne Pepper
2 Bay Leaves
Sliced Carrots
Monterey Jack Cheese or a combination of Jack and Cheddar or Pepper Jack Cheese
Avocado
Tortilla Chips
Directions
In a large stockpot, combine the onions, cilantro, and garlic. Sauté until somewhat soft
I like to brown my chicken breasts first, but you can add them directly into the simmering broth
Put the broth into the pot and add the carrots, celery, the chicken the spices
Also, add in your diced tomatoes
Once the chicken is cooked through, pull it out and shred it, then put it back in the pot and simmer a bit longer.
Simple as that, it's done. Serve in deep bowls and top with cheese and tortilla chips
Garnish with fresh cilantro and fresh sliced or cubed avocado, you may even want a lime wedge
Enjoy with a cold bottle of Modelo or Pacifico or a refreshing Margarita!
You can never go wrong with any variation of this simple and flavorful tortilla soup recipe. Even if you can't visit your favorite Mexican vacation destination right now, enjoy a little south of the border in your own kitchen.
Enjoy!!!