Executive Chef Aaron Meneghelli of Farm Restaurant
We recently had the opportunity to have an intimate one-on-one with Carneros Resort and Spa's energetic and super busy chef, Aaron Meneghelli. With Executive Chef Aaron's role running all of the food and beverage programs at the resort, it is amazing he has time to come up for air and always with such a motivated and inspiring mantra. I have had the pleasure of watching him shine over the past several years with his growing culinary program, he is certainly a chef to keep a keen eye on.
During our visit, we were impressed to observe and learn more about all of his epicurean accomplishments throughout the resort and his future plans for upcoming events at Farm. In addition to FARM – the resort's signature restaurant, Chef also oversees The FARM Pavilion, Boon Fly Café; the Hilltop Dining Room, the upscale prepared food space at MARKET, the culinary organic garden, all catering and room service, and the Carneros Supper Club series.
Revered as one of Napa Valley's top restaurants, FARM at Carneros Resort offers guests an elegant dining experience, casually luxurious with inviting indoor and outdoor seating. The glass windowed kitchen gives the dining guests the visuals of the constant creative energy flowing through FARM's impressive kitchen. Chef Menghelli creates an ever-changing seasonal dining experience sourcing from neighboring purveyors and the resort's culinary garden. Their deliciously diverse menu offers a seasonal five-course tasting menu with optional wine pairing and a page full of wonderful Farm-to-Table a la carte offerings as well.
By popular demand, Returning in the Fall they will re-launch their popular dinner series – the Carneros Supper Club held on the picturesque knoll at the Hilltop Dining Room blanketed with panoramic views over Napa Valley and the Carneros region vineyards. Chef Aaron partners with local winemakers for the evening dinner events. He creates special menus that pair with the wine being showcased for their special dining soiree's, all inspired with seasonal produce and Aaron's gift of inventing his delightful gastronomic creations.
After having a lovely afternoon chat with Chef Aaron, we were then graciously escorted into the inviting FARM dining room to the cozy booth adjacent to the fireplace, and we were sent off on a journey through the menu for the next several hours of delighting in the various dishes presented to us to savor.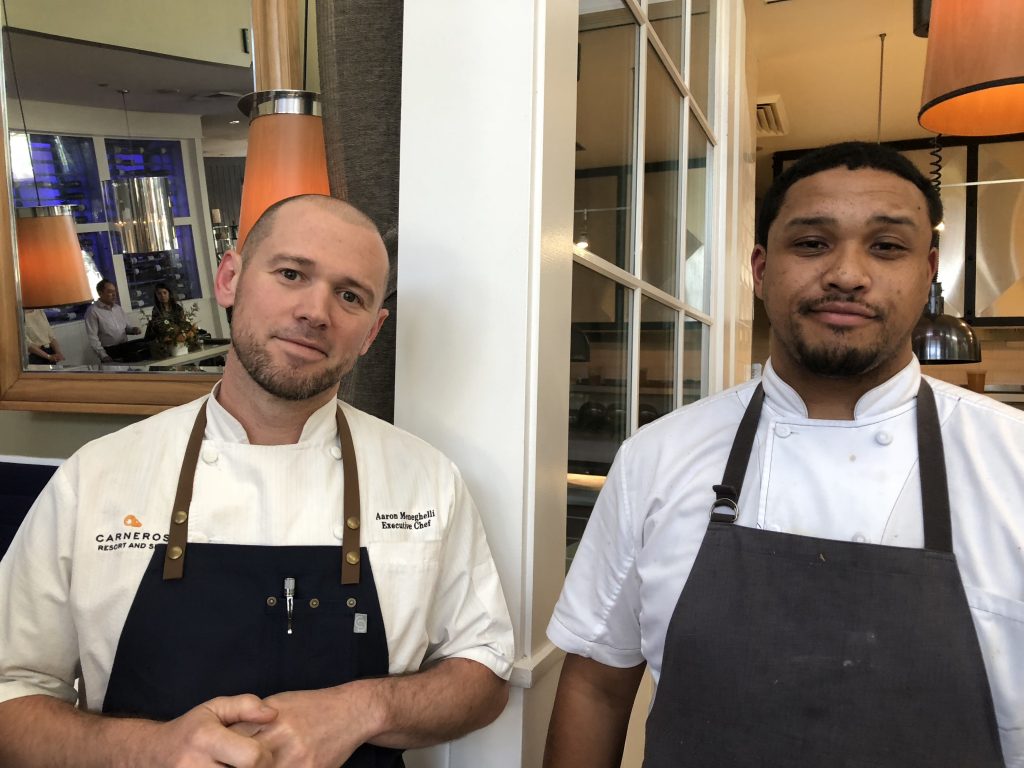 In addition to being hands-on in the kitchen, Chef Aaron likes to be hands-on with the dining guests. It is not uncommon to see him walking about the dining room visiting with the tables, chatting with patrons about their dish or just wishing a warm hello. Our evening was much like that as Aaron presented himself with each arriving dish that we were served. He took the time to describe the vision he had in creating each dish, the various local ingredients and the flavor profile all of which were paired specifically with the wine selections by FARM Sommelier Anthony Donahue.
What was your inspiration to get into the restaurant business and train to become a chef, where did you go to culinary school? "I went to culinary school in SF at California Culinary Academy starting mid-1999 after finding college to be unfulfilling. I had cooked on and off again since I was 17, working in restaurants among other random jobs while moving a couple times between 19 and 23. I always found my days at work in the kitchen to be enjoyable and I was able to find that I was good at it. There is a competitiveness and intensity that you don't' see anywhere else and that has always been exciting to me. I think that accompanied with my family experience of always being around a table were my biggest inspirations to start this career. My mom and grandmother were good cooks and I enjoyed the food, but it was the time at the table at my grandparents' house that I always think of."
During your formal training, how did you know what direction you wanted to take with your career as a chef? Looking back at my days in culinary school I don't think I ever really knew what direction I wanted to go with this career. My thoughts were more towards a restaurant rather than a hotel, I didn't think I would ever work at a hotel, but I have spent almost 13 years between 2 top-notch resorts in the Napa Valley.
Tell me a little bit about your growing up in the Napa Valley The town of Napa was a good place to grow up. My dad worked with Robert Mondavi for the first 30 years of my life and my mom worked with the school district at El Centro elementary, so there was good involvement with a few areas of the town. Napa felt quiet growing up as much of the tourists that visited went up-valley and did not spend any attention on the town of Napa as they do now.
What inspires you when you are creating new menus and new dishes, where do you source all of seasonal ingredients? The season needs to be the first thing to inspire the menu. I always want to be sure that we are pulling our ideas off of the produce list and we plan our garden to be able to support this. We use a number of local growers and producers for eggs, dairy and produce. Our proteins are coming from locals as well when available, for example, we always have duck on the menu from Sonoma Poultry.
During the Napa Floods, how did your business get affected? Describe your hands-on efforts in giving back to the community during the fire crisis. When the fires occurred, we evacuated the hotel that first night around 3am and we were under mandatory evacuation for 12 days. October is usually one of the busiest months of the year for a lot of businesses in Napa and Sonoma, so this was a devastating way to end the year. We had groups cancel well into 2018 because the impression was that the entire valley burned down, so why come.
I had family and friends that were very close to the fires and displaced from their homes, some of which lost everything. Watching this happen around my hometown was hard and I felt helpless at the beginning, but that quickly turned into motivation. We had lost power for a couple days, and with 8 walk-in refrigerators on the property, I had a lot of food to deal with. So, we started to reach out to different community organizations that were involved with getting food and supplies out to those who needed it. We spent the next week delivering food to fire departments, Salvation Army, 3 different churches, police station, and a few others to get prepared and raw foods to the town. It felt good to be involved, but it was a painful time to watch some really close people to me go through something that tragic. We later held a fundraiser where we closed FARM and had a large dinner event and were able to raise $20K to donate to the Napa community fund.
What are your responsibilities as Carneros Resort & Spa? I oversee all culinary and stewarding operations on the property with a direct lead to the front of house management as well.
What do you envision with taking the culinary program at Carneros Resort & Spa to the next level We are currently going through a lot of remodeling on the property, the spa and all the rooms have been renovated and we will do some upgrades at FARM. The food will continue to change with the season and we focus on not repeating with the same dishes.
What motivates you every day? My wife and my daughter! All day… every day!  I work a lot, and they support me and allow me the opportunity to be in this role and commit as much of my time as I need to make this a successful operation. I usually bounce ideas off of them for food or any changes I want to make around the property. They keep me grounded while keeping me jumping for more.
Is there a philosophy or mantra that you live by? Work hard…play harder. I don't like to say no when I have the time to be out of work, I am usually on the go!
Where do you see yourself in ten years, 20 years? Good question…hard to say, I have a lot of ideas and this career is ever-changing, so who knows?
What are you most thankful for? I have been blessed with a great family and a lot of tradition. I have also been able to make a lot of great relationships and I value that very much.  There is a blurred line between friends and family and I feel it is important to keep as many people close to you as possible.
Here is a selection of the summer dishes on Farm's Menu:
Truffled Burrata – spring leaves, house-made rye, fig leaf oil
Octopus Terrine – scallion vinaigrette, daikon, potatoes, chorizo
Chilled Pea Soup – white chocolate crème Fraiche, pickled rhubarb, English peas
Liberty Farms Duck – red quinoa, soubise, blackberries, ramps
Alaskan Halibut – crushed English peas, fume, pork belly
A Tasting Menu of Cherry
Torched Hamachi – cherry aquachile, fennel, yuzu snow paired with J.J. Prum 'Whelener Sonnenuhr" Kabinett Riesling, Mosel 2014
Braised Sonoma Duck Agnolotti – corn puree, cherry, duck cracklings, smoked corn foam paired with Domaine Les Cantates, Chignin-Bergeron, Savoie 2012
Glazed Pork Belly – Carolina gold rice, tart cherry, peas paired with Artesa Estate Reserve Pinot, Carneros 2014
California Squab – turnip, cherry glaze, braised greens, porcini mushroom paired with Selene Frediani Vineyard Merlot, Napa Valley 2013
Featured Cocktail: Cherry Whisky Smash – buffalo trace bourbon, lemon, cherry, mint leaves