Holiday Recipes to Dress up Your Dinner Table this Holiday Season!
Here are three delicious creations to serve at your holiday table this holiday season or any time of the year. These savory delicious creations will certainly delight your dinner guests, and what a festive show stopper when they are paired with these Ehlers Estate Wines. Napa Valley-based winery Ehlers Estate has you covered on the types of foods to pair with each of their wines.
Caramelized Onion and Mushroom Pork Loin Roulade
Pair with the 2019 Cabernet Franc
INGREDIENTS
1 Three-and-a-half to 4-pound center-cut boneless pork loin road
1/3 Pound Cippolini Onions
½ Pound Cremini Mushrooms
1/3 Pound Pancetta
2 tbsp Olive Oil
2 tbsp Sweet Vermouth
Salt and Pepper
DIRECTIONS
Preheat the oven to 425 ̊ degrees.
Blanch the cippolini onions in boiling water for two minutes. Drain, allow them to cool, then slice off the root end and peel the outer skins off.
Arrange onions in a single layer on a sheet pan and season with salt and pepper. Roast the onions for about 30 minutes or until caramelized, turning them halfway through.
When onions are finished, reduce oven temperature to 375 ̊ F. 4. Pat the pork loin dry.
Butterfly the pork loin: with a sharp knife, cut along the long side of the loin, careful not to cut through. Continue cutting at an angle, unrolling the loin as you go.
Place the unrolled pork loin in between two sheets of plastic wrap and pound it with a meat tenderizer to slightly tenderize and thin the meat.
Season the interior of the pork loin with salt and pepper.
Small dice the pancetta and mushrooms. The smaller the dice, the better the filling will roll.
In a large saucepan, heat olive oil over medium-high heat.
9. Add the pancetta and cook until browned, stirring frequently.
Remove the pancetta and drain on a paper towel. Add mushrooms to the pan and reduce heat to medium.
Slowly cook the mushrooms until all the liquid they release has evaporated and the mushrooms brown. This may take up to 20 minutes.
Dice the caramelized onions
Add pancetta and onions to the mushroom mix. Season with salt and pepper, and add sweet vermouth.
Once the vermouth is cooked down, remove it from the heat and slightly cool.
Spread the mixture over the flattened pork loin, leaving a 1-inch border. 14. Carefully roll the pork loin and secure it with kitchen twine every 2 inches. 15. Roast uncovered in a roasting pan and baste with juices every 20 minutes.
Roast for about 45 minutes to 1 hour or until the internal temperature reaches 145-150 degrees.
Let the loin rest lightly covered for 10 minutes. 18. Slice and drizzle with drippings to serve.
Pair with the Ehlers Estate 2019 Cabernet Franc
2019 Cabernet Franc (SRP: $77)
The Cabernet Franc is a deep ruby-colored wine with signature aromas of a dry spice rack, dry herbs, violets, and unripe berries. The concentrated flavors and well-balanced tannin structure of this full-bodied wine make it a fantastic wine to pair with holiday dinners. We recommend pairing it with an appetizer like stuffed vegan portobello mushrooms or an entree like vegetarian lasagna or meatloaf. 
Stout and Paprika Beef Stew
Pair with 2019 Ehlers Estate Merlot
INGREDIENTS
2 pounds of stew meat cut into 2-inch pieces
2 Tbsp smoked paprik1 tsp ground mustard
2 tsp Salt and 1 tsp Pepper
4 Tbsp Olive Oil
1 whole medium onion diced
4 cloves of Garlic, minced
4 Tbsp tomato paste
4 C Beef Stock
1 can (12 oz) of Stout Beer
1 Tbsp Worcestershire Sauce
4 whole carrots, washed, peeled, and roughly sliced 1 bunch of radishes, washed and halved
Minced Parsley
Grated Parmesan Cheese
DIRECTIONS
Mix together spices in a large bowl. Mix in stew meat and marinate for 2 hours up to overnight
Heat oil in a large, heavy-bottom pot over medium heat. In batches, brown meat on all sides and set aside. Once cool, cut the pieces in half.
Add diced onions, and cook until softened, two or three minutes. Add garlic and sauté́ until fragrant
Add tomato paste, and stir until caramelized, three to five minutes.
Add beef stock, beef, Stout, and Worcestershire. Stir to combine, cover and simmer for 11/2 to 2 hours. The liquid should reduce and thicken. Add water if it gets too thick.
Add carrots and radishes, then cover and simmer for an additional 30 minutes or until vegetables soften. If you need to add liquid, add a cup of hot water at a time.
Taste and adjust seasoning. Serve with a sprinkle of grated parmesan cheese, parsley, and crusty bread
Pair with 2019 Ehlers Estate Merlot.
2019 Merlot (SRP: $69)
The 2019 Ehlers Estate Merlot is a medium-bodied wine with ruby coloring. It expresses aromas of raspberry, red berry mix jam, fresh herbs, and vanilla paired with notes of earthy minerals with forest floor and balanced smokiness. Pairs well with Vegetarian Pistachio-Cranberry Roast, Vegetarian Mushroom Wellington, and even a Carrot Tart with Ricotta and Feta.
Crimini Mushroom, Heirloom Tomato, Goat Cheese & Truffle Frittata
Pair with the Ehlers Estate Dry Creek Sauvignon Blanc
INGREDIENTS
3 tbsp avocado oil (or any other high-heat oil)
¼ cup yellow onion, chopped
1 1/2 cups crimini mushrooms, chopped
1 cup heirloom cherry tomatoes, chopped
1 cup spinach, chopped
1/4 cup of herbed goat cheese
8 eggs, whisked gently
1/4 cup of plain oat milk
1/2 tsp salt
1/4 tsp pepper
1 tsp truffle oil
DIRECTIONS
Preheat oven to 350 F̊
Heat avocado oil in a 10" oven-safe skillet over med-high heat.
Sauté onions until golden brown.
Add mushrooms and cook for 3-5 minutes, stirring occasionally.
Add cherry tomatoes and spinach. Cook for an additional 2-3 minutes.
Remove from heat.
Combine eggs with oak milk, salt, and pepper. Mix gently, do not over-beat.
Pour the liquid egg mixture into the skillet and top with goat cheese.
Transfer to the oven and bake for 15-18 minutes or until the top is a light golden brown.
Remove the pan and allow the frittata to cool. Drizzle with truffle oil to serve.
Pair with the Ehlers Estate 2021 Dry Creek Sauvignon Blanc
2021 Dry Creek Sauvignon Blanc (SRP: $38)
The 2021 Ehlers Estate Sauvignon Blanc Dry Creek Valley is a medium yellow wine with intense aromas of stone fruit, Meyer lemon, anise, and guava. It has high acidity and leaves the mouth with a long silky feel due to the lees aging and flavors of cherimoya, mango, and lemon zest. We recommend pairing the Sauvignon Blanc with your classic Thanksgiving turkey and mashed potatoes. 
ABOUT EHLERS ESTATE
Ehlers Estate believes in creating a circular winery and vineyard where all input equals the output as much as they can with the limitations of being a small production winery. Their 2018 Napa Valley Cabernet Sauvignon is a prime example; there are no fining or filtration practices on this red wine, and Ehlers Estate achieves energy savings and less residue discharge.
HISTORY OF EHLERS ESTATE
The Ehlers Estate vineyard is located on a historic winegrowing site in the northern part of Napa Valley's acclaimed St. Helena appellation. Grapes have been cultivated on this coveted site since the mid-1800s. The vineyard was replanted using a diversity of clone and rootstock selections under the guidance of renowned enologist Jacques Boissenot in 1995. Today, the Ehlers Estate vineyard, which is the source of exceptional Cabernet Sauvignon, Merlot, Cabernet Franc, Petit Verdot, and Sauvignon Blanc, is farmed with strict adherence to organic farming standards.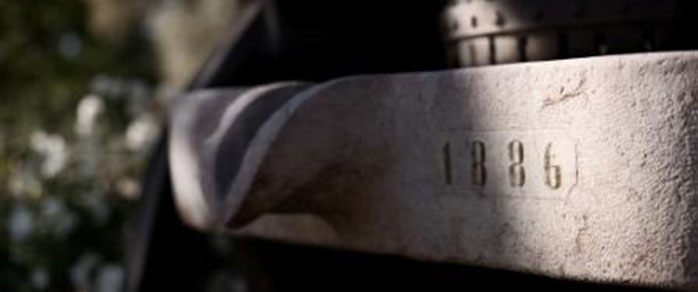 The story of Ehlers Estate is one of passion, patience, and hard work, intertwined like the tendrils of robust vines that have been part of the landscape here since the mid-1800s.
It was the lure of winemaking that tempted Bernard Ehlers to buy a small, dying vineyard in the late 1800s and embark on a quest to create the winery that continues to bear his name.  He replanted his newly-acquired 10-acre vineyard, established the olive grove that still thrives today, and in 1886, completed construction of the stone barn that is now our beautiful winery building. His original Bale Mill Winery continued to operate long after his death, run by his wife until the 1920s and then by successive new owners who took advantage of its prime location and unique terroir.
A century later, another husband and wife team discovered the lure of this idyllic spot in the heart of Napa Valley.  French entrepreneurs and philanthropists Jean and Sylviane Leducq saw the potential for this region to produce wines with the power, balance, and structure of the finest Bordeaux bottlings they knew and loved.  Over several decades they patiently built a contiguous wine estate – common for French chateaux but increasingly rare in California.
With the help of renowned enologist, Jacques Boissenot, they gradually acquired individual local vineyards as they came up for sale and replanted with the most suitable clones and rootstock. By the turn of the century, they had created the 42-acre estate we farm today, with Bernard Ehlers' original stone barn and vineyard at its heart and the Ehlers name once again poised to grace wine labels. The 21st century began with the release of the very first vintage from the Leducqs' new Ehlers Estate.
Developing the winery had become a passion project for Jean and Sylviane, one they shared long after the sale of their other successful businesses in Europe.
In 1996, Jean and Sylviane established the Leducq Foundation, an international grant-making organization to support research in cardiovascular disease and stroke. Their work continues through the efforts of the Foundation's leadership, Mr. Martin Landaluce, and Dr. David Tancredi. With over 20 years of service on the Board of Directors, Martin and David bring professional experience and personal passion to the continuation of Jean and Sylviane's vision.
Martin currently serves as President of the Board of Directors of the Leducq Foundation, which he helped to set up with Jean and Sylviane Leducq after the sale of their business. He oversees investment and spending policies of the Leducq Trust and, with Dr. Tancredi, represents Leducq on the Broadview Board of Directors. Martin was raised and educated in Madrid and currently resides in London.
In 2018, Laura Diaz Munoz was brought on as Winemaker and General Manager. Educated in Madrid and trained in various wine regions around the world, Laura ultimately landed in Napa Valley, where she has been making wine for over ten years. In the spring of 2019, Laura hired vineyard manager Michael Wolf of Michael Wolf Vineyard Services for farming and maintenance of the estate vines. His meticulous nature and practical experience in the field, along with his respect for the land and those that tend it, have made him a natural fit for Ehlers Estate.
They strive to continue the legacy of Bernard and Anne Ehlers and Jean and Sylviane Leducq, who saw the potential that today you can taste in every bottle of Ehlers Estate wine.