Churchill Wild – "The World's Greatest Arctic Safari"
Churchill Wild – Photographic Safari in the Panoramic Tundra of the Canadian Arctic
I had the unique opportunity to set off on an adventure of a lifetime through Arctic Canada with Churchill Wild on a 4-day expedition in the wilds of the tundra. Our exploration of the mammoth white polar bears known to the region and Nordic wildlife at the remarkable Nanuk Polar Bear Lodge was beyond my expectations. In addition to viewing many Polar Bears in their habitat, some of the greatest moments of my adventure were having the opportunity to experience the glistening Northern Lights and soaring through the brilliantly painted autumn landscape of the Churchill Wild wilderness of the Northeast Territories. The indelible memories of my adventures at Churchill Wild have been some of my most rewarding travel experiences getting up close and personal with indigenous native wildlife that I have ever encountered.
Churchill Wild is recognized by National Geographic as one of the Unique Lodges of the World.
Welcome to the heart of polar bear country at Churchill Wild where they specialize in ground-level walking tours and explorations on their customized tundra vehicles through the polar bear-inhabited regions of Arctic Canada. Churchill Wild owns and operates the only remote lodges on Canada's Hudson Bay coast, which is home to the largest and most accessible polar bear population on the planet.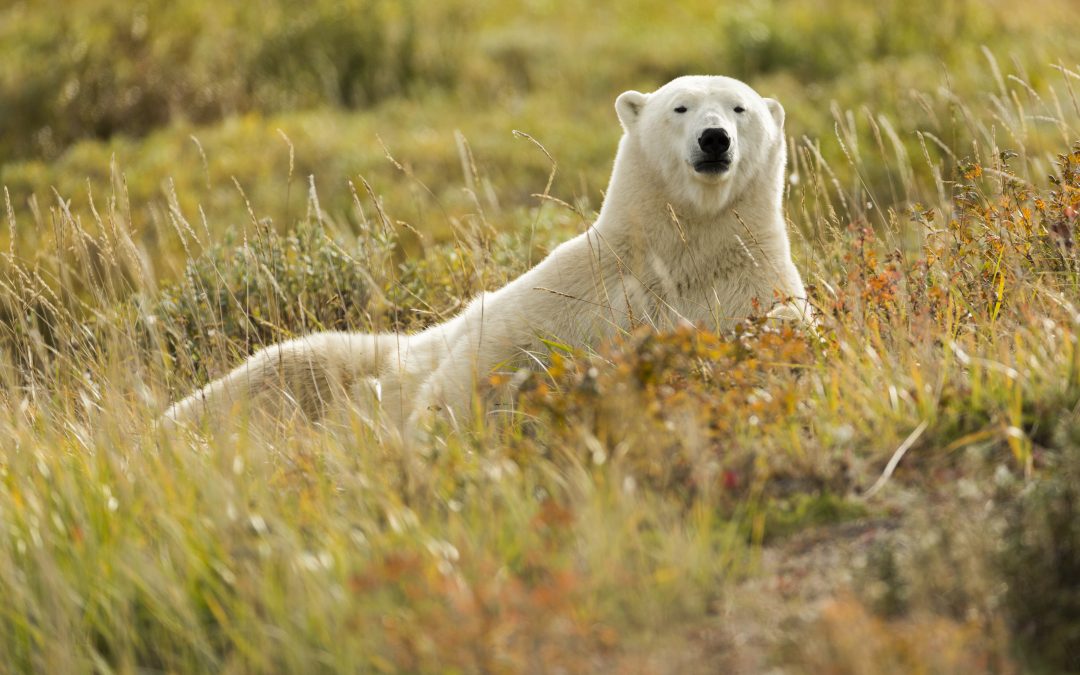 Photo Courtesy of Churchill Wild
The end destination for our journey with Churchill Wild was Nanuk Polar Bear Lodge via a scenic flight from the small village of Churchill to this remote, rustic luxurious lodge along Canada's Hudson Bay coast. We arrived at Churchill Airport via Calm Air on our almost 3-hour packed flight from Winnipeg.  It was shortly thereafter that I captured my very first glimpse of polar bears wandering happily and aimlessly free in the hills around the small town of Churchill in this far northeast territory of Canada.
Before departing on our second leg, after a delicious lunch at Lazy Bear Cafe in the town of Churchill, we indulged in a bit of touristy shopping. We also took a tour of the surrounding area on the Churchill Wild bus and visited the Polar Bear Holding Facility on our way back to Churchill Airport. The last real civilization we were to see before embarking on our destination to the far wilds of Arctic Canada.
The next stop, back to Churchill Airport, to board a short flight to our final destination. We took off on a small prop plane which flew us on a panoramic flight path off to the Nanuk Polar Bear Lodge. Along this airborne journey, we spotted many roaming polar bears below us during our sojourn through the skies hovering close enough to see the various native wildlife lingering below us.
The "Hudson Bay Odyssey" polar bear tour gathered this group of Arctic adventurists aboard the small craft as we eagerly anticipated our approach to the Lodge for our 4-day expedition. We landed along the short grassy runway seeing the stunning red-roofed lodge in the nearby distance. The seven enthusiastic explorers, including myself, were anxious to set out on our treks the following day around this great tundra in the expansive northeastern territories of Canada.
Upon arrival at the Nanuk Polar Bear Lodge, we were immediately greeted with welcome arms starting from the moment we landed to being greeted by the whole team once we entered the expansive great room. They made us feel comfortable instantly and right at home in this cozy lodge in the middle of this infinite tundra. I was so impressed by how professional they all were and how sincerely they made us all feel like family. This created an immediate bond and synergy between all of the guests and the staff. What a great start to our polar bear adventure.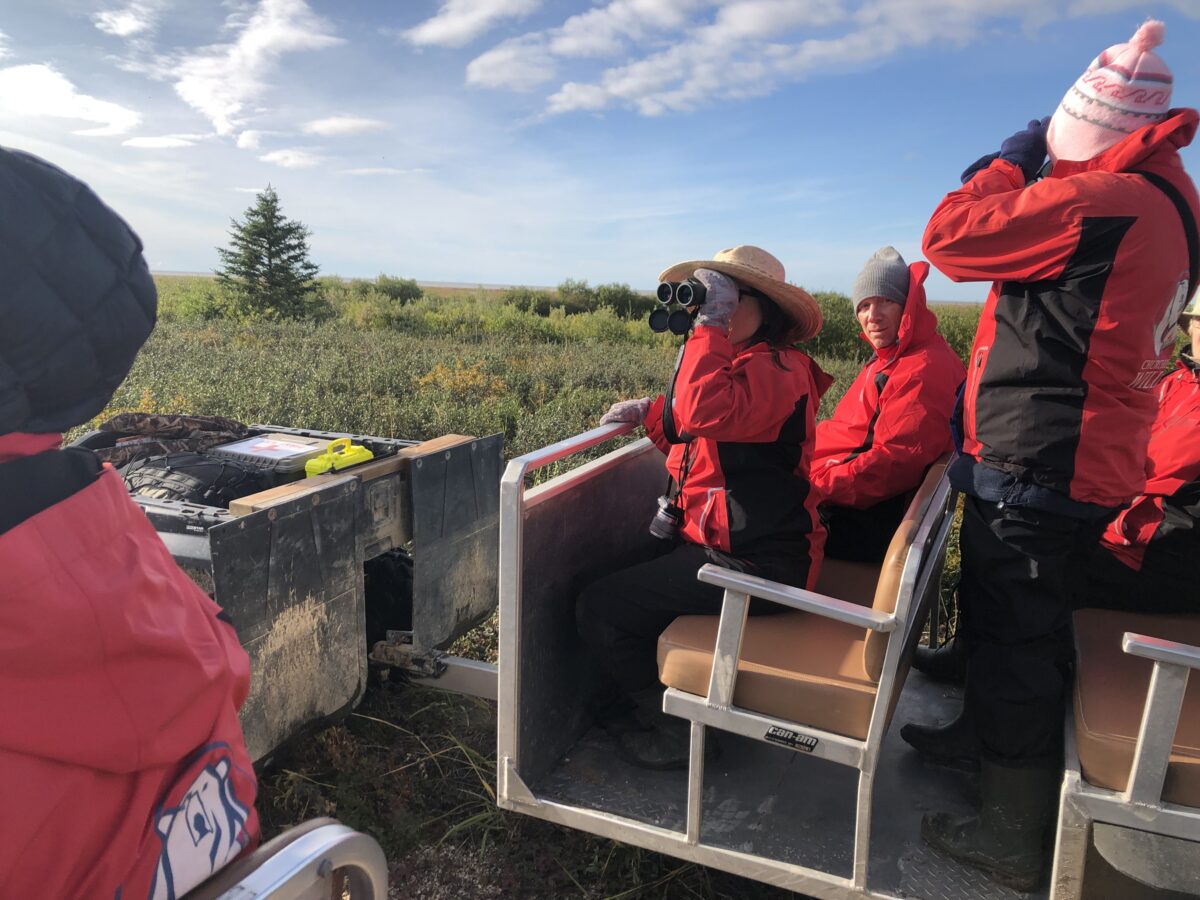 The next several days delivered more polar bear viewings, black bears, and wolves, along with many species of shorebirds and a moose or two along the way. Visitors to this remote destination have even spotted caribou on their daily hikes and ATV excursions. The Nanuk Polar Bear Lodge is one of four unique specialty lodges offered through Churchill Wild. With our Polar Bear Safari, we also were treated to world-class service, well-appointed accommodations, and inspired regional cuisine at the only fly-in Polar Bear Eco-Lodges on the planet – Churchill Wild.
Each Churchill Wild itinerary can accommodate up to a max of 16 explorers to the remote Nanuk Polar Bear Lodge deep in the heart of the polar bear denning territory, where the boreal forest ends and the Subarctic begins. It is quite ironic that my journey took me to the Nanuk Lodge, as when I was in college, I was nicknamed "Nanuk of the North." It seems I was destined to explore this vast and impressive landscape in the Canadian Arctic tundra.
During this epic journey, I experienced more than I would have ever imagined. "Touch the Arctic. Change your Life." And it certainly did for me! Our 7-person entourage took many guided walks on the wild side of Churchill Wild amongst the untouched tundra of this untamed country far from anything. There we had the opportunity to approach polar bears up close and personal.
Visiting these isolated wilderness lodges and partaking in their offered polar bear safaris are available from July through November. The emphasis of their daily treks is on their walking safaris, viewing a diverse array of wildlife and birds, and open-air cruising on one of their custom-made large ATVs. These massive ultra-terrain vehicles are perfect for seeking out polar bears along the limitless tundras nourished by the Hudson Bay coastal waters. And, of course, another highlight for me was indulging in the impressive regional tundra-inspired cuisine prepared by the lodge's in-house chef and founder of the Churchill Wild Lodge group.
In the middle of this boundless, beautiful nothingness, each day, we were able to view polar bears up close but not dangerously close and also at a safe distance while they were lounging in their natural habitat, resting on their beach ridges. We never felt in harm's way as the guides were so experienced in how to approach these gorgeous white bears in the wild, and the guides – these "masters of the wilderness" were prepared for every safety precaution possible.
The Nanuk Lodge's resident explorers-guides, Andy, Kevin, and Emri, would take us up to the viewing tower above the lodge to spot these impressive white creatures in the untouched wild. They were so skilled at spotting them from afar, following their trails, and knowing when they were eating or sleeping. It was as if they were one-on-one with these beautiful creatures of the Arctic, polar bear whisperers!
The closest we got to the polar bears was viewing them right outside the lodge, as we were safely inside the lodge's perimeters behind the protective fences surrounding the property. They came up so close that we were even able to take snapshots from our phones as they were sometimes just feet away from where we were admiring them. They approached us with little trepidation as they were as curious about us as we were of them.
While out on our daily treks perched on top of the "Star Wars-like" custom-made towering tundra mobiles, I was even able to capture videos somewhat close while they were in action. It was exhilarating to be able to photograph these natural movements of their daily existence, a true moment to remember.
The daily walking treks though somewhat long at times, were not overly strenuous as most of the walking we did while venturing around these unknown parts was over flat terrain and easily doable for the whole group, who were all between 50 and 70 ish. The walking treks felt like we were discovering an unknown planet somewhere in another universe, as everything surrounding us had been untouched except by nature.
Upon our return from each of the day's exhilarating journeys, a little chill time by the fire and visiting with new friends was in order before we headed over to the intimate and inviting dining tables for our evening indulgence of their culinary creations. Another unique, memorable evening treat was the surprise viewing of the Aurora Borealis. I was keeping my fingers crossed for that one, and my wish came true!!
As they say at the lodge, "Your sustenance is our mission."
Though these Churchill Wild Lodges are extremely remote, and you find yourself definitely in the middle of nowhere, you still experience the coziness of home and regional cuisine to delight your tastebuds and satisfy your hunger after a busy day of exploring in this vast untouched region of the Canadian Arctic.
Being the foodie, I already knew before I even arrived there that I was in for a real treat after my exciting days out exploring the breathtaking boreal of the wilderness. The bounty of Churchill Wild's cuisine sets them apart as their culinary history takes them back over 50 years, where it all started with Helen Webber (mother to Jeanne Reimer, co-founder of Churchill Wild and her friend Marie Woolsey.) Their legendary series of best-selling cookbooks offer innovative regional tundra cuisine filled with wild game and delicious dessert recipes. Blueberries and Polar Bears cookbooks – www.BlueBerriesAndPolarBears.com
In fact, Jeanne has developed a signature style of her own, which was coined as "tundra-inspired gourmet food." Twenty-five years ago, they took their vision and created this destination adventure. Churchill Wild has transformed to become so much more than a polar bear safari at their elegantly rustic remote lodges in the faraway Canadian Arctic. They have melded with the elements of rustically sophisticated savory creations on your plate into the perfect destination, Canadian Arctic Safari.
After visiting the recipes and photos on their cookbook website – Blueberries and Polar Bears, and the Churchill Wild website, my mouth was watering with anticipation before every meal served at the lodge. Their sumptuous breakfasts are fit for a king and will surely set you right for your day exploring this Hudson Bay retreat. Always included is their own inspired version of Red River Cereal.
Lunch is often enjoyed in the wild outdoors with gourmet sandwiches and homemade cookies. Yum. I indeed did not go hungry. Crusted Caribou Tenderloin and Cranberry Cake with Butter Sauce – their signature dessert, are two of their popular creations for the evening's fare.
On the first night of our Churchill Wild Expedition, we were awoken in the wee hours of the night by Guide Andy MacPherson. He was alerting us that it was time to head up to the tower to view the approaching neon green Northern Lights glowing at us in the distance. Glorious – well worth the wake-up in the middle of the night!
Each evening gathered by the inviting fire in the grand salon of the lodge, we relaxed on the cozy couches with a warm cup of tea or hot toddy. We eagerly listened to our guides delivering interesting and entertaining presentations and educational slideshows themed around the various wildlife and history of this remote region in the tundra and Churchill Wild. We were lured to our pending slumber for the evening by the melodic stories of the wild around us. Then off for a welcome good night's sleep under the luscious comforters that adorned our beds in our well-appointed cabin-style rooms. We all awoke completely rested in the morning with anticipation for another out-of-this-world day to discover yet new sights unseen.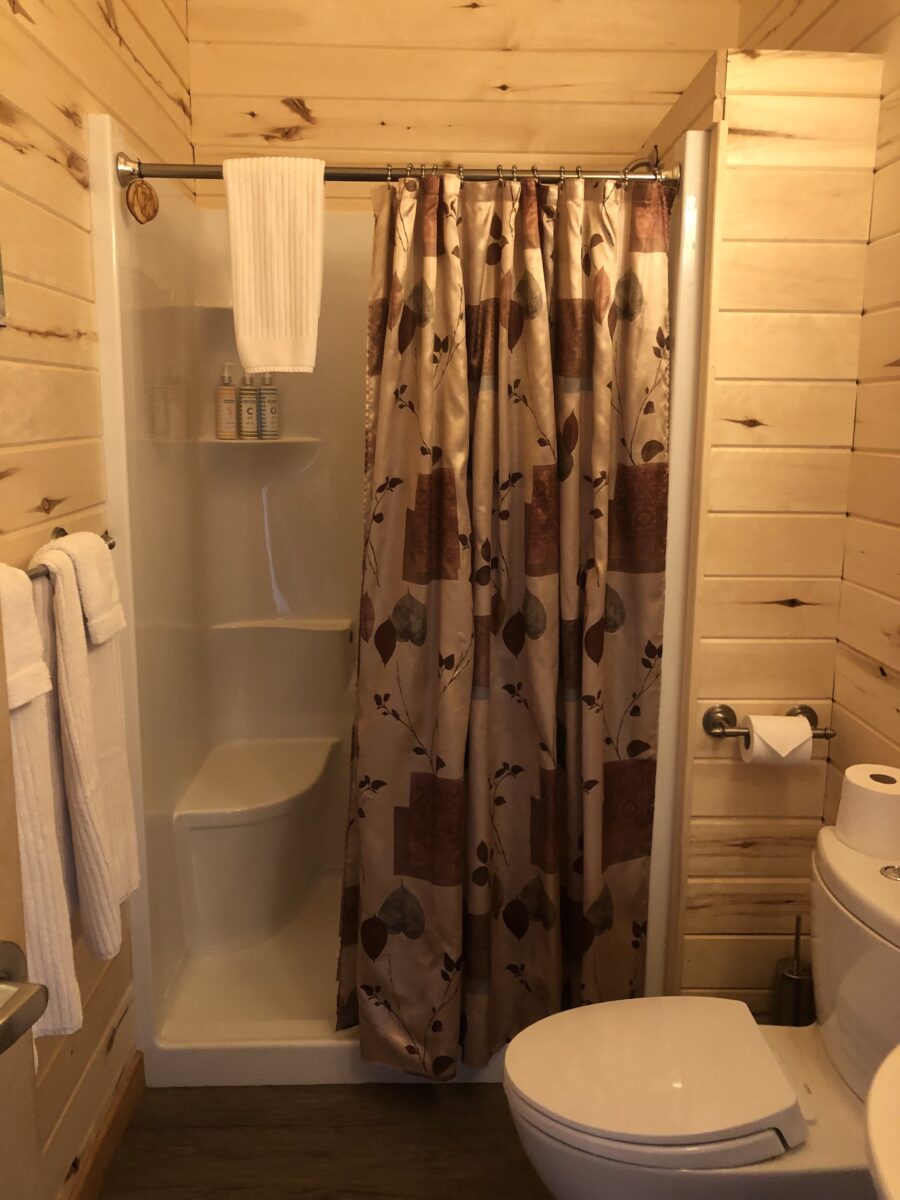 It was an experience of a lifetime and a box checked off of my bucket list. The team of people they have in place is top-notch, and the guides on their wilderness excursions on our daily ventures through the tundra were absolutely impressive. They were extremely knowledgeable, and while touring around, they constantly shared throughout the day many intriguing stories of their numerous adventures in this monumental untouched region. There was never a dull moment to be had!
After four incredible days of exploring and experiencing wildlife beyond my imagination, it was time to depart this magical remote haven. We left as we arrived on our short journey back into Churchill via the small prop plane, which brings in supplies upon every arrival before loading up the passengers for their flight back to reality. So long, farewell….
Packing for my Churchill Wild adventure to the Canadian Tundra
Dressing and preparing for the Canadian Arctic was essential!
A must! Cameras, telephoto lenses', and Chargers, Binoculars. Don't forget the extra memory cards.
Dress in layers – also a warm spring and fall jacket; a waterproof jacket is very helpful

Thin mitts, a warm sweater or heavy fleece, a warm parka, hiking socks, a winter hat, long underwear, and a warm pair of gloves.
Sunglasses are a must, and perhaps a hat with a visor or a large-brimmed safari hat.
Comfy clothes to wear in the evening around the fire. Cozy PJs for the nights.

Notebook for jotting down memories of each day
Day pack, dry bag, sunscreen and rubber boot insoles, slippers, and comfortable shoes for the relaxing evenings
You will need a small soft-sided duffel to pack your gear for your three days at Churchill Wild, as the storage in the hold on the small planes is limited. They will store your large bags at the hotel for your return.
What to expect!
Meet and share many experiences with new friends.
Lots of photo opportunities, and there are even professional photo leaders to guide us.
Get up close and personal with polar bears and wildlife beyond my imagination.
Experience the Aurora Borealis
Indulge in Tundra-inspired cuisine with recipes created by Co-Founder and Best-selling cookbook author – Jeanne Reimer.
Create memories to last a lifetime!
Churchill Wild Check them out, request a brochure, reserve your adventure, sign up for their newsletters, check out their photos, and see what it's all about! www.churchillwild.com
A Few of Their Partners
National Geographic Unique Lodges of the World