Join Me for Two Delicious Days Across the Stunning Canadian Rockies Aboard Rocky Mountaineer
Traveling across the Canadian Rockies from Vancouver to Banff is a breathtaking sight to behold with brilliant terrain changes and blanketed snowcapped rocky peaks all along the way, and of course, view a variety of wildlife viewing along the way. The drive there is certainly spectacular, however, imagine if you left the driving to the train conductor and food preparation to a skilled French chef and his team, and you could just sit back in comfy recliner seats with a clear dome above your head to view the majesty of the Canadian Rockies every minute of the journey – What a journey it would be and what a memorable journey it truly is. And for foodies, it makes it all the more special!!
This past year, I had the opportunity to join in on this renowned train excursion aboard Rocky Mountaineer's "First Passage to the West" route, one of four routes which start from the Rocky Mountaineer exclusive state-of-the-art train station just outside Vancouver. We were welcomed by the entire crew to piano music and an introduction to our rail journey by the conductor and the team, followed by an inviting Bagpipe serenade. Upon boarding these beautifully appointed train cars we were immediately immersed into two full days of luxury rail travel through Canada's West and on through the impressive Canadian Rockies with an evening stay in Kamloops, ending up after our 2nd day of the sojourn in breathtaking Banff and Lake Louise.
Our voyage aboard the Rocky Mountaineer, which is the only passenger rail service on this historic route passes through lush Fraser Valley, spiraling tunnels, seven mountain ranges and a pass by Craigellachie, which is the spot where the last spike on the Canadian Pacific Railway was driven. From the outdoor viewing platform and the unparalleled panoramic views from our seats, we all had the opportunity to our set eyes on a large grizzly bear fishing for dinner along the river right next to the train tracks and the grand Eagle's nest perched high upon one of the train towers passing by. A true highlight!
There isn't a moment you aren't in complete awe of the ever-changing vistas constantly emerging all along this spectacular historic route. Sit back relax, indulge and let yourself be ultimately pampered in first-class style by the top-notch team aboard Rocky Mountaineer whose sole mission is to do nothing more than to provide you with the best experience and service possible. Our group traveling was seated in Gold Leaf Service, one of two classes of services offered, though you can't go wrong with either as both are exquisite. As they say – you choose from "Perfect" & "More Perfect".
The Rocky Mountaineer experience is like taking the National Geographic Channel and melding it with the Food Channel giving you a delicious blend of spectacular photographic nature vistas along with amazing Five-Star Dining spiced with a flare of the luxury of the Orient Express. It doesn't get much better than this.
As a part of our daily journey, we started the day's excursion with a refreshing "Welcome Aboard" toast along with introductions of the crew and beautiful descriptions of our upcoming experiences for the day. In addition, to add to the exhilaration of the exploration, we were enticed by the food offerings for the day's journey. We knew right then, we would certainly not go hungry or thirsty either.
For dining, there were two seating's each day for breakfast and lunch. We had the first seating on day one in the beautifully appointed plush dining car booths along the along with the expansive picture windows overlooking the beauty of Western Canada as we cruised along, noshed and talked about the amazing day to come. When we were seated in the second seating the next day, we certainly didn't get peckish, as we nibbled on freshly baked scones with fresh berries, hot out of the trains' on-board ovens to keep us going to our breakfast seating.
The Rocky Mountaineer Welcome to Breakfast: Welcome to the GoldLeaf Service dining room! From the Coastal Waters of BC to the wide pastures of the prairies, the breakfast you are about to enjoy is a culinary tour of Canada. As you enjoy your meal, please look up and take in the beauty of your First Passage to the West journey. We promise, no one will take your plate away. Cheers, RM
The Rocky Mountaineer cuisine is orchestrated under the helm of their award-winning Executive Chef Jean Pierre Guerin and his talented culinary team in the galley aboard the train. There are several galleys on board for both the Gold Leaf and Silver Leaf services. Jean Pierre is absolutely charming and is not shy about spending time chatting it up with the guests onboard, except when he is hands-on at the helm of orchestrating the daily culinary presentations. He has been with the Rocky Mountaineer for over ten years and is known for his talents creating mouthwatering fusion cuisine. During his impressive career as a well-known chef, he has created meals for Princess Diana, Meryl Streep, and former President Clinton.
Chef Guerin explained, "Cooking on board is not difficult, however, we have to take everything, including the kitchen sink. We don't have the luxury of stopping for anything. We have to take 2-3 days of supplies. And when I say supplies that's not just the food but the expertise – the chefs have to travel with us. Everything has to be super well organized aboard the train. You have to know where everything is. Each season we do a brand-new menu depending on fresh seasonal offerings."
Breakfast always begins with coffee, juice and Chef's seasonal fruit creation with a freshly baked treat. The delightful menu includes their ever-popular and absolutely delicious Eggs Benedict with two poached eggs and Montreal style smoked beef on a toasted English Muffin, topped with tarragon hollandaise. I'd go back just for that!!
Another breakfast treat was the Spinach, Feta and Egg Soufflé with roasted Yukon Gold potatoes, and smoked farmer's sausages. The Blueberry Pancakes were out of this world with traditional Canadian Maple syrup. Then, of course, there is the Smoked Salmon Scramble – a scene-stealer with roasted Yukon Gold Potatoes, crème Fraiche, smoked salmon, and a crispy tortilla. So many lovely choices. And that is just to name a few of the delicious delights on the morning menu. Be sure to save room for lunch…
There is always a mid-morning munch in between breakfast and lunch along with a selection of hot and cold beverages, perhaps a mimosa is on your agenda or sample one of their "Caesars" – a traditional Canadian version of the Bloody Mary.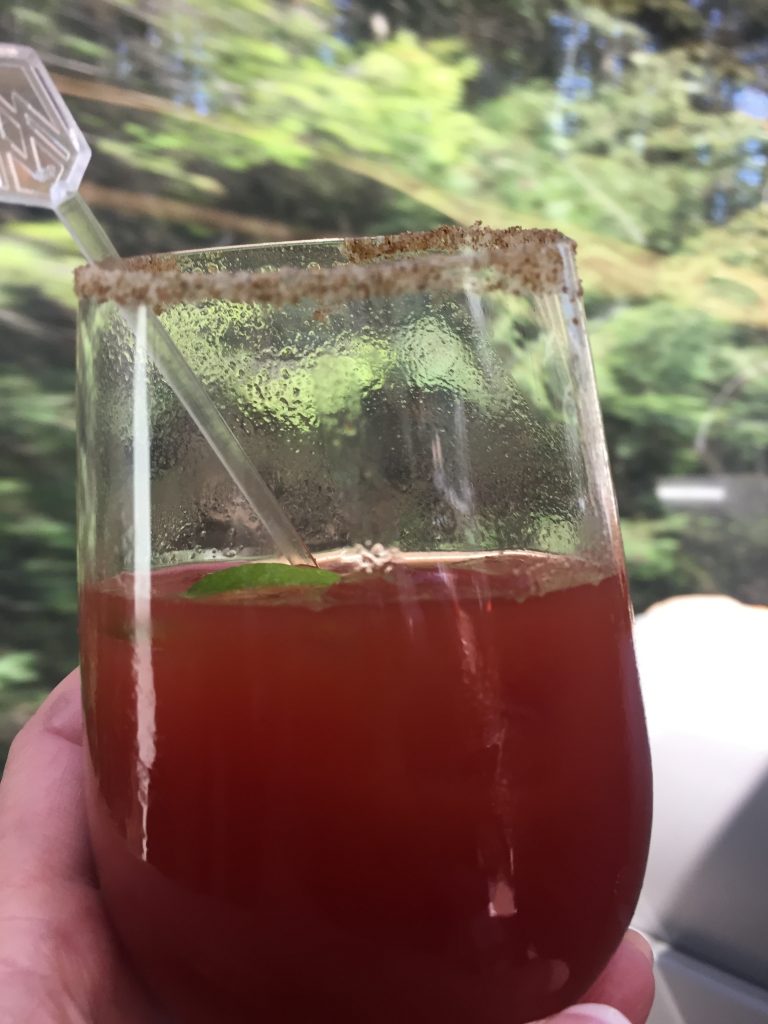 For lunch, we headed back down from our domed vista car to the dining room where it was beautifully set in white linen adorned with decorative flower arrangements. The aromas floating out of the galley kitchen sent a mouthwatering invitation to yet another amazing meal created by Chef Jean Pierre Guerin.
Being a Napa Valley Foodie and Wine Lover, the luncheon presentation yet again did not disappoint! Their wine selections offered varietals from the Okanagan wine region in British Columbia and were delightfully paired to perfection with the afternoon's luncheon selections. Any Napa Valley wine enthusiast would certainly concur. They were pouring two varietals from Sumac Ridge Estate from their Vineyard Collection, an unoaked Chardonnay and a Merlot. Also from Jackson-Triggs Reserve Selection, we were offered a lovely Sauvignon Blanc and a luscious Cabernet Sauvignon.
Lunch began with a Forest-Fresh Mushroom soup, followed by a Baked Cherry Tomato Salad. The "Alberta Short Ribs" is a popular favorite on the lunch menu. The Smokey Mushroom Burger made with AAA Alberta beef on the pretzel roll is another popular item on the menu. There are 6 delightful entrees to choose from each day. And lunch is always followed up with a delightful dessert. The Decadent Dark Chocolate Pistachio Brownie is absolutely heavenly.
For 2018, there is something new on the Rocky Mountaineer travel menu which is a 10-day package for foodies, The First Passage to the West Culinary Exploration. You will feast on wine-paired gourmet meals every day while touring Rocky Mountain Peaks. There is even a Panoramic Helicopter Flightseeing excursion.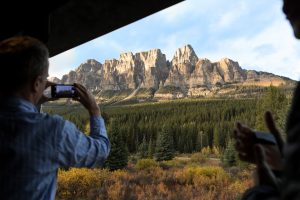 Rocky Mountaineer offers something for everyone from 2 days to 10 days. Check them out at www.rockymountaineer.com