An Afternoon Spent Sharing and Tasting Heidi's Personal Treasures – Vineyard to Bottle
Heidi Barrett is virtually a household name in the Napa Valley wine industry and a mega-respected icon in the select field of esteemed women winemakers. She was destined to become an artistic winemaker growing up in the vineyards of her renowned winemaker father, esteemed wine pioneer, Dick Peterson and her artist mother, Diane. She worked side by side with her father in a variety of vineyards from pruning to lab tech to cellar rat and everything in between while growing up in the Napa Valley. It was naturally her legacy to continue the path that led her to UC Davis with a degree in Fermentation. This ultimately led to her "500 Point Journey" and the elevated success, notoriety, and enormous industry respect that continues to come her way.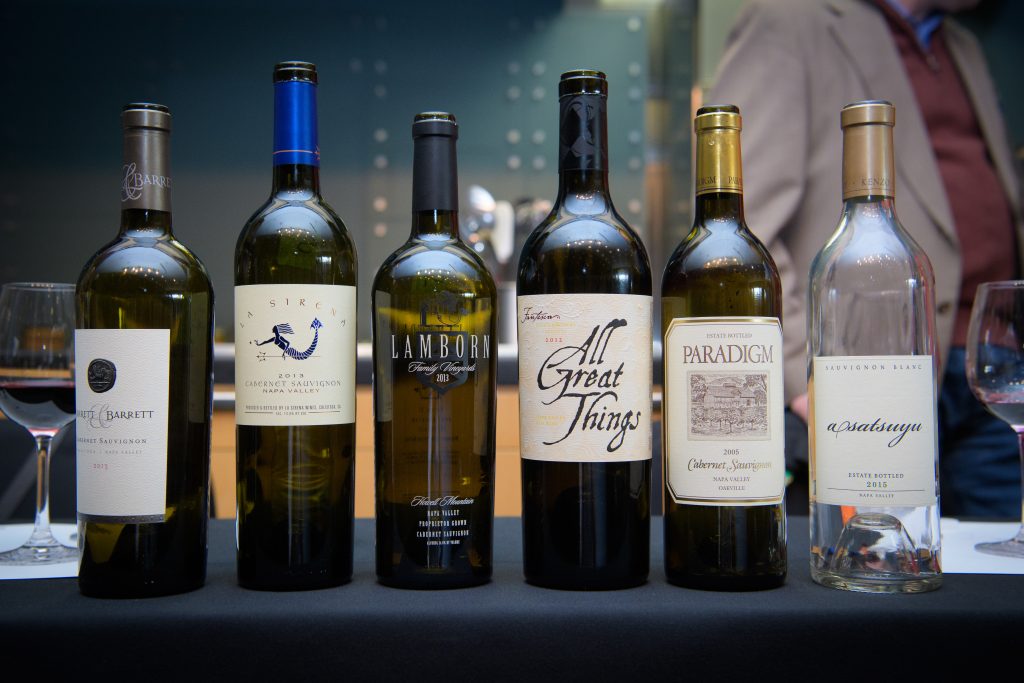 It was a chilly afternoon in the Napa Valley, a perfect day to join in with 100 other Heidi Barrett fans and fellow wine lovers at the Culinary Institute Demonstration Theater for an intimate afternoon with Heidi and her wines. Featuring – Barrett and Barrett, Fantesca, Kenzo Estate, Lamborn Family Vineyards, La Sirena and Paradigm. We might as well have been sitting right in her living room with her, she is witty, inspiring, charismatic, precise, brilliant, passionate about what she does, and loves her diversions such as flying helicopters or scuba diving to name a few. The afternoon's commentator, Leslie Sbrocco, of KQED's "Check, Please!" regards Heidi as "One of the most heralded winemakers in the world." It is Heidi's mission "to take something from the earth to something elevated we all can enjoy."
Heidi Barrett often referred to as the 500-Point Woman, is the only female winemaker to achieve five 100-point scores from Robert Parker. As Leslie commented, "in the early-mid '90's this was a really, really big deal." And it continues to be a tremendous honor and accolade, in fact TIME magazine crowned her "The Wine Diva of Napa Valley." In 1992 she began winemaking for the infamous cult wine, Screaming Eagle, of which her '92 and '97 vintages were awarded perfect 100 score by Parker and set a world record for the highest price paid for a single bottle of wine at 2000 Napa Valley Wine Auction with a winning bid of $500,000! She again soared on the 100 point journey to the top of the charts with the '92 and the '93 Dalle Valle Maya, and the '95 Grace Family!
The Barrett tasting began with a Kenzo Estate Sauvignon Blanc "Asatsuyu" (which means Morning Dew in Japanese). The winery is located up Monticello Road on Mount George at 1500 feet and has 45 planted acres on it 3,800-acre estate property. Heidi sometimes flies her helicopter to the vineyard estate, which cuts her more than an hour drive to a 15-minute flight to what she refers to as a crater at the top of the mountain. She describes this wine as layers of pear, melon, honeysuckle and is more in the Chardonnay style which has a little bit of wood on it, making it rounder and a little fatter, with a textural component, balance, and the "yum factor."
The 5 Cabernets wines selected to be tasted queued from the oldest first to the 2013's last. The first of the five tastings presented a 2005 Paradigm Oakville Cabernet Sauvignon. Heidi became winemaker for Paradigm in 1991 and is her longest standing client. Paradigm produces between 5,000 and 6,000 cases with 4 different wines.  It is her mission for people to be wowed, drinkable and delicious when the wines are released; however she said it is up to you on how long you want to age a bottle of wine.  She described characteristics that make a wine age as a very, very slow oxidation. Over time, some things improve and some things decline. She looks at wine as a time capsule. What you get that day you open it, is different each time.  She explained it is like live theatre; it is always a little bit different.
Heidi expressed that she is not actually a big fan of decanting. In lieu of decanters, when drinking cabs, she favors really fine stemware created specifically for Cabernet. Heidi recommends taste before you decant, pour and enjoy the show, it is going to bloom in the glass – she says it allows you permission to slow down! She recommended with regard to decanting, "Just be careful before putting wine in a decanter!"
Wine # 3, the second of the Cabernets she meticulously creates was the 2012 Fantesca, owned by Susan and Duane Hoff, innovators of the well-known chain Best Buy. In 2004 the Hoff's purchased a 53-acre property, and 10-acre vineyard and thus Fantesca Estate was born. Heidi became winemaker at their Spring Mountain location Fantesca in 2008. In addition to their estate Cabernet, Heidi crafts their Chardonnay and the All Great Things Red Blend with a total of 3,000 cases annually. 99% of the wines offered are direct to consumer. In Fantesca tradition they put a different proverb or a quote on the corks of their wines, calling them "Fortune Corkies." They love to make it a contest, so be sure to come up with your favorite quote to send off to them. Yours could very well end up on one of their next corks.
Wine #4 presented a 2013 Cabernet from Lamborn Family Vineyards with 3 generations offering exquisite handcrafted Howell Mountain wines magnificently created by winemaker Heidi Barrett since 1997. The Lamborn vineyards are at 2,200 feet elevation offering abundant volcanic soil with perfect mountain climates throughout their 8-acre vineyard (4 acres of Zinfandel and 4 acres of Cabernet). These select vintages are available from their website only or to their exclusive members or in limited restaurants and boutique wine shops. Her mantra on these wines is she does not take the traditional path and does not want to force the product to market too early.
Wine #5, Heidi Barrett's own label La Sirena (meaning the mermaid) was created on almost a fluke 20 years ago. As an avid scuba diver and a love of the sea, the name came to her and her husband Bo while playing the Mexican card game Loteria. It was a magical symbol and a perfect segue to combine both of her great passions wine and the ocean. La Sirena began in 1994 with only 200 cases of Sangiovese, as she wanted to create a wine that draws you in. Most all of the wines come from their Calistoga estate vineyards with a small amount from Pritchard Hill fruit. Now they produce over 2,000 cases with 6 different wines every year: Cabernet Sauvignon, Pirate TreasuRed, Le Barrettage, Grenache, Art Bus and Moscato Azul. She emphasized the 2013 La Sirena Cab reflects her devotion to balance, elegance, winemaking tradition and classic varietal styling. Plus it is her favorite varietal to make and absolutely what she is known best for.
The #6 and final wine, being tasted for the day: Barrett and Barrett is the winemaking collaboration of Heidi Barrett and her husband Bo Barrett for his winery Chateau Montelena famed for their success at the "Judgment of Paris" in 1973. Heidi and Bo are often described as two renowned winemakers working together. Their Barrett and Barrett Cabernet is a fusion of their two styles. Heidi tends to focus more on the production side, where Bo focuses on the farming. Bo tends to want to pick before Heidi, she likes the silk and finesse and he likes the rustic edge and somewhat tannic.
Their 2013 Barrett and Barrett Cabernet presents a selection of the very best grapes, and like 2012 Napa Valley vintages, Heidi described 2013 as the perfect growing season. Her tasting notes describe this wine as "an absolutely gorgeous example of powerful Napa Valley fruit. Extremely concentrated, voluptuous, and certain to be a great bottle for your cellar for years to come. Don't Miss it!"
The magnetic synergy between Heidi and Bo is their connection with Land, Sea, and Sky, with both being extremely active and adventurous as mutual pilots, avid skiers, and scuba divers. The Land, Sea and Sky is their symbol on the back of the Barrett and Barrett bottle. As winemakers they work intimately with the land, the sea and the sky, it is their mantra to bring them together as one.
"The land is the soils of our distinctive vineyards, the sea is the water that nurtures the vines, and the sky is the weather that changes every year."