National Tequila Day – July 24th
National Tequila Day July 24
Every Year around the third week of July, we have another opportunity to celebrate, rejoice, and indulge in our favorite libations from south of the border with National Tequila Day. It's the special day to get into sipping this famous Mexican Spirit – Tequila. In honor of this day, I must wear my shirt celebrating this divine agave nectar – "Tequila – Mexican Chardonnay!" To further the celebration of the day, I must play the song by Soulrocker, Michael Franti and Spearhead, who also honors this special day with his well-known song, "My Favorite Wine is Tequila!
National Tequila Day was recently established over the last 20 years in the United States and Mexico. Mexico actually celebrated their first National Tequila day on March 16, 2019. National Tequila Day in the United States began to emerge in the late 1990s and is celebrated every year on July 24 and is dedicated to the celebration and promotion of Mexico's native drink from Jalisco.
Tequila was first produced in the 16th Century very near where it is still produced today near the surrounding areas of the city of Tequila, however, it was not officially established until 1666. This fermented beverage made from the agave plant was known as pulque and was consumed in pre-Columbian central Mexico before any European influence.
Tequila is produced in the area around the town of Tequila in the region of Jalisco, Mexico. This national drink from México is made from the blue agave plant and can only officially be called Tequila is if made in this region. There are many other variations of the beverage made in and around Mexico but cannot take on the name. Just like with sparkling wines produced around the world. The only ones that can be designated as true Champagne are those that are actually produced in Champagne, France.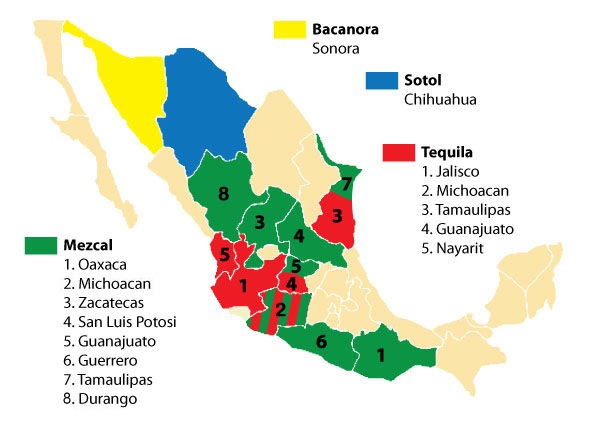 Mexican laws specifically designate that tequila can only be produced in the state of Jalisco along with limited municipalities in the states of Guanajuato, Michoacán, Nayarit, and Tamaulipas. Tequila is recognized as a product origin of Mexico in more than 40 countries and it is protected through NAFTA in Canada and the USA.
Blanco Tequila ("white") is unaged Tequila and bottle and stored immediately after distillation or aged less than two months in neutral oak or stainless steel. It is the harsher of the 100% agave tequilas with the bold flavors of the distilled agave upfront.
Reposado ("rested") is aged a minimum of two months buy no more than a year in oak barrels. Reposado and Anejo are smoother, more subtle, and less complex.
Anejo ("aged" or "Vintage") aged a minimum of one year but less than three years in oak barrels. The more that it is aged the more the tequila takes on the flavors of the wood while the harshness of the alcohol mellows.
Extra Anejo ("extra aged" or "ultra-aged") This is a newer category of Tequila and was established in 2006 – The extra Anejo is aged a minimum of three years in oak barrels
In Mexico, the most traditional way to drink Tequila is without lime and salt where outside of Mexico, a shot of Tequila is served with a slice of lime and salt, while licking the hand and putting salt on it, taking the shot of tequila quickly, licking the salt off of the hand and then biting into the lime.
There is also the Tequila Slammer which is a mixture of Tequila and a carbonated soft drink like 7up. Another variation of that is the Tequila Bang Bang which is a mixture of Tequila and Sparkling wine. This is usually done in groups or parties where everyone takes their "Slammer" or "BangBang" slams it on the table when it bubbly and frothy and then slam it down.
My personal preference is none of the above. I much prefer to sip a good Reposado or Anejo slowly to take in the lovely flavors of these ages beauties much like sipping a good Cognac.
In celebration of National Tequila Day, I like to indulge in a specialty Margarita. Here are a few of my favorite recipes to create your own specialty concoction. Happy National Tequila Day!
Cheers!!!
Margarita Recipes to Celebrate National Tequila Day
Whether it is Cinco de Mayo, National Margarita Day, National Tequila Day, National Cocktail Day, Your Birthday, or Someone else's Birthday, just about any day is a good day for a Margarita. Here are a few Margarita Recipes to get your spirit moving!
History of the Margarita
Where did the Margarita originate? Over the years many have taken claim to the creation of the infamous tequila drink – "The Margarita." The cocktail the "Daisy" was a similar drink made with brandy instead of Tequila. Though during prohibition people traveled over the border and picked up tequila which was substituted for the brandy. Daisy in Spanish is Margarita.
In 1937, there was a recipe for a "Picador" using the same mix of tequila, triple sec, and lime juice in a cocktail book. There are others that claim that Dallas socialite Margarita Sames created the drink for her guests at her Acapulco vacation home in 1948. The first known published recipe was in the December 1953 issue of Esquire. Though in 1945, the first importer of Jose Cuervo promoted the slogan – "Margarita: it's more than a girl's name."
Nowadays, there are so many creators and mixologists of tequila drinks with different versions and flavors of the Margarita with so many variations of Margarita recipes. In essence, all of us who have concocted our own Margarita recipes can take our own five minutes of claim to fame too. Here are a few of some of my favorite twists on the colorful Margarita, some with my own input and diversions to the recipe. It's your turn to take it and run with it!
It's Margarita-Thirty!!
The Traditional Margarita
Makes 2 Margaritas – increase ingredients as needed depending on the number of Margaritas you are preparing.
4 OZ Blanco tequila
2 OZ Cointreau or triple sec
4 OZ fresh lime juice
Ice
Slices of lime or lime wedges
Fill a Cocktail shaker with ice along with the tequila, Cointreau, and fresh lime juice. Shake well, then strain into a chilled glass or serve on the rocks.
Another Spin on the Traditional Rita – The San Antonio Margarita
Recipe Inspired by well-known Texan Josie Davidson whose father received this recipe from Mario Cantu, owner of Mario's, an old-line Mexican Restaurant in San Antonio. This famed Margarita recipe was passed on to the New York Times in 2015. It's a five-star winner with 818 five star ratings!
1 cup plus a splash of tequila
1 cup plus a splash of orange liquor
1 cup plus a splash of freshly squeezed lime juice
Combine all of the liquids in a pitcher with 6 ounces of water and stir to combine. Place in the refrigerator to chill. Then serve over ice in glasses with salted rims. Garnish with a wedge of lime.
24 Karat Gold Margarita by Loews Miami Beach Hotel
It seems like ages ago, but just like yesterday that we traveled across the country to Loews Miami Beach Hotel. It was only a few months ago in February that we were invited to participate in the exquisite festivities held at the hotel for the South Beach Wine and Food Festival in South Beach. During our visit, we had the distinct pleasure of joining Steve Turk – Food and Beverage Director for Loews, Linda Villafane – Director of Public Relations for Loews Miami Beach and Contributing Food Writer for Forbes in the hotel's spectacular lounge, Bar Collins, for a pre-celebration toast. We were all dressed to the nines, looking like royalty for the evening's formal festivities celebrating SOBEWFF. This set the perfect stage and the perfect opportunity to toast with the bar's famous in-house Margarita, the "24 Karat Rita."
These brilliantly decorated tumblers arrived at our table glowing of effervescent sparkles adorning the glass rims and the floating lime wheels. Almost to pretty to drink, but feeling decadent and adventurous, we all cheered and jumped right into these jeweled libations.
Their specific recipe remains a bit of a secret. We do know it includes a generous pour of Roca Patron Silver over crushed ice, with fresh lime juice, a bit of Cointreau, adorned with edible 24k gold leaf and lime zest! Bravo Bar Collins – you definitely knocked it out of the park!
Black Grape and Chili Margarita – Courtesy Food and Wine
Serves – 2
1 tsp Chili powder
1 tsp kosher salt
1 teaspoon sugar
2 oz fresh lime juice
Lime wedges for garnish
Ice
4 oz Concord grape juice
3 oz Reposado Tequila
5 ox triple sec
Serrano chili pepper with seeds thinly sliced
Black Grapes for garnish
Mix the chili powder with the salt and sugar. Moisten the rim of the two glasses with a lime wedge and dip the glasses into the coast around the rim.
Fill a cocktail shaker with ice. Add the grape juice, tequila, lime juice, triple sec, and 4 slices of serrano Chilies and then strain into the two glasses. Garnish with sliced serranos, lime wedges, and grapes to serve.
Blue Margarita
If you are dreaming of the Azur waters of Mexico or the Caribbean and can't get there right now, this refreshing Blue Margarita will definitely take you there. Take a sip, close your eyes, and just imagine being there! I do it every time, and if it's a little too chilly outside, I just turn on my favorite travel video of the beaches of Mexico and it takes me right back!
Serves 4-6
1 cup of tequila, preferably Reposado
1/3 cup of Curacao (Blue)
1/3 Cup of Cointreau or Triple Sec (orange-flavored liquor)
2/3 cup fresh lime juice (about 8 limes)
Limes wedges for garnish
Combine the tequila, Curacao, triple sec, and lime juice in a large pitcher with crushed ice or you can pour it on the rocks into tumbler glasses or decorative glasses for a straight-up Margarita.
According to master mixologist Dale DeGroff, a drink called the Tequila Daisy was served at Tijuana's Agua Caliente racetrack in the 1920s. It was made with lemon juice, tequila, and a sweet ingredient—the template for a Margarita.
The Jalapeno Basil Lime Frozen Margarita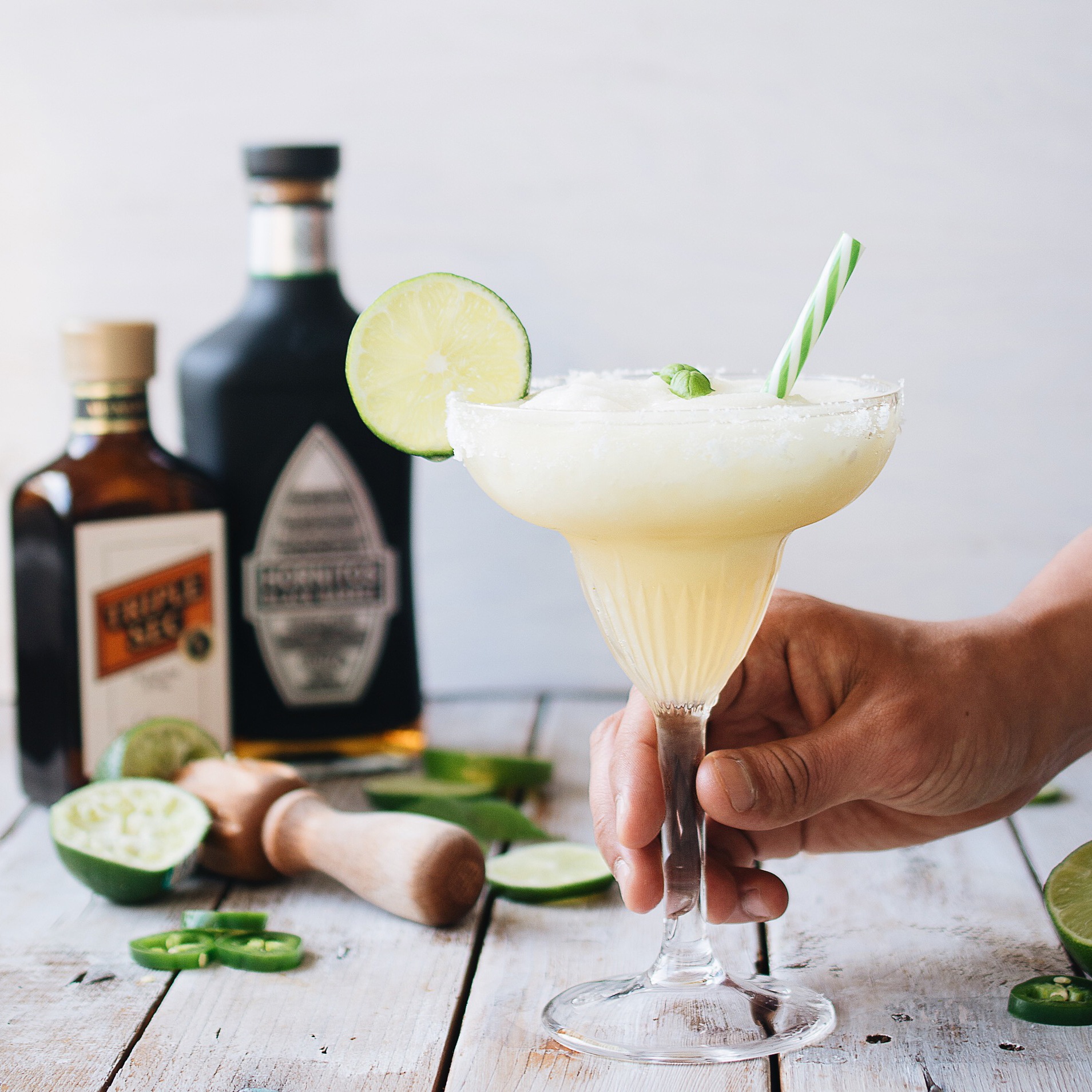 This recipe is inspired by the recipe created by the Vancouver duo – The Food Gays. I just love the Jalapeno kick and the twist with the basil added.
¼ cup basil
½ cup jalapeno with seeds
6 oz of barrel-aged tequila – or a good Reposado
3 oz triple sec
Juice from 4 limes
2 Tablespoons of honey or agave syrup
2-3 cups ice
Salt for the rim
Lime wedges for the garnish
Muddle the basil and jalapeno together, then add the tequila. Let it infuse for 24 hours in the refrigerator. The next day strain and just keep the liquid, discard the basil, and jalapeno. In a blender add the tequila mix the triple sec, the lime juice, the honey, and ice, then blend until smooth. Pour into your salt-rimmed glasses and garnish with lime wedges.
Spicy Margarita Punch
Serves 10
It's the combination of the cucumber, jalapeno, cilantro, and mint that takes the flavors of this Margarita off the charts. This is a perfect libation to pre-make ahead of time for your Cinco de Mayo celebration.
1 large or 2 medium cucumbers
2 jalapenos thinly sliced – one for the mixture and one for the garnish
¼ up of de-stemmed cilantro
¼ cup of mint
One bottle of Silver Tequila – 750 mills
2 cups fresh lime juice
1 cup of agave nectar
½ cup fresh orange juice
Ice, lime wedges, and salt for serving
In a large bowl or punch bowl if you intend to use one, muddle (mash) the cucumber with the jalapeno, cilantro, and mint. Add the tequila, lime juice, agave, orange juice and stir well. Refrigerate for at least an hour or you can keep if overnight if you are making it ahead of time.
Strain the liquids from the mixture and discard the solids. Keep it in the punch bowl or put the mixture into a large service pitcher along with some ice. Serve into salted rimmed glasses and garnish with thinly sliced cucumber, jalapeno slices, and limes wedges.
The Mayan Mule
Well, what can I say about this one except you just have to try it!
Serving Size per glass 1
A South of the Border twist on the Moscow Mule
5 ounces of aged gold tequila preferably a Reposado
½ ounce lime juice
3-4 ounces of ginger beer
2 dashes Angostura bitters
Sliced lime into a wheel to garnish
Mint sprig to garnish
Combine the tequila and lime juice in a tall glass.
Add Ice.
Add the ginger beer and Angostura bitters and stir.
Garnish with the lime wheel and sprig of mint.
The "DanaRita"
A recipe created and made for many years by my husband Dana which is a Margarita that has become legendary amongst our family and friends. It is one of the most requested and popular libations when we all congregate. "Dana, can you make me one of your DanaRitas?"
Dana's Inspiration – Simplicity – Make people smile, feel smart and witty, and dance in public.
Key observations to making a really stellar margarita – A quality margarita is not green or slushy. Look for a golden color and pour over ice cubes.
Preferences – Salt on the rim (optional but traditional for sure); any size glass but tall one is preferable. And for the tequila – Reposado is preferred which is more flavorful and has that rich golden color from the toast of the barrel aging.
50/50 ratio of tequila to everything else
Everything Else – Orange flavor liquor (Cointreau, Grand Marnier or just fresh-squeezed oranges)
Fresh Squeezed Lime – Lots of it
Splash of Sparkling water to give it a little zest
Ice
Using an 8-ounce glass, salted rim or not, squeeze a whole lime into the glass, squeeze a half orange (about 2 oz juice)
Add 2 ounces tequila, then add about 1 ounce of sparkling water. Add ice then a splash of Cointreau or Grand Marnier on the top.
Mango Coconut Chili Margarita
If you are lucky enough to be spending the Cinco de Mayo celebration someplace tropical you may want to make this spin on the traditional margarita. I am sure you will find plenty of fresh mangos and coconuts in abundance. Just the thought of it makes we want to beam up someplace tropical right now, sit under a palm tree listening to waves crashing, and the warm ocean breezes blowing across my body while relaxing to the soft sounds in the distance to a steel drum band. Can I go now, please?
Almost the next best thing to being in the tropics right now is indulging in this delightful tropical tequila libation.
2 -3 servings
1 ripe mango (1 cup cubed or if you can't find it fresh, a bag of frozen mango, or mango sorbet as a last resort)
1 cup of Orange juice – fresh squeezed preferred
1 cup of Fresh Coconut Water or Store-bought Coconut water
A few Chunks of Fresh Coconut or a small scoop coconut sorbet or coconut flavor rum – your preference
Several Medium-Sized Limes
3 ounces of Silver Tequila or Reposado
5 ounces of Cointreau or Triple Sec Orange Liqueur
A dash of hot sauce – your preference or not, some like it hot!
1-3 Tablespoons of Agave Nectar (depending on how sweet you like it)
¼ Cup Lime Juice
Lime Wedges for Garnish
Chili Powder and Sea Salt mixed for rimming the glass. I also like to use Tajin Clasico con Limon
Put all of the ingredients into a blender and mix until creamy. Be sure to taste it so that you can adjust it whether you want to add more Tequila, Orange Liqueur or Agave Nectar. If you like the spice of it, add in a bit more chili powder or hot sauce.
The Brave Bull
After a long day of Cinco de Mayo festivities or any fiesta activities, it's time to relax before siesta in the evening with a Brave Bull. It is sometimes referred to as a Mexican Black Russian. It is a cocktail that was introduced in a 1960's action movie and it truly lives up to its name. This is a unique and quirky combination of Kahlua and Tequila Blanco, but you can use your tequila of preference. This is my husband's go-to late-night libation and his preference on which tequila is to use one of his favorite Reposado tequilas we usually have on hand. Sometimes we add in a little milk or cream, somewhat like a White Russian or you could call it a Brave White Bull! Buenos Noches!
The recipe is easy – it is one part Kahlua and 2 parts tequila over ice. Though you can also do 50/50 on the mixture too!
Please post your comments and photos of your own versions of the famed Margarita!