Kenzo Tsujimoto and his wife, Natsuko, founders of the Kenzo Estate Winery in the hills off Monticello Road and owners of Michelin-Starred Japanese restaurant in downtown Napa, have been impressively expanding their iconic presence of the Kenzo name in the Napa Valley. Kenzo has been a well-known and highly respected icon and entrepreneur for decades in his home country of Japan, and over the last ten years, they have rapidly been increasing their notoriety and presence in the Napa Valley with their award-winning wines and signature restaurant, Kenzo.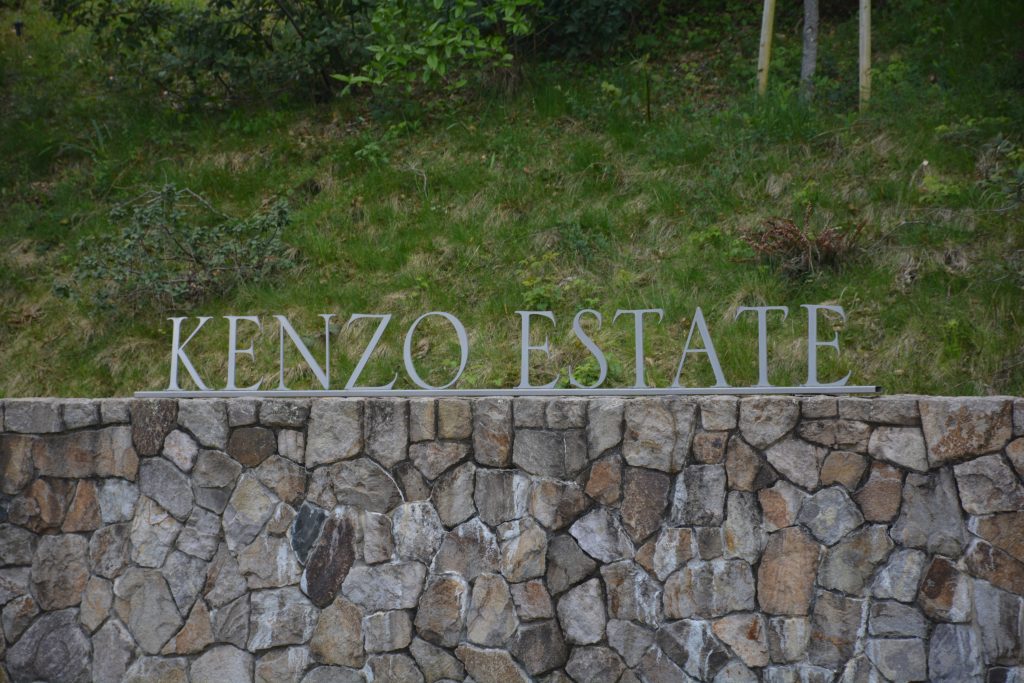 Kenzo was the founder of Capcom, the world's most successful video game company in Osaka, Japan in 1983, and shortly thereafter, in 1985, he expanded his presence with his first US subsidiary in California's Silicon Valley. He rapidly fell in love with the Northern California lifestyle and particularly the wine country, where he had a vision to create a retreat in the hills above Napa Valley. Ironically at that time, he had not even considered creating a premier winery. Inspired by the "Judgement of Paris" he realized the potential of the wines coming out of Napa and began his quest to make exemplary Napa Valley wines to import into his businesses in Japan while at the same time creating a signature presence in the United States.
In 1990, he purchased a 3,800-acre parcel, formerly an Olympic equestrian center, on the East side of Napa's Mt. St George. The acquisition set the wheels in motion for Kenzo to create one of Napa's most magnificent premier vineyard estate properties.
Only about 4% (145 acres) of Kenzo Estate is planted to Bordeaux varietals and Sauvignon Blanc grapes. The rest of the acreage is much like a nature preserve, and the existing equestrian center is still active. The massive property is five times the size of New York's Central Park and sits perched at an elevation of 1,550 feet, providing cool temperatures which are optimal for growing the varietals planted to the estate.
Kenzo sought out the best talent in winemaking and viticulture to implement his plans. With the collaboration of consulting winemaker pioneer, Heidi Barrett (Screaming Eagle, Grace Family and Dalla Valle) and rock star viticulturist, David Abreu, he was off to a winning start. After 20 years of preparation and a $100 million investment, the majestic winery and tasting room launched its grand opening in 2010.
Winemaker Heidi Barrett frequently flies her helicopter to the winery site to consult with the team, including associate winemaker, Marc Nanes, who has been on board since 2009.
Marc is an ever-present figure at the winery and is hands on in the day to day process of producing award-winning Kenzo wines. You can sometimes see Marc riding around the property on a pink bicycle cruiser which was gifted to him when a group of social media influencers from L'Oréal Paris Cosmetics came to do a photo shoot.
The devastating "Napa Fires of 2017" unfortunately impacted some areas of the property including the loss of a large guest house and a few other perimeter buildings. Luckily, thanks to the commitment of their vineyard manager who stayed on site during the course of the firestorms, the winery building, the vineyards and Kenzo's home remained perfectly intact.
Kenzo Estate Winery, designed by prominent winery architect Howard Backen, features a modern barn style building surrounded by 150-year old olive trees, impressive caves and fermentation buildings.
Upon the launch of the winery, there were four wines grown on the Estate, "rindo" (meaning "Purple Bell"), a predominately proprietary Cabernet Blend; "ai" (meaning "Indigo") – also a Cabernet Bordeaux Style wine; "murasaki" (meaning "Purple") – a Merlot Blend; and "asatsuyu" (meaning "Morning Dew") – Sauvignon Blanc.
Several years after the launch of the four estate Kenzo wines, almost by accident, they developed a Rose' wine using the saignee' method, which involves bleeding the juice from the grapes after having limited contact with the skins and fermenting them separately. Kenzo loved the results so much that they created their 5th Estate Kenzo wine, "yui" – (meaning "Unity"), a delicious rose made from Merlot, Cab Franc, and Malbec.
Although it may seem a bit off the beaten path, a visit to Kenzo it is a must do on your wine touring agenda. For those interested in a legacy Napa Valley culinary experience, guests may request a wine paired lunch with choices from Thomas Keller's Bouchon restaurant.
To make a reservation to visit or to get more information on their wines and Kenzo Estate Winery visit www.kenzoestate.com or call the winery direct at 707-254-7572