Elevating Your Senses: Wine Tasting and Food Pairing at Caprio Cellars in Walla Walla
Nestled amidst the rolling hills of Walla Walla, Washington, Caprio Cellars stands as a beacon of excellence in the world of wine. This boutique winery has become a must-visit destination for wine enthusiasts seeking exceptional wine-tasting experiences and exquisite food pairings. In this feature, we embark on a journey through the art of wine tasting and food pairing at Caprio Cellars, a place where every sip and bite tells a story of craftsmanship and tradition.
A Legacy of Passion
Caprio Cellars offers a sensory experience like no other, from its exceptional wines to its thoughtfully crafted food pairings. Founded by the passionate visionary winemaker/owner Dennis Murphy, Caprio Cellars is not just a winery but a testament to the artistry of winemaking. Dennis, a Walla Walla local, has a deep-seated passion for viticulture that dates back to his childhood.
Raised in a family that cherished the land and its bounty, he developed a profound connection to the vineyards that would shape his future. The name "Caprio" pays homage to his Italian heritage, which means "goat" in Italian, symbolizing ambition and determination.
Dennis Murphy's winemaking philosophy revolves around allowing the grapes to express themselves fully, emphasizing quality over quantity. This approach extends to every aspect of the winemaking process, from grape selection to barrel aging. The result is a portfolio of wines that captivate the senses with their complexity and balance.
The Joy of Sharing – A Family Tradition
The origins of Caprio Cellars, however, existed long before Dennis moved to Walla Walla in 1999. Dennis' Italian ancestors were deeply enmeshed in wine culture, especially the tradition of sharing and learning about wine in social settings. Dennis' great-grandmother, Sanitella Caprio, and her husband, Anthony Sanitella were arborists of grapes in the Old World before immigrating to the United States from the island of Capri.
They are responsible for bringing the Caprio name to the U.S. along with a daily ritual of drinking great wine and breaking bread with loved ones. Caprio Cellars embodies the value Dennis' ancestors placed on tuning into earth, water, minerals, and sun to creatively craft delicious wines within an emerging tradition of wine-making in the Walla Walla Valley.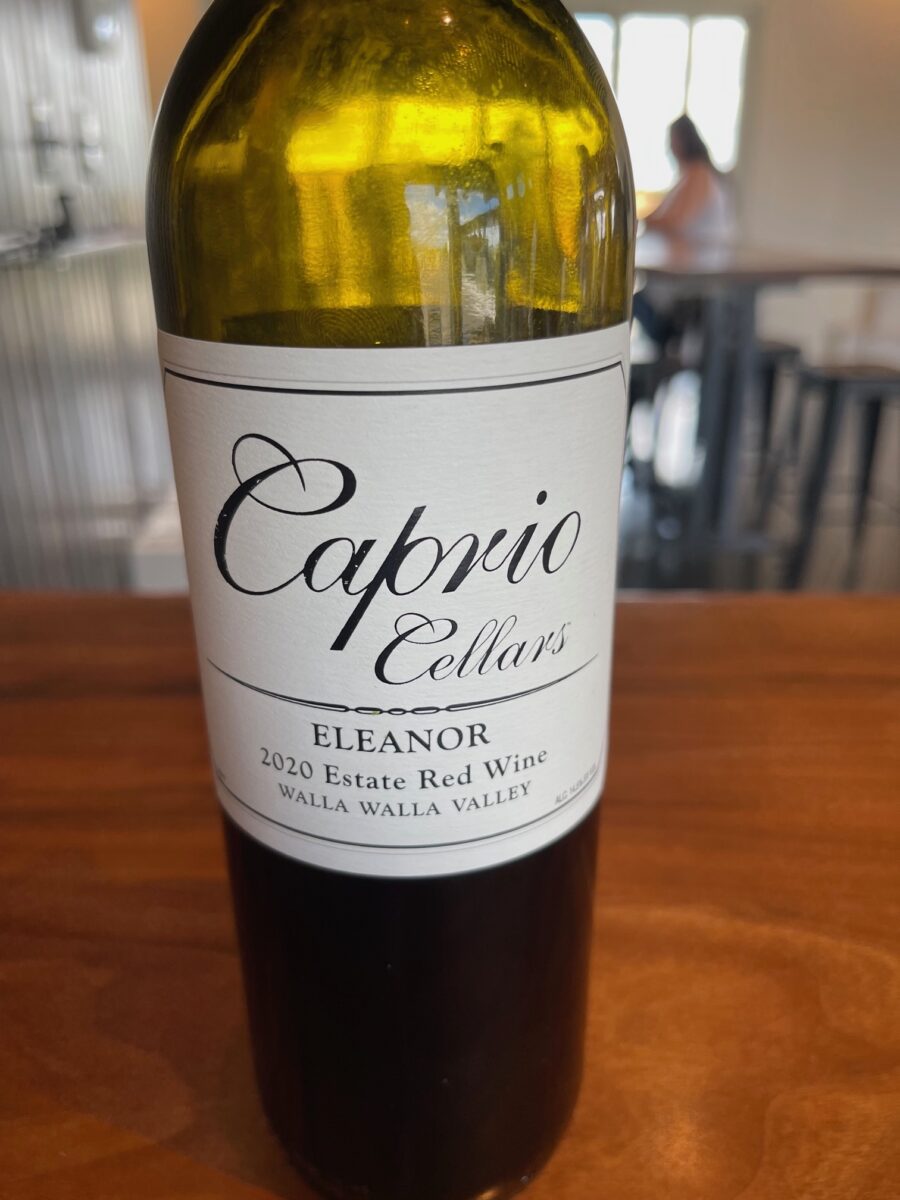 Dennis's grandmother, Eleanor Caprio, inspired his passion for the wine and food pairings at Caprio Cellars, as its philosophy of always sharing is deep-seated in their family traditions. Where there is wine, there must be food; where there is food, there must be wine. They go hand in hand; one cannot exist without the other. This is why at Caprio Cellars, there is always a complementary tasting with no minimum purchase.
Along with the wines are also complementary seasonally inspired plates to accompany each glass of wine as food and wine must be experienced together. This symbolizes the art of sharing passed on through his family for generations.
The Wine Tasting Experience
Wine tasting at Caprio Cellars is an immersive and educational experience. Visitors are warmly welcomed into a rustic yet elegant tasting room that exudes the essence of Walla Walla wine country. The knowledgeable and friendly staff are always eager to share their passion for wine and guide guests through the tasting journey.
Upon arriving at Caprio Cellars, you are greeted at the charming tasting room that exudes rustic elegance, perched on a picturesque knoll overlooking the surrounding vineyards in the heart of Walla Walla. The ambiance is warm and inviting, with reclaimed wood and stone accents that reflect the winery's connection to the land. Large windows provide sweeping views of the lush vineyards, allowing guests to feel fully immersed in the wine country experience.
A signature tasting flight at Caprio Cellars typically includes a selection of their current releases, allowing guests to explore the depth and diversity of their portfolio. As you swirl, sniff, and sip, you'll discover the subtle nuances that make each wine special. Whether it's the velvety tannins of their Red Label Cabernet Sauvignon or the bright acidity of their Estate White Blend, every wine tells a story of Walla Walla's rich wine heritage.
The Caprio Wines 
Caprio Cellars boasts an intimate portfolio of wines that reflect the unique terroir of their estate vineyards in Walla Walla Valley. From luscious reds to their crisp whites blend and soft-spoken rosé blend, the winery offers a diverse selection to cater to every palate. Their flagship wine, the Caprio Red Label Cabernet Sauvignon, is a testament to their commitment to excellence. It's a rich and velvety wine with deep, complex flavors that encapsulate the essence of Walla Walla.
Visitors can also explore their exclusive wines, such as their Rose or White Blends, their Red Label Cabernet Sauvignons, and the Eleanor Estate Red Wine, with each showcasing the distinct characteristics of the region's microclimates. The knowledgeable and passionate staff at Caprio Cellars guide guests through the tasting journey, offering insights into the winemaking process and the stories behind each vintage.
The Food Pairings
What sets Caprio Cellars apart is its dedication to the art of food pairing. The winery has elevated wine tasting into a multisensory experience by curating a menu of delectable small bites designed to complement their wines perfectly. These pairings transform a visit into a culinary adventure, engaging both the palate and the imagination.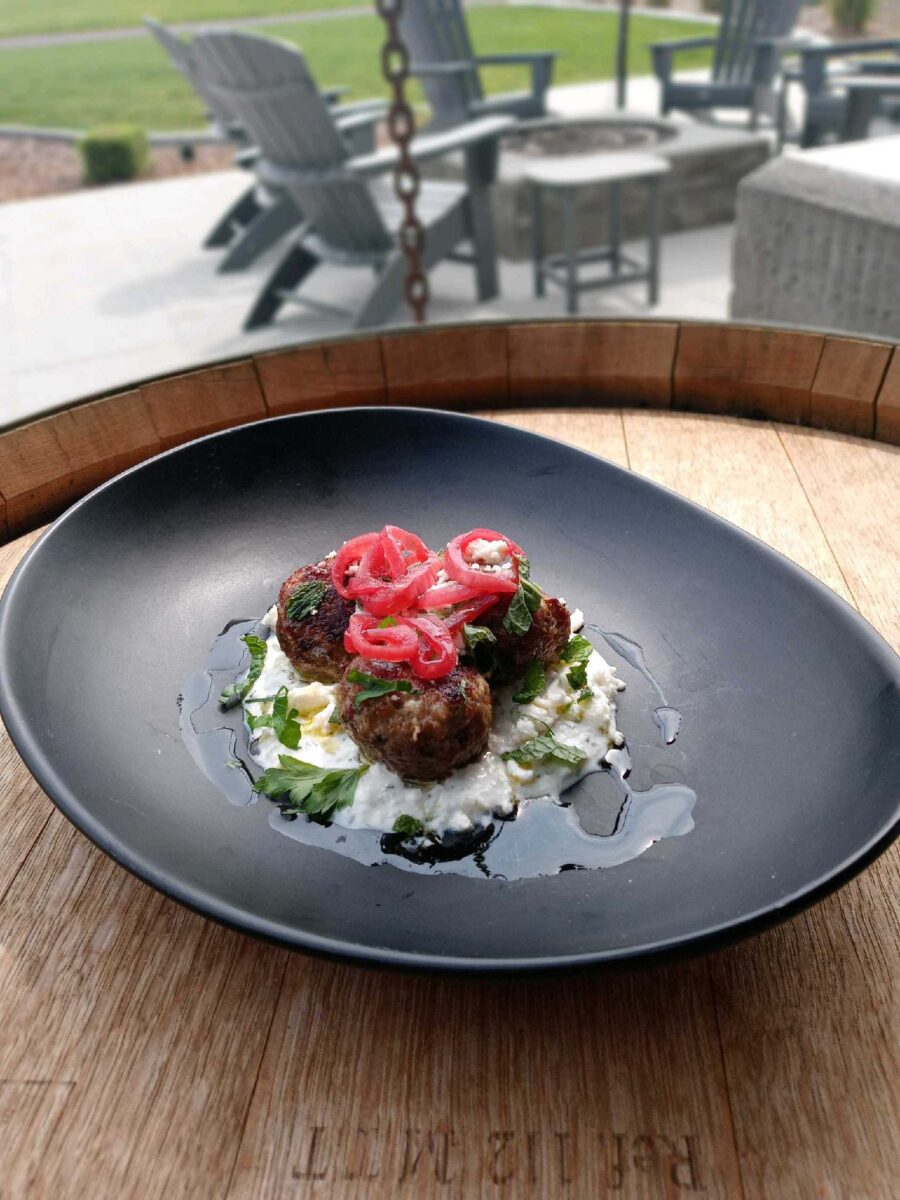 The food pairings at Caprio Cellars are carefully curated to bring out the best in each wine. Whether it is a creamy goat cheese paired with their stunning Rosé Blend or a succulent lamb dish accompanying their robust Red Label Cabernet, the flavors are designed to harmonize and enhance one another.
The magic of wine and food pairing lies in the harmonious interplay of flavors and textures. At Caprio Cellars, the staff is well-versed in the nuances of each wine and can recommend pairings that elevate both the wine and the food. The Caprio White Blend is a marriage of Sauvignon Blanc and Semillon, with its crisp acidity and notes of green apple and citrus. It pairs exquisitely with fresh seafood ceviche, creating a symphony of flavors that dance on the palate.
THE CAPRIO CELLAR WINES – Our Tasting Flight for the Day
Caprio Cellars 2022 Estate Rosé – 350 Cases Produced with 100% Cabernet Franc from the Sanitella Vineyards in Walla Walla and aged in 100% Stainless Steel. The Rosé has been crafted in the true Provence style. It has a lovely balance of acidity with hints of watermelon and a crowd-pleasing finish. It was paired with the Pear and Beet Salad with watermelon radish, marinated chevre, pepitas, roasted shallots, and truffle vinaigrette with our first round of food tastings.
Caprio Cellars 2022 Estate White Blend – 400 Cases Produced – This exquisite blend of 75% Sauvignon Bland and 25% Semillion from the Santinella Vineyard is a delicious delight, particularly when paired with the creative dishes from their intimate winery kitchen. You will find enticing notes of peach and pear with a subtle hint of spice on the finish. It was paired with a colorful Cerviche with prawns, cucumber, tomato, cilantro, jalapeno, garlic and onion.
Caprio Cellars 2021 Red Label Cabernet Sauvignon – 1194 Cases of 2021 Produced – 31% aged in new French oak for 18 months – 75% Cabernet blended with Merlot, Cab Franc and Malbec with 27% from the Octave Vineyard, 64% from the Sanitella Vineyard and 9% from the Eleanor Vineyard. This signature Walla Walla Red is a true testament to the wines produced in this renowned wine region. This added a perfect finish to the day's pairings as this robust Cabernet was paired with their English Pea Saute – pea puree, pea tendrils, house-made Ricotta, bacon lardons sauteed with garlic and shallots in olive oil with fresh basil and a hint of lemon juice.
The Caprio Experience
Caprio Cellars in Walla Walla, Washington, offers more than just wine; it provides an immersive journey through the art of wine tasting and food pairing. Caprio Cellars' commitment to craftsmanship and tradition is evident in every bottle, and their dedication to enhancing the tasting experience with exquisite food pairings sets them apart in the world of wine.
When you visit Caprio Cellars, you're not just sipping wine; you're embarking on a sensory adventure that celebrates the terroir of Walla Walla and the culinary talents of the region. It's a journey that leaves a lasting impression and a deeper appreciation for the artistry of winemaking and the joy of sharing it with others.
Dennis Murphy and his team have created a haven for wine enthusiasts and food lovers alike, where every sip and bite transports you to the heart of Walla Walla's wine culture.
Our Tasting Experience
At the Wine and Food Pairing during our visit to Caprio Cellars, we were presented with a divine 3-course pairing prepared by the three chefs presiding in the winery's small but efficient detached kitchen that day, Chef Kyle Daniel and Chefs Dominic and Angel.
Pear & Beet Salad

Watermelon Radish / Marinated Chevre / Pepitas / Roasted Shallots / Truffle Vinaigrette
Paired with the Caprio 2022 Rosé
Cerviche
Prawns / Cucumber / Onion / Tomato /Cilantro
Paired with Caprio 2022 White Blend
English Pea Sauté
Pea Puree / Pea Tendrils / House Made Ricotta / Bacon Lardons
Paired with Caprio 2021 Red Label Cabernet Sauvignon
CAPRIO CELLARS FAST FACTS
100% Estate Grown
100% Walla Walla Valley Grown
Complimentary Tastings with Food Pairings at the Tasting Room
World Class Winemaking Facilities
Best-in-Class Hospitality
Eleanor Vineyard: Planted in 2006
Octave Vineyard: Planted in 2007
Sanitella Vineyard: Planted in 2017
Wine-Making Style: Bordeaux Varietal Blends
Annual Production: Approx. 4000 Cases
Caprio Cellars is proud to give back to two organizations that are near and dear to their hearts. Feel good knowing that every bottle purchased and every sip makes a difference in someone's life.
Caprio Cellars is located at 1603 Whiteley Road, Walla Walla, WA 99363
509-412-3054
https://www.capriocellars.com/