Jump to recipe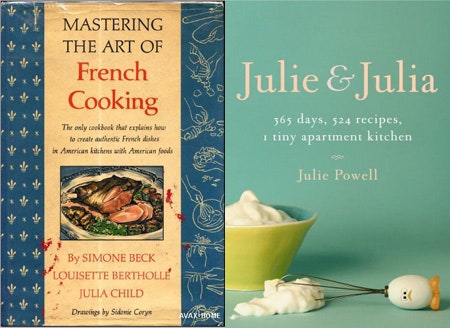 Mastering the Art of Cooking One of Julia Child's Most Famous Dishes!
Movies and cooking! I decided to prepare the famed recipe Boeuf Bourguignon from the movie Julie and Julia, inspired by Julia Child's iconic cookbook – "Mastering the Art of French Cooking". It seems like every time I watch a foodie movie I get motivated to cook one of the dishes prepared in whatever feature foodie film I am watching. This time was not much different. Last week, I was doing a food movie binge watch and one of the films that I indulged in was Julie and Julia which was released in 2009. It is still a foodie movie classic and always one of my favorites.
The storyline of Julie and Julia is a deliciously delightful feature about writer Julie Powell who has a mission over the course of one year to cook every one of the 524 recipes in Julia Child's famous cookbook, "Mastering the Art of French Cooking." She showcases her cooking journey in a food blog "The Julie/Julia Project" as she chronicles her daily cooking efforts in her tiny New York kitchen. Her book was originally called "Julie and Julia: 365 Days, 524 Recipes, 1 Tiny Apartment Kitchen.
The plot of the movie is intertwined with Julia Child's autobiography "My Life in France" written with Alex Prud'homme and Julie Powell's memoir, "Julie and Julia, My Year of Cooking Dangerously". Though the two never had the actual opportunity to meet, the movie "Julie and Julia" intertwines their lives. It segues back and forth from Julie's trials and tribulations cooking page by page in her tiny kitchen in 2002. Then the scene transitions into 1950's Paris to Julia Childs foray into actually learning and mastering the art of French cooking while living in France and along the way collaborating the tumultuous adventure to get her monumental cookbook published.
During the course of Julie's year profiling her day to day adventures in the kitchen through the pages of Julia's cookbook, the Julie/Julia Project blog after a while began to amass a cult following, so much so that Judith Jones who was Julia Child's editor asked to meet with Julie and to prepare a dish for her. Of course, Julie chose Julia's infamous Beef Bourguignon from the cookbook, Mastering the Art of French Cooking – Volume One on page 315. Listed in the books' INDEX under Beef and then Stews. The recipe titled Boeuf Bourguignon – Boeuf A La Bourguignonne (Beef Stew in Red Wine, with Bacon, Onions, and Mushrooms).
Though due to extenuating circumstances the meeting between Judith and Julie never had the chance to take place. What actually did result after Julie's second attempt at the recipe for Boeuf Bourguignon was a masterpiece of the dish as she conquered Julia's Boeuf Bourguignon recipe to perfection according to her husband, who remained her loyal follower and taste-tester.
Excerpt from the cookbook with the intro to the recipe:
"As is the case with most famous dishes, there are more ways than one to arrive at a good boeuf bourguignon. Carefully done, and perfectly flavored, it is certainly one of the most delicious beef dishes concocted by man and can well the main course for a buffet dinner. Fortunately, you can prepare it completely ahead, even a day in advance, and it only gains in flavor when reheated."
Are you ready to get cooking? Here's the recipe. Trust me, It is really is very easy to prepare. It just takes a bit of time, which we all have plenty of right now. You will love the journey in your kitchen. Bon Appetit!
Another excerpt from the cookbook – Mastering the Art of French Cooking gives you recommendations for the vegetables, sides, and wine. Of course, according to the cookbook, all of the wine suggestions are French wines. However, there are plenty of wines from around the world that will pair nicely with this hearty dish.
Vegetable and Wine Suggestions
 "Boiled potatoes are traditionally served with this dish. Buttered noodles or steamed rice may be substituted. If you also wish a green vegetable, buttered peas would be your best choice. Serve the beef with a fairly full-bodied, young red wine, such as a Beaujolais, Cotes du Rhone, Bordeaux-St. Emilion, or Burgundy."
Julia Child's Boeuf Bourguignon
Ingredients
Kitchen Supplies:
• 9- to 10-inch, fireproof casserole dish, 3 inches deep
• Slotted spoon
Boeuf Bourguignon:
• 6 ounces bacon
• 1 Tbsp. olive oil or cooking oil
• 3 pounds lean stewing beef cut into 2-inch cubes
• 1 sliced carrot
• 1 sliced onion
• 1 tsp. salt
• 1/4 tsp. pepper
• 2 Tbsp. flour
• 3 cups full-bodied, young red wine, such as a Chianti
• 2 to 3 cups brown beef stock or canned beef bouillon
• 1 Tbsp. tomato paste
• 2 cloves mashed garlic
• 1/2 tsp. thyme
• Crumbled bay leaf
• Blanched bacon rind
• 18 to 24 small white onions, brown-braised in stock
• 1-pound quartered fresh mushrooms sautéed in butter
• Parsley sprigs
Instructions
Remove rind from bacon, and cut bacon into lardons (sticks, 1/4-inch-thick and 1 1/2 inches long). Simmer rind and bacon for 10 minutes in 1 1/2 quarts of water. Drain and dry.
Preheat oven to 450 degrees.
Sauté the bacon in the oil over moderate heat for 2 to 3 minutes to brown lightly. Remove to a side dish with a slotted spoon. Set casserole aside. Reheat until fat is almost smoking before you sauté the beef.
Dry the stewing beef in paper towels; it will not brown if it is damp. Sauté it, a few pieces at a time, in the hot oil and bacon fat until nicely browned on all sides. Add it to the bacon.
In the same fat, brown the sliced vegetables. Pour out the sautéing fat.
Return the beef and bacon to the casserole and toss with the salt and pepper. Then sprinkle on the flour and toss again to coat the beef lightly with the flour. Set casserole uncovered in middle position of preheated oven for 4 minutes. Toss the meat and return to oven for 4 minutes more. (This browns the flour and covers the meat with a light crust.) Remove casserole and turn oven down to 325 degrees.
Stir in the wine, and enough stock or bouillon so that the meat is barely covered. Add the tomato paste, garlic, herbs, and bacon rind. Bring to simmer on top of the stove. Then cover the casserole and set in lower third of preheated oven. Regulate heat so liquid simmers
very slowly for 2 1/2 to 3 hours. The meat is done when a fork pierce it easily.
While the beef is cooking, prepare the onions and mushrooms. Set them aside until needed.
When the meat is tender, pour the contents of the casserole into a sieve set over a saucepan. Wash out the casserole and return the beef and bacon to it. Distribute the cooked onions and mushrooms over the meat.
Skim fat off the sauce. Simmer sauce for a minute or two, skimming off additional fat as it rises. You should have about 2 1/2 cups of sauce thick enough to coat a spoon lightly. If too thin, boil it down rapidly. If too thick, mix in a few tablespoons of stock or canned bouillon. Taste carefully for seasoning. Pour the sauce over the meat and vegetables. Recipe may be completed in advance to this point.
For immediate serving: Covet the casserole and simmer for 2 to 3 minutes, basting the meat and vegetables with the sauce several times. Serve in its casserole or arrange the stew on a platter surrounded with potatoes, noodles, or rice, and decorated with parsley.
For later serving: When cold, cover and refrigerate. About 15 to 20 minutes before serving, bring to the simmer, cover, and simmer very slowly for 10 minutes, occasionally basting the meat and vegetables with the sauce.
Copyright © 1961, 1983, 2001 by Alfred A. Knopf.
© 2023 This Delicious
Recipe
is Presented By NapaFoodGalTravels