"A Food and Wine Experience" & "VGS Chateau PotelleTrip to Bordeaux"
Visiting Napa Valley wineries has traditionally been all about sampling the wineries various varietals along with an occasional breadstick or cracker during brief stops at busy tasting rooms along the wine country corridor. The tasting experience has evolved to a new echelon. The VGS Chateau Potelle Food and Wine Experience takes you on a relaxed personalized sensory and flavor excursion with a selection of food and wine pairings at the Tasting House and Gardens at their Saint Helena location just off Hwy 29.
"The VGS Food and Wine Experience" is offered by appointment daily at the winery where guests taste a selection of 6 wines paired with food bites created from Chef Ken Frank's Michelin Starred La Toque Restaurant. This 90-minute sensory journey takes you through a selection of VGS Chateau Potelle wines and is moderated in detail by one of their tasting room specialists, like Anthony who took us through our flight of flavors and the inception of the VGS name with Chateau Potelle. The story is lively and entertaining!
We were welcomed in their salon after a tour of their lovely gardens, with a glass of the Chateau Potelle Riviera Rose from the Kick Ranch Vineyard and a Smoked Salmon Rillette on a Cucumber with Crème Fraiche and Chives. The entry of the tasting room is surrounded with unique art pieces such as the large Crayon Wine Bottle Sculpture which welcomes you as you enter the vibrant reception area. After learning a bit about the winery's, 30-year history in the Napa Valley, we were escorted to our beautifully set tasting table surrounded by colorful cascading hot air balloons. At Chateau Potelle the scattering of vibrant colors is everywhere which is exemplified by owner/winemaker Jean-Noel Fourmeaux's humorous and colorful demeanor.
Jean-Noel invites his guests to "come to a place that reflects the style of our wines…elegant, restrained and extremely well done in all details. A place in which our attitude resonates throughout…fun, easy and sometimes irreverent but never pretentious."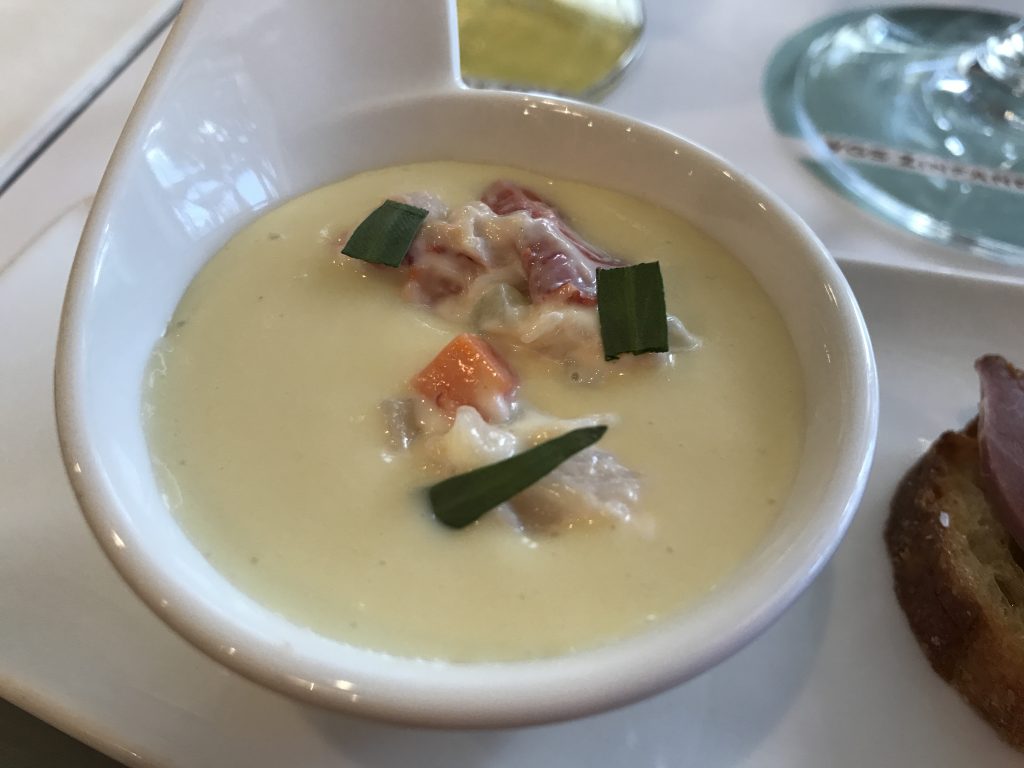 Our delicious sojourn continued with more stories about the winery's history and evolution along with our colorful tasty bites prepared specifically with each of the selected VGS wines. We were presented with the VGS Chardonnay 2015, a classic VGS style Chardonnay from Mt. Veeder along with a local summer corn veloute' with Maine Lobster salad. We then migrated to their 25th Anniversary VGS Zinfandel paired with a smoked Liberty Farms duck breast with grilled stone fruit salsa on Crostini. Anthony was very detailed on each of the wines explaining flavor descriptives and characteristics of the specific vineyard designates for the selected VGS varietals.
The Madrigal Vineyard VGS Petite Sirah 2015 was showcased along with a lovely pork and herb rillettes with dried fig compote on sourdough. The finale of the experience was the 2014 Mount Veeder VGS Cabernet Sauvignon which was tastefully paired with a grilled Niman Ranch beef loin with Fiscalini cheddar sauce & red onion jam on brioche. The food bite offerings do vary seasonally and are created with the freshest of Napa Valley ingredients to meld perfectly with each of the VGS Chateau Potelle wines.
For an even more intimate and specialized experience with VGS Chateau Potelle, they invite you to join them in their "Lunch Above the Clouds" experience at their Mount Veeder vineyard. You will experience an informational hike through the vineyards after which you arrive at the "Cloud Nine" gazebo over-looking the Napa Valley for a 5-course wine-paired lunch prepared by Chef Ken Frank of La Toque. This is available April to October and it is imperative to book in advance as seating is limited, and this popular Napa Valley experience books up very quickly.
Great News!!! VGS Chateau Potelle Sets New Barrel Record with the Inaugural Release of FOURMEAUX at 38th Annual Auction Napa Valley, the most Celebrated Charity Wine Event in the United States
The record-setting wine sold for $ 114,300, or $952.50 per bottle ($11,430 per case) surpassing the previous high set in 2017 by Harlan's The Mascot by more than $40,000!
For Jean-Noel, Chateau Potelle is his French tradition, VGS is his American education…. VGS: Good things speak for themselves.
They are now accepting reservations for the popular Once-in-a-Lifetime to Bordeaux!
Greetings friends & world travelers from Jean-Noel Fourmeaux!
"I am so excited to announce and invite you to the VGS Once-in-a-Lifetime Trip experience to Bordeaux. Due to the popularity of this special annual trip, we are adding a second trip in 2020. Having grown up in Bordeaux, and lived in the Napa Valley for over 30 years, words alone cannot express to you what an amazing and exclusively curated "insiders" trip this is. With me as your host, you will gain access to some of the world finest chateaux normally not open to the public, enjoy incredible cuisine, the accommodations pure sublime luxury and the wines, world-class! I hope you will join me!"
Cheers, Jean-Noel
The VGS Annual Chateau Potelle Once in a Lifetime to Bourdeaux 
September 6-12 and September 13-19 2020
The 2019 trip sold out so quickly, we are adding a second trip for 2020.
Each trip is limited to only 10 couples and will be sold out fast, so let them know your interest ASAP.
Day 1
Arrive at the 5* Hotel Les Sources de Caudalie, your home for the next three nights at your leisure. We will meet at 4:45 PM in the lobby of the hotel to go visit Chateau Smith Haut Lafitte.
https://www.smith-haut-lafitte.com/en/
Following the winery tour, Florence and Daniel Cathiard, my friends who own the Chateau, will welcome us in their house "La Chartreuse" for an aperitif!
Dinner will follow at La Table du Lavoir at Les Sources de Caudalie
Day 2
Ready…Set…GO! We will start our week off with special experience! A very rare and unique in-depth vertical tasting of one of Bordeaux's most celebrated chateaux, Angelus followed by lunch! From Angelus, we will walk to Chateau Canon another celebrated estate in St. Emilion: supreme elegance! From Canon, we will drive to Pomerol, the land of Merlot and visit the boutique Chateau Le Gay.
Following our tasting at Le Gay, we will stroll through the ancient village of St. Emilion and finish our day at Clos Fourtet or Chateau de Pressac (trip 2) and their underground 30 acres of caves, and complete the day with a delicious dinner at the chateau.
https://www.vignoblespereverge.com/vin/chateau-le-gay-pomerol/
http://www.closfourtet.com/en/
https://chateaudepressac.com/en/
Day 3
SPA TIME! We begin the day (8:30-12:30) by relaxation. Each of you will enjoy a "Ritual Initiation" at the world-renowned Caudalie Spa famous for their use of grape seeds in all their beauty products!
https://www.sources-caudalie.com/en/vinotherapie-spa/
After a morning of pampering, it's back to business as we're off to visit Eric Perrin's beautiful Chateau Carbonnieux for a vintner lunch where the owners of Chateau Malartic Lagraviere and Chateau Guiraud will also join us.
Dinner tonight will at the venerable Chateau Haut Bailly, for a superb dinner or Chateau Guiraud (trip 2).
Day 3 Chateaux
https://carbonnieux.com/?lang=en
http://www.malartic-lagraviere.com/en/
https://www.chateauguiraud.com/
Day 4
Moving day…have your luggage ready as we head to the Left Bank where we will move into Chateau Beychevelle, our private chateau for the next 2 nights.
Our first stop, the negociant house Ulysse Cazabonne for an unforgettable tasting of very special vintage wines!
Lunch today will be at the esteemed Chateau Leoville Poyferre where Didier Cuvelier, the owner and my favorite cousin will host us!
Following lunch, we will head to Pauillac and visit Chateau Pontet Canet and learn about their amazing organic and biodynamic farming.
Dinner tonight is with the acclaimed Chef Claude Brossard at his Restaurant Le Saint Julien.
http://restaurant-le-saint-julien.com/
Day 4 Chateaux
https://www.ulysse-cazabonne.com/en/
http://www.leoville-poyferre.fr/en/
Day 5
Prepare yourselves for a wine lovers dream day!
Our first visit, the famed1st growth-Chateau Mouton Rothschild where we will enjoy a tasting of their three family estates to remember. Mouton, Clerc Milon & d'Armailhac.
Lunch today, Chateau Pichon Longueville Comtesse de Lalande or Chateau Phelan Segur (tbd).
We will continue this tough day with our next visit, another 1st growth, none other than Chateau Margaux!
Tonight, a spectacular dinner at your very "own" Chateau Beychevelle in their grand dining room!
Day 5 Chateaux
https://www.chateau-mouton-rothschild.com/
http://www.pichon-comtesse.com/
https://www.phelansegur.com/en/
https://www.chateau-margaux.com/en
https://beychevelle.com/?lang=en
Day 6
Today we will discover the "magic" of French Oak barrels with an in-depth educational visit to Tonnellerie Radoux. ­This fascinating visit will be followed with a blind tasting of various wood-aged wines at lunch.
After lunch, we drive to the city of Bordeaux to check into the Grand Hotel for our last night.
https://bordeaux.intercontinental.com/en/
Our farewell dinner tonight, we take over the entire Michelin starred Garopapilles Restaurant. With champagne, great wines and delicious food many have called "too beautiful to eat" we will celebrate the end of our trip together!
The Details
­This memorable insider's trip includes:
Six (6) nights in luxury accommodations. All meals (I plan every dish so we do not ever have the same meal twice), the wine (the wines we are going to taste and enjoy cost more than the food on this trip!), ground transportation with a luxury van, tips etc. all are included.
You are responsible only for your airfare and personal expenses. Fun, memories, unique experiences and…hangovers for 16,500 EUROS for two.
­This spectacular trip t Bordeaux is limited to 10 couples.
VGS Chateau Potelle Club Members have a special discount: Club VGS: 450 euros discount, Connoisseurs, Red and Collectors Club: 650 euros discount
If you've been a wine club member for 5 or more years. you will receive an extra 300 euros discount!!!
­Club Member discount will be applied to the payment of the balance.
To request a reservation, please contact Jean-Noel Fourmeaux directly BY CLICKING THE BUTTON BELOW
VGS Chateau Potelle is located at 1200 Dowdell Lane in St. Helena
Check them out on Twitter @vgspotelle and Instagram @vgspotelle